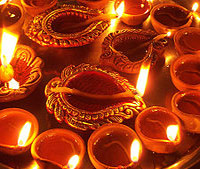 The Diwali festival is among the most enthusiastically celebrated festivals in India. Festival Diwali,. that lasts for approx five days commences with another great festival Dhanteras. Both these festivals hold religious importance and it is a must to worship the deities for these festivals on exact Muhurat only. The Diwali Muhurat always differs every year. The auspicious timing for the Diwali 2013 is given here so that you can be aware of the perfect time to worship on Diwali and Dhanteras.
The five day magnificent festival of Diwali consists of five individual festivals. The festivals celebrated on the event of Diwali are Dhanteras, Narak Chaturdashi, Diwali, Govardhan Pooja and Bhai Dooj. There are several rituals that are followed during the festival of Diwali. One such ritual is to worship the Almighty in accordance to the Muhurat. Only the prayer offered with the reference of Diwali Muhurat is considered as authentic. Worshiping the Almighty on the exact Muhurat of Dhanteras and Diwali can bless a person with abundant wealth and family happiness.
The Dhanteras and Diwali Muhurat for 2013 to worship and gratify the divine power are given below.
Dhanteras Muhurat for 2013
The date for Dhanteras in 2013 is 1st November which is the day of Kartik Krishna Trayodashi. The Muhurat of worship on Dhanteras will start in the evening in the Pradosh Kaal. From evening people can dedicate their prayers to Yam and Shri Kuber to faithfully complete the rituals of Dhanteras. Dhanteras is widely known for buying gold, utensils, steel and different things. These things are bought to seek the blessings of the Lord and please them with faith. If you buy something that will astrologically suit you, it will become easier for you to fetch blessings from the God. Therefore buy something in accordance to your zodiac moon sign to derive the maximum profits out of the festival.
Aries – Gold Coin, Utensils, Tej Patta
Taurus – Gold Coin, Utensils, Turmeric
Gemini – Gold Coin, Saffron
Cancer – Silver Coin, Silver Utensils, Using Camphor
Leo – Honey, Dates, Steel Utensils
Virgo – Steel Utensils, Gemstones
Libra – Silver Utensils, Cotton clothes
Scorpio – Any Copper vessel
Sagittarius – Silver jewelry, Perfume
Capricorn – Steel Utensils, Account Books
Aquarius – Mercury made object
Pisces – Copper utensil
Diwali Muhurat for 2013 – auspicious time for Diwali Pujan
There are certain specifications on which the worship of Diwali or Diwali pujan is done. It is necessary for everyone to perform the Diwali Pujan in stationary ascendant. It is mentioned in scriptures that Diwali pujan can only be done in those ascendants which are stationary. Let us have a look at the stationary ascendants and the auspicious timing for the Diwali 2013.
Aquarius Ascendant: 13:41 – 15:09
Taurus Ascendant: 18:10 – 20:00
Leo Ascendant: 01:39 – 02:57
Note: Swati ascendant is available till 23:00 only.
Pradosh Kaal – Pradosh Kaal is on 3rd November 2013 from 17:30 to 19:54.
Note: Amavasya (New Moon) will end at 18:58.
Convert the Diwali of 2013 into more prosperous than ever by worshipping only in the perfect Muhurat. This will not only bless you, but each one in your family will be blessed with the kindness of Almighty.