Bhai Dooj 2019 will be celebrated by the entire India on Tuesday, 29 October 2019. As per Bhai Dooj 2019 dates, the festival will be celebrated on the Dwitiya Tithi of Shukla Paksha's Kartik month. Although India is known as the land of various festivals, Bhai Dooj in Hindu calendar occupies a special place in the hearts of people, especially among brothers and sisters. It is known by various names in different parts of India. Bhai Phota, Bhau Beej, happen to be the different names by which this festival is known all over India and Nepal. This festival signifies the special bond which exists between siblings. During this year too, in Bhai Dooj 2019, male natives will be seen visiting their respective sisters and spending some memorable time with them.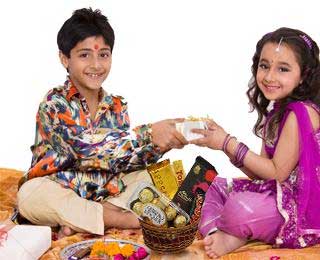 It is also an important day where the sisters pray for the longevity of their respective brothers and put a Tilak on their forehead to safeguard them from all kinds of evils. In turn the brothers also promise to take care of them and protect them forever. Some gifts will also be offered to the sisters by their respective brothers during Bhai Dooj 2019. Some natives will be also be seen worshipping the God of death, Lord Yama during Bhai Dooj 2019, because the traditional beliefs state that he paid a visit to his sister, Yamuna on this very day. Because of this occurrence, Bhai Dooj is also known as Yama Dwitiya. Through this article of ours, we will provide some basic information about the various legends associated with this festival and its necessary Puja Vidhi. But before moving on to that, let us have a look at the Muhurat of Bhai Dooj 2019.
Bhai Phota 2019 Calendar Date and Muhurat
| | |
| --- | --- |
| Bhai Dooj 2019 Tilak Time | From 13:11:34 to 15:25:13, on 29 October 2019 |
| Duration | 2 Hours 13 Minutes |
Note: This muhurat is valid for New Delhi only.
Bhai Dooj 2019 : Associated Mythological Legends
Bhai Dooj 2019 is given a special status in the list of all the festivals occurring in the current year. It not only celebrates the bond that exists between a brother and a sister, but also attempts to provide radiance to it. It has its roots dug deep in the ancient times. As per a legend, it is believed that a demon named Narakasura had made life quite difficult for people, because of which they approached Lord Krishna for help. The lord decided to put an end to his atrocities and killed the demon ultimately. After killing Narakasura, he went to his sister, Shubhadra's place who welcomed him with a garland of flowers and by applying a Tilak on his forehead. Ever since then, the tradition of celebrating Bhai Dooj has been observed by the followers of Hindu religion.
As per another legend, It is believed that Surya or the Sun god got married to a beautiful princess named Sanghya. Within a year, she bore two twins who were named Yama and Yamuna. As time passed by, Sanghya found it difficult to deal with the brilliance of her husband. She took a quick decision to go back to the Earth but she created a shadow of herself, a doppelganger to be with Surya so that he doesn't feel her absence who was known to be called Chayya. But Chhaya was a cruel stepmother and treated the twins with unkindness. She went on to have her own children with Surya and forced him to expel Yamuna and Yama from heaven. As a result, Yamuna descended on Earth and became the river Yamuna. But Yama landed in Hell or Underworld and became its king. Time passed by but Yamuna seemed to miss her brother everyday and when she got to know about her brothers visit , she prepared some exquisite delicacies and organized a grand feast for him. This occasion took place two days after after Diwali. Thus, the ritual of visiting their respective sisters is followed by brothers on this day this also happens to be one of the legends associated with the festival of Bhai Dooj.
Bhai Dooj 2019: Rites and Rituals
There are some specific rites and rituals which should be followed by brothers and sisters during Bhai Dooj 2019. Some of them are mentioned below.
All brothers and sisters should wake up early in the morning, take a bath and wear clean clothes during Bhai Dooj 2019.
For the tilak to apply on your brother's forehead during Bhai Dooj 2019, you can prepare a mixture out of rice and kumkum(vermilion).
Afterwards, sisters are advised to prepare a Puja pallette, which consists of some necessary items like flowers, vermilion, sweets, diya(lamps), sandalwood and betel nut during this Bhai Dooj 2019.
Before the Tilak ceremony takes place, sisters should draw a square on the ground with the help of rice grains and make their brothers sit under that square.
Now, as per the Muhurat apply the Tilak on your brother's forehead and offer the things kept on the Puja Pallette to your brother. Afterwards, perform his Aarti.
At the end, sisters should offer sweets to their brothers and the brothers in turn should provide gifts to their respective sisters.
A feeling of benevolence and mutual love should be nurtured in the hearts of brothers and sisters while observing the necessary rites and rituals of Bhai Dooj 2019.
Bhai Dooj 2019 Celebrations in Various States
Bhai Dooj 2019, as we have already discussed, will be celebrated with a different spice in each and every part of the country. Even though the basic ritual of applying a Tika on your brother's forehead remains the same, some additional ceremonies get added to it. The name of the occasion also keeps changing when we keep travelling from the Northern to the Eastern side of India. The cause of this can be attributed to our multicultural and multilingual nature. Even though the nomenclature changes, the gravity of the festival remains intact in the hearts of the people. Let us now have a look at the various different names by which Bhai Dooj is known in different parts of India and also in Nepal. Some of them are mentioned below.
Bhai Dooj in Uttar Pradesh : In most of the Northern states of India, Bhai Dooj is celebrated right after Diwali. This day also coincides with the Vikrami Samvat New Year's second year as per the calendar followed there. In Uttar Pradesh, the sisters offer crystallised sugar and water to their respective brothers after applying Tilaks on their forehead. They also follow the custom of offering water and dried coconut to their respective brothers. This tradition is followed in almost every household.
Bhai Dooj in West Bengal : Known as Bhai Phota, this celebrations take place in Bengal after the Kali Puja celebrations. The festivity is followed by a grand feast in which all the family members take part actively.
Bhai Dooj in Maharashtra: This festival is known as Bhau Beej in this state, as the word Bhao stands for brother in Marathi language. Sisters who do not have brothers worship the Moon God on this day. Together, all of them apply Mehendi on their hands on this day.
Bhai Dooj in Bihar : A very unusual custom is followed by the natives of Bihar during Bhai Dooj, under which the sister scolds her respective brother in a somewhat brutal and apologizes to him later. This is commenced to wash off the sins committed by him in the previous birth so that he can lead a pure and pious life.
Bhai Dooj in Nepal: In the country of Nepal, this particular festival is known as Bhaitika or Bhai Tihar. During this occasion, a sister applies a multi colored, seven coloured to be precise Tilak on his forehead, thereby praying for his long life and safety.
Thus, these were the various names by which the festival of Bhai Dooj is celebrated all over India and other countries, who follow the Hindu cultural rites and rituals.
We hope that you like this article of ours on Bhai Dooj 2019. We wish you the best regards for this festival. Thankyou for staying connected with us!!