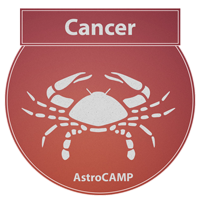 The Cancer Horoscope for 2018 predicts a bright future for all the Cancerians. But with a dwindling health, your stars might just not favour your growth. What to do when you need to take care of your own well being. Students, however will have a stupendous year in terms of academics. Good grades will grace their report sheets. An average year is predicted for the Career and trials and tribulations in married and familial life.
Health of the Cancer in 2018
This year you might have to witness some weaknesses in your health. Rahu, located in the first house from your moon sign would remain intent on messing up your daily routine and making you the lord of procrastination. And in the state of chaos in the routine, the risk of physical ailments would increase. So this year you are advised to adopt a disciplined and restrained daily routine. After September 2018, Jupiter's aspect will be at your first house, that will help you solve your problems and issues midway. However, the presence of Jupiter in the fifth house can also give problems related to stomach and bowel movements. So this year, you will have to keep abstinence in food eating habits and also keep other habits and routines restrained in order to live a healthy and blessed life. The aspect of Saturn on your eighth house, advises you to drive cautiously and at a moderate pace.
If you want to know more about health and to eradicate problems related to it, order now: Health Reading

Education Horoscope 2018 For Cancer
This year is going to be very good for education for the Cancerians. By September 2018, Jupiter will transit into the fourth house from your moon sign, which promises to give you amazing results in studies. Those who aiming to get higher up in their class will get good results in their education. This situation of Jupiter, especially for higher learners, will continue to give good results. Although Rahu in the first house may try to distract you from studying and concentrating on your work, but if you are planning to get your education from overseas, then the year is ready to help you only if you help yourself. From September 2018, Jupiter will transit in your fifth house. This is also a good situation, so the results will be positive even at that time, but relatively primary learners will get better results.
If you want to know more about education and to eradicate problems related to it, order now: Education Reading
Finance Horoscope 2018 For Aries
This year there are the numerous chances of getting fabulous results in financial matters. But there can be times when you will have to try super hard in order to achieve and grasp these chances. However, when you do get them, make sure that you benefit through them to the T. Those who are willing to invest in real estate should take the initiative by the September of 2018, as the iron will be too hot to strike by then. By doing this you will not only make good investments but will also make good savings. After September 2018, Jupiter's transit in your fifth house, will help you increase your earnings and manifold them. In such a way, you can further increase your income. This year you may even be able to save a substantial chunk of your income, but try to keep the first part of the year to increase and boost up your earnings and the second half of the year for savings.
If you want to know more about finance and to eradicate problems related to it, order now: Finance Reading
Love Horoscope 2018 For Cancer
This year, there can be weak for love relations for the natives of the Cancer zodiac sign. If you are married then you will contribute in improving the family life with your partner. For those who are single and ready to tie themselves in the holy matrimony, then the time is right in the second half of the year. This time around you'll be able to garner results that fit your heart's desires. The period post September will be great for marriage and engagements. At the same time, there is also the chance of falling for love relations. Given Ketu's presence in the seventh house, you might become negligent in personal life. It will be very important to take care of the health and feelings of your life partner.
If you want to know more about love and to eradicate problems related to it, order now: Love Reading
Career Horoscope 2018 For Cancer
For the businesses and traders, the year 2018 is promising to give good results but you have to avoid doubting yourself and lazing around. Procrastinating your work won't lead you any farther. Jupiter is aspecting the house that influences your workplace; and will continue doing so till September 2018. This would boost up your career. Increasing your social circle will result in you getting better opportunities at work. If your work is related to economic matters or education world then you will get even better results. Jupiter is promising to increase your earnings post September 2018, so keep your fingers crossed for an amazing lucrative period. Naturally, this will only happen if your work is going well, then the percentage of your profit will also increase. There are good prospects that people engaged in the service sector can experience better results than the businessman. Their transfer can also happen at their desired place.
If you want to know more about career and to eradicate problems related to it, order now: Career Reading
Fortune Star for Cancer in the Year 2018
As per our predictions for 2018, the Fortune Star rating for Cancer in 2018 is 3/5
Remedies For Cancer in Year 2018
Worshipping Maa Durga would be beneficial for you! With this, start helping the students in help or the labourers in need.
AstroCAMP hopes for a brilliant 2018 for you! Grasp the world by the collar and achieve all that you've desired for!
Get Accurate Personalized Predictions With '2018 Trikal Samhita'
These are generalized predictions for you. You may get tailor-made detailed forecast for you with '2018 Trikal Samhita'. Based on the ancient principles of Vedic Astrology, '2018 Trikal Smahita' is a personalized guide that will help you tread the path of success and prosperity in 2018. It is the key to having the dreams come true with your eyes wide open–the key to an year of joy, happiness, and satisfaction. It covers all major areas of life such as love, marriage, career, family, health, and much more. We believe that you are unique and, therefore, it will provide you in-depth analysis, accurate forecast, and easy-to-follow suggestions for you. Choose a suffering-free, happy, and brighter 2018 now, choose '2018 Trikal Samhita' now.