Hanuman Jayanti is celebrated to memorialize the birthday of Lord Hanuman on the Chaitra Purnima. According to the Gregorian Calendar, it will be observed on 11 April 2017. Lord Hanuman is known to be the most special devotee of Lord Rama. read this article to know more details about this festival.
Hanuman Jayanti : What Is Hanuman Jayanti?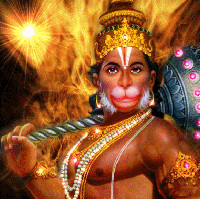 India is a country where celebration of birthdays is not only limited to human beings, even the gods are commemorated on their birthdays with great enthusiasm. A similar kind of celebration is observed on Hanuman Jayanti. But, what is Hanuman Jayanti? And, how Hanuman Jayanti is celebrated? Through this article, we will answer each of your queries related to Hanuman Jayanti.
Hanuman Jayanti is dedicated to Lord Hanuman's birthday. Lord Hanuman is known as Vanara Devta (monkey god), Bajrang Bali, Anjaneya, Sankatmochan, Maruti, Pawan Kumar, Anjani Putra, Pavan Putra and so on. The list of Hanuman's synonyms is as long as his divine capabilities.
Hanuman Jayanti is celebrated on the 15 th day of Shukla Paksha (bright fortnight), during the Hindu month of Chaitra. Thus, it is also popular as Chaitra Purnima. In Orissa, Hanuman Jayanti is celebrated during the Oriya month of Vaishakha, while Tamils observe Hanuman Jayanti in the Tamil month of Margazhi.
Now, as we have come to know what Hanuman Jayanti is, let's know the dates for celebrating Hanuman Jayanti in 2017.
Hanuman Jayanti 2017 Date
| | | |
| --- | --- | --- |
| Event | Day | Tithi |
| Hanuman Jayanti 2017 | Tuesday | April 11 |
Hopefully, Hanuman Jayanti 2017 date will help you to observe the festival in accordance with the Hindu calendar.
But, why should we celebrate Hanuman Jayanti? What made Bajrang Bali so significant, that Hanuman Jayanti is celebrated every year to commemorate the Lord? Let's know the reasons for celebrating Hanuman Jayanti.
Why To Celebrate Hanuman Jayanti?
Since, Hanuman Jayanti is celebrated in the honor of Lord Hanuman, we should know the significance of Bajrang Bali or Hanuman in Hindu mythology. To begin with, let's first know about the early life of Bajrang Bali, and what turned him into Lord Hanuman.
Hanuman Jayanti : Birth Of Bajrang Bali
According to Hindu mythology. Hanuman is believed to born to Anjana, who had been an Apsara (damsel). Anjana was married to Kesari. Due to a curse, Anjana was born as a female Vanara (monkey) on earth, and was also redeemed to hold a child in her womb.
It is said that King Dasaratha (King of Ayodhya) was also performing a ritual to get a child, while Anjana performed the same ritual along with her husband in a forest. As a result of his pious devotion, Dasaratha received divine pudding to be shared among his three wives.
Vayu, the Lord of wind, arrived at the place of ritual, and flew a kite with his divine ordinance. The kite took away a fragment of the pudding, and dropped it at the region, where Anjana was involved in the ritual. Anjana imbibed the blessings, and thus, Hanuman was born to her.
Considering Vayu's role in Bajrangbali birth, Vayu is often regarded as his father.
Now, let's discuss the role played by Hanuman that gave him the epithet of Lord Hanuman.
Hanuman Jayanti : The Valiant Bajrang Bali
Lord Hanuman is believed to be an ardent devotee of Lord Rama. The legend dates back to epic times, when Lord Hanuman played a great role to bring back Sita to Lord Rama. Bajrang Bali met Lord Rama during his exile period.
At that time, Rama was searching for his consort, Sita, who had been abducted by Ravana. Hanuman had the power to disguise his appearance, and also alter his body size. Thus, Lord Hanuman was able to cross the impeccable ocean and reach Ravana's kingdom, Lanka.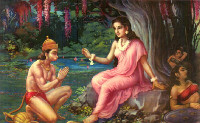 After reaching Lanka, Lord Hanuman was able to locate Sita. He assured Sita of his identity, and offered to carry her to Rama. He was able to hide himself in Lanka, by altering his body size.
When the Ravana Sena (troop of soldiers) came to know of Lord Hanuman's presence, Ravana ordered his troops to light up his tail with fire. When the order was followed, Lord Hanuman rather frustrated them, by lengthening his tail throughout the kingdom of Lanka. Thus, a large part of Lanka was burnt up by this incident. After he extinguished his tail in the ocean, he returned back to Lord Rama.
Thus, he acted as a messenger between Lord Rama and captive Sita. This laid the first step of the war between Lord Rama and Ravana.
Lord Hanuman played equal significance in the war, as well. Lakshman was brutally wounded during the war, and there was less hope of his survival.
Bajrang Bali, once again took the initiative to save a person's fate. He fled his way to the mountains of Dronagiri, and fetched up Sanjivani Parvat (life-restoring herb bearing mountain) to cure his wound. Thus, Lakshman's life was restored. Following this valiance,Lord Rama accepted Sankat Mochan as dearer as his own brother. This is also depicted in Hanuman Chalisa, which states:
तुम मम प्रिय भरतहिं सम भाई
" Tum Mam Priya Bharatahi Sam Bhai."
Considering the above incidents, we can surely claim that Bajrang Bali played a great role in Lord Rama's victory over Ravana. Or, shall we say, that Bajrang Bali was one of the main reasons for triumph of goodness and the sustenance of mankind?
Now, as you know why to celebrate Hanuman Jayanti, let's know the ways to celebrate Hanuman Jayanti. Don't miss this out! As, Bajrang Bali is approaching at your doorsteps, to soothe your problems and ordeals.
Hanuman Jayanti : How To Celebrate Hanuman Jayanti?
On the day of Hanuman Jayanti, Hanuman Jayanti Vrat (Hanuman Jayanti fast) is observed by Maruti devotees. Hanuman Jayanti falls on the full-Moon day of Chaitra month, hence, it is also known as Chaitra Purnima. Hanuman Jayanti Vrat is also popular as Hanuman Jayanti Upvaas.
Hanuman Jayanti Vrat is observed by Maharashtrians, on the day prior to Hanuman Jayanti, while North Indians celebrate Hanuman Jayanti Upvaas on the actual Hanuman Jayanti day.The fast is terminated on the next day morning.
While, most of the religious fasts in India are performed by women, Hanuman Jayanti Vrat is mostly observed by men. The preparations begin early morning, when devotees of Maruti take a holy bath, and clean their houses to welcome Lord Anjaneya. Idols of Maruti and Hanuman images are cleansed properly, before the rituals begin. Then, Maruti or Hanuman idols are smeared with Sindoor (vermillion).
The fast is observed for 24-hours, although, people also observe a partial-day Vrat. People spent the day of Hanuman Jayanti by reading Hanuman Chalisa the whole day, and Mantras of Lord Rama and Maruti are chanted 108 times.
Below is the Mantra that is chanted to invoke the blessings of Vanara Devta, Maruti:
Yatra yatra raghunatha kirtanam;
Tatra tatra kritha masthakanjalim;
Bhaspavaari paripurna lochanam;
Maarutim namata raakshasanthakam.
The Mantra states that: "We bow to Maruti, Sri Hanuman, who stands with his palms folded above his forehead, with a torrent of tears flowing down his eyes wherever the names of Lord Rama are sung."
Worship Sankat Mochan as he is approaching at your places to free you from your ordeals. Hanuman Jayanti is the perfect time to invoke the blessings of Lord Hanuman, and he will definitely bless you.
To please the lord, all you need to have is a devoted heart. Nothing more is expected from the devotees.
AstroCAMP wishes you all a Happy Hanuman Jayanti!