Now match your horoscope using just your names without requiring birth details. If you do not know your birth details or your partner's birth details, no worries. AstroSage has come up with a tool that can give your Ashtakoota Guna Milap or 36 points match just with your names. Read on to know more…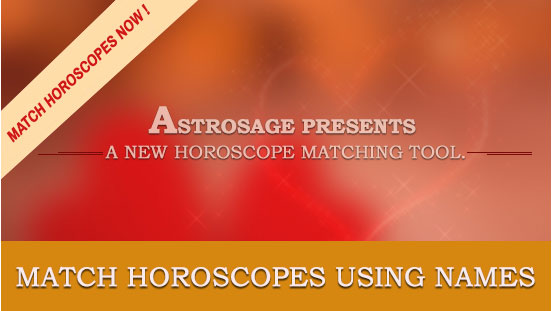 FREE Name Horoscope Matching Tool from AstroSage.com is here for you. This is a one of its kind tool, which is introduced for the first time in the market of Indian Astrology online services. Generally, all the birth details are required for Horoscope Matching or Kundli Milan. But there are people who do not know their exact date, time and place of birth and till now they have to consult astrologers to match horoscope using their names. With this new "Name Horoscope Matching Tool", you can just enter names of boy and girl and get 36 points match or Ashtakoota Guna Milan. It will not only give you matching points out of 36, but also give you detailed interpretation of each of the eight points viz. Varna, Vasya, Tara, Yoni, Maitri, Gana, Bhakoot, and Nadi.
The tool fetch all the important birth and Nakshatra details by itself, once you enter the name of boy and girl. It will also provide the concrete details of Nakshatras and Guna Milan. You will get accurate result with detailed description in minutes and that too for FREE.
A note of caution is required here. We, at AstroSage, recommend horoscope matching using date, time, and place of birth only. Not everyone now-a-days knows his/her moon sign name (Rashi name), given during the Naamkaran Sanskar and in that case horoscope matching with names may not be much useful.
Just take a look on the benefits of the tool:
No Need To Carry Birth Details: In case, you don't know about your accurate birth details, but want to know about the compatibility between you and your partner, then this tool is just for you.
Extremely Simple: It is so easy to use that even a common man can do the Kundli Milan very easily.
Less Time Consuming: The tool is going to save your precious time that generally people used to spend in Kundli Milan.
Highly Accurate: The tool is based on the principles of Vedic astrology. It will give you highly accurate results, just like a complete Kundli Milan process.
Generate Minute Details: The tool produces the minute details of boy and girl, which helps in giving you a complete understanding of Horoscope matching.
Free Of Cost: You can use this amazing tool of Horoscope Matching on AstroSage.com, absolutely FREE.
Easily Accessible: The tool is so easily accessible that you can access it from anywhere at anytime.
With Name Horoscope Matching Tool, there is no need to visit astrologers again & again and spending money on Kundli Milan or Horoscope Matching. Now, Horoscope Matching is just so simple. Without spending money and your precious time, you can do what astrologers do for Kundli Milan.
People who want to check their compatibility for marriage or love relationships or those who want to get married can take the help of Name Horoscope Matching Tool. Just check out the snapshots of Name Horoscope Matching Tool below for better understanding.
Snapshots Of Name Horoscope Matching Tool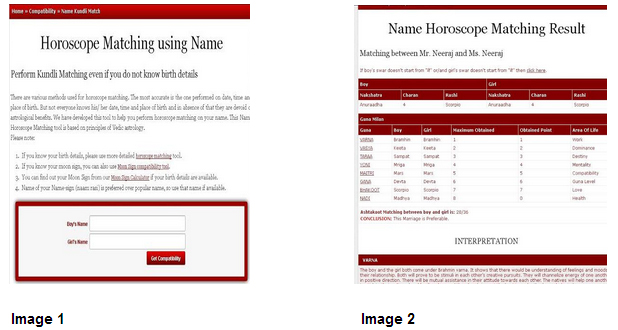 Your valuable feedbacks and responses on our other services have boosted our confidence and also it made us work even more harder. We are sure that this time again we are going to steal your hearts.
If you want to do Kundali Milan for your's or any of your relative's marriage, don't forget to use this very useful tool of ours.
Leave your valuable suggestions or comments for us, so that we can provide you the bestest of the best. Let's carve a beautiful future ahead with Astrology.