Griha Pravesh Muhurat 2020 – If you are looking for a new home this coming year and hoping to find the best Griha Pravesh Muhurat, then the table below is the solution you need. Along with all the necessary details of Griha Pravesh Muhurat 2020 like day, date, tithi, nakshatra, and auspicious timings you will also find detailed information on how to hold the perfect House Warming ceremony 2020 below.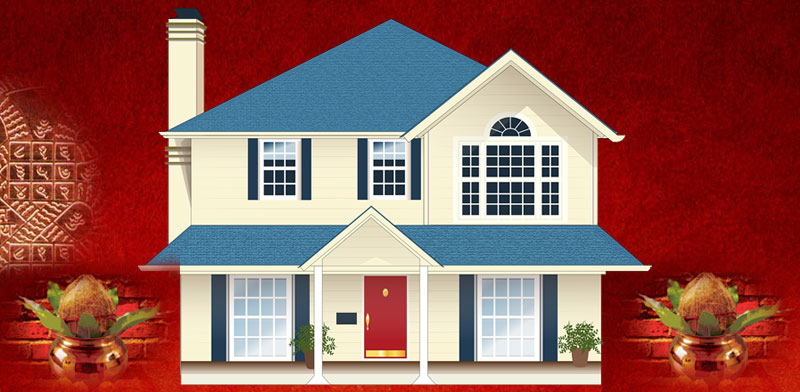 Griha Pravesh Muhurat Dates 2020
Griha Pravesh Muhurat January 2020
Date
Day
Muhurat Duration
29 January
Wednesday
12:13-31:11
30 January
Thursday
07:10-13:21
Griha Pravesh Muhurat February 2020
Date
Day
Muhurat Duration
5 February
Wednesday
07:07-21:32
13 February
Thursday
09:25-20:48
20 February
Thursday
16:01-30:55
26 February
Wednesday
06:49-28:13
Griha Pravesh Muhurat March 2020
Date
Day
Muhurat Duration
11 March
Wednesday
19:00-30:35
12 March
Thursday
06:33-12:01
18 March
Wednesday
13:01-30:27
19 March
Thursday
06:25-14:50
Griha Pravesh Muhurat April 2020
Date
Day
Muhurat Duration
25 April
Saturday
20:58-29:45
27 April
Monday
14:31-24:30
Griha Pravesh Muhurat May 2020
Date
Day
Muhurat Duration
8 May
Friday
08:38-29:34
18 May
Monday
05:28-15:10
23 May
Saturday
05:26-29:26
Griha Pravesh Muhurat June 2020
Date
Day
Muhurat Duration
15 June
Monday
05:22-27:17
Griha Pravesh Muhurat November 2020
Date
Day
Muhurat Duration
16 November
Monday
06:44-14:37
19 November
Thursday
09:38-22:00
25 November
Wednesday
06:52-29:12
30 November
Monday
15:01-30:56
Griha Pravesh Muhurat December 2020
Date
Day
Muhurat Duration
10 December
Thursday
10:51-31:03
16 December
Wednesday
20:04-31:07
17 December
Thursday
07:07-15:19
23 December
Wednesday
20:41-28:33
Griha Pravesh Muhurat 2020
One looks for the perfect Griha Pravesh Muhurat 2020 when they enter their new home for the first time, with all the proper rituals and rites. This is a very auspicious and happy moment for them – one of their biggest dreams being fulfilled. In such a situation, they would want that no problem or disaster befall them and that is why they hope to do the puja in the auspicious Griha Pravesh Muhurat. Shastras state that the House Warming ceremony should occur in a shubh muhurat as that brings happiness, peace, joy, and prosperity in their home. We will discuss the various rules, methods, and more information associated with Griha Pravesh below.
Calculating Griha Pravesh Muhurat 2020
A muhurat is the shubh time (Day, Month-Tithi, Nakshatra) that we decide upon for our essential tasks. The calculations for the same depend upon the Hindu Panchang. In the same vein, Griha Pravesh is an auspicious function which is why the computation of Griha Pravesh Muhurat 2020 is essential. You can approach a priest or astrologer for the same.
As a rule, the months Magha Phalgun, Jyeshtha, and Vaisakha are the best for Griha Pravesh Muhurat. Simultaneously, it is prohibited, like all auspicious tasks, in the Chaturmas (Ashadha, Shravana, Bhadrapada, and Ashwin) and the Paush month is also unfavourable for this.
Coming to the days of the week, you can hold your housewarming ceremony on any day except Tuesday. Simultaneously, avoid the Tithis Amavasya and Purnima (New Moon and Full Moon). The dates Dwitiya, Tritiya, Panchami, Saptami, Ekadashi, Dwadashi, and Trayodashi of Shukla Paksha are favourable for calculating Griha Pravesh Muhurat 2020.
Types of Griha Pravesh
The Shastras define three types of Griha Pravesh, namely;
Apurva Griha Pravesh: when we enter a new home for the first time.
Sapurva Griha Pravesh: when we had left our home previously, but then re-enter it now.
Dwandhav Griha Pravesh: when we have to vacate our home due to a catastrophe or some trouble but return when things turn normal.
Griha Pravesh Muhurat 2020: Things To Remember
While calculating the Griha Pravesh Muhurat 2020, there are several things one needs to keep in mind. For example, the shubh muhurat for your housewarming ceremony 2020 should not fall when the eighth sign from your ascendant is rising. These planetary positions are inauspicious. Similarly, the Moon should not be posited in the sixth, eighth, or twelfth house from your ascendant.
On the flip side, when the third, sixth, tenth or eleventh sign from your ascendant or the Sthir Lagna is rising is a shubh muhurat for Griha Pravesh 2020. Moreover, during the Graham lagna; when benefic planets are posited in the first, second, fifth, seventh, ninth, and tenth house, while malefic planets in the third, sixth, and eleventh house; along with the fourth and eighth house being pure – will be an auspicious Griha Pravesh Muhurat 2020.
House Warming Ceremony 2020: Method
Decorate the main gate of your home with bandanwar and flowers, and draw a rangoli in front of it.
Fill a Kalash (pot) with Gangajal or pure water and place a brown coconut in it, in between mango or Ashoka leaves.
Draw a swastika on the Kalash and coconut with kumkum.
After the puja is complete, take the auspicious Kalash in your hands and enter your new home while the sun is still shining.
The man and lady of the house should do the Griha Pravesh while keeping coconut, turmeric, jaggery, rice, and milk with them.
Men should enter with their right feet first, while women should place their left feet for the first time in their new home. This is considered very auspicious.
On the day of House Warming Ceremony 2020, one should take an idol of Lord Ganesha, a Dakshinavarti Shankh, and Shri Yantra along with them to their new home.
After the Ganesha Vandana, establish the Kalash in the Northeast direction (Ishan Kona) of your home, or the designated place of worship.
Worship your kitchen and draw a swastika there. Now, begin with boiling milk first of all, and then make some sweets and offer it to God.
Now, take out food for a cow, crow, dog, ant, etc.
In the end, offer food to a Brahmin or a needy person and give them alms (Dakshina).
We Hope That This Article On Griha Pravesh Muhurat 2020 Was Helpful For You! Thank You For Being A Part Of AstroCAMP!