After the historical decision by PM Modiji there is a serious debate and discussions about demonetization and its impact on Indian economy. I am interested to analyze the impact of this decision on BJP itself. The following is the horoscope for the moment: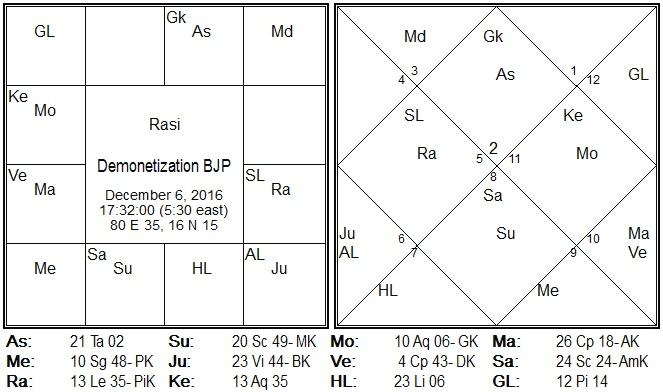 Here Asc reflects the party whereas the 10th house its fame. 8th house denotes ill reputation and 6th house is control over opponents.
The sub lord of 10th house is Saturn; he is in 7th house in the star of Mercury and sub of Rahu. Mercury is in 7th house whereas Rahu is in 4th house in the star of Venus in 8th house. Therefore the sub lord of 10th house is connected with 8th house at sub level. It is not a positive point for the ruling empire. As per KP if the sub lord of 10th house is connected with 8th house matters then there may be damage to the reputation during the periods of planets connected with 8th house!
Here Venus is in 8th house. Rahu is the only planet in the star and sub of Venus. He is ruling the main period now. Rahu-Jupiter period will come to an end on 27-05-2017. Later this horo will have Rahu-Saturn period for almost three years. Incidentally both these planets are ruling the star and sub on 10th house! There is always utmost importance for planets ruling a house and their conjoined period in implementation.
Placement of two planets in 7th house is indicating two way opposition. Saturn is for public and democracy. As discussed earlier he is the sub lord of 10th house. Therefore people may start opposing BJP from May 2017 onwards. The present sub period of Jupiter strongly connected with 9-12 houses may result in rebels in the party acting against it. The period between Jan-May 2017 (Rahu-Jupiter-Rahu) is indicating such possibility because both these planets are connected with 8-9-12 houses.
Therefore it can be said that, in spite of this bold decision which is appearing to be in favor of our nation, BJP may lose its charm in the coming months.
Readers should note that I am an admirer of astrology than politics. I have nothing to do with any political party and all the above analysis is purely out of economic interest. As a citizen I always wish and pray for the wellness of our country. Truth will triumph thats what we inscribe on our national emblem!