By VGR Pavan
May 23rd : MI vs CSK
Horary number in favor of MI is taken as 129 and the horary map is follows: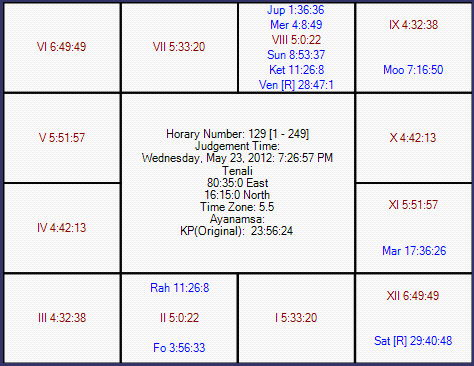 For this Horoscope MI will be in Ascendant whereas CSK in 7th house.
Here 6th sub lord is Mercury; he is in 7th house but deposited in the star of Sun and sub of Saturn (close to 8th cusp). Sun is in 8th house but Saturn is in the star of Mars in 11th house. Mercury is weak through star but strong through sub. This shows that there will be tough fight in the game and ultimately MI may have advantage as the sub is favorable.
11th sub lord is Rahu; he is in the star of Saturn and sub of Moon. Saturn is in 12th house being lord of 4-5 houses whereas Moon is in the star of Rahu in 2nd house. Therefore Saturn is weak through ownership and placement but strong through star. But interestingly the 12th sub lord is also Mercury as discussed earlier. If cusp is strong then significator can offer similar result.
Lastly I verified the Asc sub lord Moon; she is in the star and sub of Rahu in 2nd house and denotes Mars through sign. Further the 7th sub lord is Rahu, he is in the sub of Moon in Rahu star. Therefore Asc and 7th sub lords are connected with 2nd house through sub. the sub lord for 2nd cusp Rahu is the star lord for the match hence strong for MI.
The sub lords during the game are Rahu and Jupiter respectively. Rahu discussed whereas Jupiter in 7th house being 6th lord in the star of Sun in 8th house and own sub. At the onset 8th signification is not good for Jupiter but the 8th sub lord is Saturn, connected with 11th house strongly. Therefore 8th cusp emits good results for MI. therefore Jupiter will offer similar result.
Hence, stars may favor MI and we are going to witness another exciting game of cricket to night.
Here I wish to disclose that all my predictions are only out of academic interest. I think readers can understand my intention.