By VGR Pavan
May 16th : MI vs KKR
Horary number in favor of KKR is taken as 140 and the horary map is follows: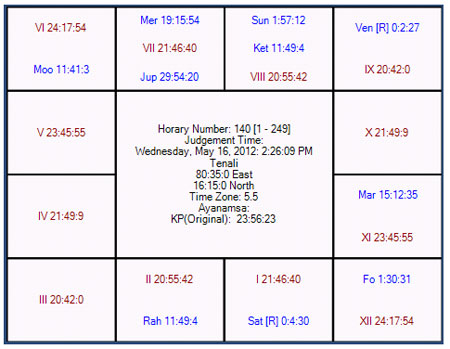 For this Horoscope KKR will be in Ascendant whereas MI in 7th house.
Here 6th and 12th sub lord is Rahu; he is in Asc but deposited in the star of Saturn and sub of Moon. Saturn is in 12th house whereas Moon is in the star of Saturn in 12th house. Rahu has another portfolio as his stars are unoccupied i.e. he has to offer the results of Mars in 10th house. Therefore Rahu has both positive as well as negative significations.
11th sub lord is Saturn; he is in the star of Mars and sub of Mercury. The former is in 10th house whereas Mercury is in 6th house without any planets in his stars hence Saturn is favorable through sub. He is also sub lord for 5th and the Asc cusps.
Lastly I verified the 7th sub lord Jupiter; he is in the sub of Rahu in Asc. Further the game will be during the star of Saturn and sub of Jupiter. If we remember last few games the finishing are full of drama and suspense, this may be one such a game.
Though the strength of the horoscope is favoring MI the minute sub divisions may work against for them and I think KKR may have the final benift.
Here I wish to disclose that all my predictions are only out of academic interest. I think readers can understand my intention.