The festival of Karva Chauth is celebrated with great zest and zeal among the Northern Indians. It is observed on the 4th day of Krishna Paksha in the Hindu month of Kartik. Or we can say, it is marked 9 days before Diwali. In 2017, it will be celebrated on 8th of October, Sunday. Married women celebrate this day by observing fast and worshipping Lord Shiva, Goddess Parvati, Lord Ganesha and Kartikeya. If you want to know more, read on this exclusive article only on AstroCAMP...
Karwa Chauth
Karwa Chauth is supposed to be the most awaited festival for married women. Karva Chauth is regarded as the festival of feminism and the power of the women that safeguards their husbands' life.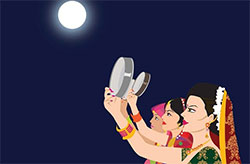 The festival of Karwa Chauth is widely popular in northern and western parts of the country. It is considered to be an important festival performed by the married women. Karva Chauth is a one-day festival that commences with the rising of the Sun .
Karwa Chauth is a Sanskrit term. Karwa or Karva means earthen pot and Chauth is the fourth day. It is performed on the fourth day of the Hindu lunar month of Kartik.
Married women perform fasts on Karva Chauth and pray for the longevity of their husbands. Although, now-a-days unmarried girls and women also perform Karwachauth fasts for their would-be husbands. The fast is finally terminated at the sight of the Moon on Karvachauth. But, when actually is the Moon expected to rise on Karva Chauth in 2017?
Let's take a look at the timings for the rituals of Karva Chauth and the sighting of Moon, according to Hindu Calendar .
Karwa Chauth Muhurat
Puja for Karwa Chauth in 2017 is to be performed after 17:59:43. The timings for Karva Chauth in 2017 Puja starts from 17:59:43 to 19:09:56.
The sighting of Moon is considered to be the soul of Karva Chauth event. Let's take a look at the moonrise timings on Karwa Chauth in 2017. Moon is supposed to rise at 20:10:00 on the day of Karva Chauth in 2017.
We hope that the above mentioned timings will be helpful in performing Karva Chauth Rituals
But to celebrate the festival of Karva Chauth, you should also understand its historical significance. Let's delve more into its significance and legends associated with Karwa Chauth.
Legends Of Karwa Chauth
Similar to any other Hindu festival, the festival of Karwa Chauth or Karva Chauth has more than one legend associated with it. They are as follows:
Queen Veervati & Karwa Chauth
This legend refers to Queen Veeravati and her strict devotion toward her newly married husband. After her marriage, Queen Veeravati went to her paternal home to meet her brothers and mother. It was the day of Karva Chauth and she was observing a fast for her husband.
As she was desperately waiting for the Moon to rise, her brothers could not see their sister waiting to have her first bite of food. They tricked her by reflecting a mirror through the leaves of a Peepal tree. It appeared as the Moon had arrived, as she was deceived by her brothers. Hence, she broke her fast.
Moments past, she got the news that her husband had died. This made her rush to her husband's house, but in the midway she met Lord Shiva and Goddess Parvati. They made her realize that how she was cheated upon by her brother, although not with a wrong intention.
Lord Shiva and Goddess Parvati agreed to revive her husband's life on a certain condition. As per the condition, she agreed to perform seven pious fasts on Karva Chauth. She fulfilled her promise and brought back her husband's life.
Now, let's take a look at the second legend associated with Karwachauth.
Savitri & Karwa Chauth
This is another legend that details the devotion of a wife toward her husband. The legend is about Savitri who fought with Yama, the Lord of Death, to change Satyavan (her husband) death fortune. Yama had come to take up her husband's life, as he was destined to die.
Lord Yama discarded Savitri's request. Savitri was determined to rescue her husband from the dark destiny of death and hence, pledged to be on fasting until her wish was fulfilled. Ultimately, Savitri was able to save her husband's life.
This shows the power of the bond of marriage and the devotion of a married woman towards her husband.
Karva & Karva Chauth
The reunion of Karva and her husband is another legend associated with Karwa Chauth. Karva was a woman with divine powers. One day, she got the news that her husband has been captured by a crocodile.
On hearing the news, she rushed herself to the river bank and tied the crocodile. She requested Lord Yama to punish the crocodile for its deed and execute it to hell. Since, Lord Yama was well aware of Karva's powers, he had no other option than sending the crocodile to hell. Thus, Karva was able to save her husband.
Now, as you know the legends associated with Karwa Chauth, let's take a look how to celebrate Karva Chauth.
How To Celebrate Karwa Chauth?
This year also, Karva Chauth is approaching. Karva Chauth will again be celebrated with piousness and devotion by women. Let's take a look at the preparations that should be done before Karwa Chauth.
Preparations Before Karva Chauth
Karwachauth preparations begin a few days before the day of Karva Chauth. Women start preparing themselves for the festival of Karva Chauth by purchasing jewelry, ritual items such as Karva, Karva Chauth Thaali, etc.
This is a peak time for the shopkeepers. The market becomes a display of expensive items as the festival of Karva Chauth approaches.
After been done with all the preparations, it's time for the women to be ready for the day of Karwa Chauth. How should the day of Karva Chauth be followed? Let's take a look.
Karwa Chauth : The Day Arrives!
The fast begins as the Sun rises on the day of Karva Chauth. Women take food and water before the rising of the Sun on Karva Chauth. They abstain themselves from consuming food or water on Karwa Chauth until the Moon rises.
Sargi is one of the important components of the meal taken before sunrise. Sargi includes vermicelli or Seviyan. Usually, the mother-in-law prepares the Sargi for her daughter-in-law.
As per Hindu tradition, women do not do any kind of household work on Karva Chauth. A Mehndi (Henna tattoo) ceremony is performed, where the married women apply Henna tattoos. The day is wholly devoted by the wives to their husbands.
Shringar (adornments) is an important part of the festival of Karva Chauth. Married women wear bangles and precious jewelry, which also showcase their marital status. Karwa Chauth is a festive get-together between relatives and friends too.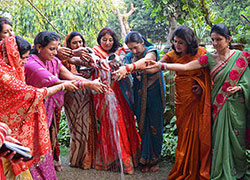 In the evening, a community program is organized that is meant exclusively for the ladies. In this event, married women are dressed in finery forms of Shringar.
The married women, who perform the customary fasting on Karva Chauth, encircle themselves at a place with their Puja Thalis. An older woman narrates the Karwa Chauth Katha or tale of Karva Chauth to them.
Let's take a look what are the ceremonies that should be performed during the evening session of Karwa Chauth.
What Is A Karwa Chauth Feri?
Karwa Chauth evening ceremony is accompanied by Feris, where the married women pass Thalis to each other while sitting in a circle. In total, seven Feris are performed. The first six Feris detail the rituals that are to be followed during Karvachauth and the seventh Feri tells about the ending of the fast rituals with the rising of Moon.
Song For First Six Pheris Of Karwa Chauth
वीरो कुड़िये करवडा
सर्व सुहागन करवडा
ए कट्टी नया अटेरी ना खुम्ब चरख्रा फेरी ना
आर पैर पायीं ना
रुठ्दा मनियें ना
सुथडा जगाईं ना
ले वीरा कुरिय करवाडा
लै सर्व सुहगन करवाडा

Song For Seventh Pheri Of Karwa Chauth
वीरो कुड़िये करवडा
सर्व सुहागन करवडा
ए कट्टी नया अटेरी नी
खुम्ब चरख्रा फेरी भी
आर पैर पायीं भी
रुठ्दा मनियें भी
सुथडा जगाईं भी
ले वीरा कुरिय करवाडा
लै सर्व सुहागन करवाडा
As always, the sighting of the Moon will hold great significance in Karwa Chauth. But, what is the actual significance of Karwa Chauth? Let's take a look.
Sighting Of Moon
One cannot terminate the fast until the Moon rises. Therefore, sighting of Moon is considered to be an important event in Karva Chauth.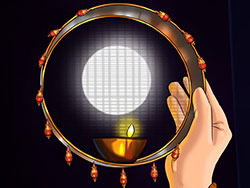 Married women sight the Moon through a sieve and concludes it by viewing their husbands through the same sieve. Then, their husbands offer them a glass of water. After taking a sip of water, their fast gets terminated after following a day of pious strictness.
Karwa Chauth is a special day in the lives of married couple. Karva Chauth strengthens the bond between a husband and wife.
The day of Karva Chauth represents the strong will and devotion of the wives toward their husbands. The importance of the day is such significant that it marks the longevity of men through their wives' prayers and devout strictness.
Karwa Chauth is approaching soon in 2017. On Karva Chauth, you can also send Karwa Chauth SMS to your relatives and married friends. Since, it is considered to be a day of festivity, you can also greet your friends through Karvachauth images.
Hope the Karwachauth or Karva Chauth brings a special strength of bonding in the conjugal life.
AstroCAMP wishes you all a very Happy Karwa Chauth..!