By Aalok Varkhandkar
Mars in Vedic Astrology signifies energy, strength, courage, power, sports and a great number or things. But the intention of this article is to highlight how Mars behaves when it has a relationship with the eighth house, either by ownership of the eighth house, or occupation of the eighth house, or association with the eighth lord or aspect from it or even its aspect to the eighth house.
Mars signifies among other things, accidents, wounds, injuries, surgeries, operations, etc. The eighth house too signifies all these things as well as chronic and mental illnesses. Vedic Astrology, however, does not consider Mars as a significator of the eighth house. But in many Vedic charts I have noticed very often that when Mars becomes associated with the eighth house or eighth lord, it becomes a sure significator of the eighth house. During the dasha/bhukti or period of the eighth house lord or planets associated with the eighth house or even during the period of Mars one is likely to get some kind of injury. How bad this injury can be is dependent upon the other indications in the chart. If a benefic Jupiter as owner of a trine is related with such a Mars or even aspects the eighth house, the injury cannot be a serious one.
Violent accidents and tragedies can be expected if Mars is posited in the eighth house and has no beneficial aspects. If such a Mars is afflicted by a malefic even death can occur during its dasha/bhukti. In some cases it has been observed that even Mars' ownership of the ninth house, which is a trine, does not spare the native (owner of the chart) if it is deposited in the eighth house.
In the chart below Mars is the owner of the ninth house and should act as a benefic. But during the dasha of Mars the native has experienced innumerable accidents, injuries and surgeries. Since the time the Mars mahadasha started the native has had no relief from them. Here Saturn, another malefic, is aspecting the ninth house which Mars owns, and that adds to the troubles.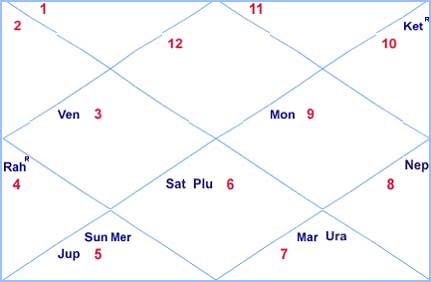 If one finds Mars in one's chart in such a position then, during its period or even during the periods of planets associated with it, one can expect to come very close to some kind of tragedy.
Vedic astrology provides us with divine knowledge here to predict in advance of such tragedies. Using the Vimshottari dasha system an astrologer can easily identify the time periods when such tragedies are likely to manifest themselves. I have mentioned elsewhere how astrologers use the Vimshottari dasha to time events. By knowing beforehand about the occurrence of such tragedies one can easily save oneself from them.

To consult astrologer Aalok Varkhandkar, please click here.