By Acharya Raman
Month Of November For You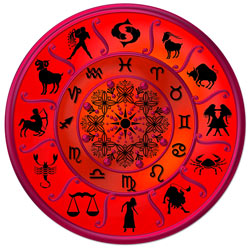 In November, Rahu, Saturn, Mercury and Jupiter will be having prominent effect on natives. We are going to have elections this month in some states. It seems that parties with inclination toward Aryan culture; or toward justice and equality will win over those who are dirtying our country since long. There could be some natural calamity this month. Religious Gurus will be defamed and imprisoned. Incidents of gang rapes will not be controlled and in this month there could be brutal killing again after the heinous act. Religious and educational institutions will be in news for bad motives. There will be incident of fire in some liquid chemical factory or storage. There will be increase in acid attacks. There will be acts of mass violence. It is likely that some online sex racket may get busted.
On various ascendants the effects will be like this:
Aries November Horoscope 2013
There will be loss in litigations. Ailments in family are foreseen. Hidden gains from opposite sex are also expected. There will be unfavorable atmosphere at home and there could be bad news in family. You will get help from unknown people and will be saved from some big misfortune.
Taurus November Horoscope 2013
Your spouse will have better professional opportunities. There will be good atmosphere at home. Professional front will not be satisfactory and there will be expenses on travels and leisure.
Gemini November Horoscope 2013
You will have bad health. Friends may become a cause of irritation. There could be some legal issues. Married life will be good. Unmarried ones will have good time with their friends of opposite sex. There will be religious activities done by you. You could backstab your known people.
Cancer November Horoscope 2013
Tensions in family, financial gains, long travels and hospitalization are possible incident for you in November. There will be good gain of money and relations to you. There will be health hazards also for many of you, so it is better to be precautious.
Leo November Horoscope 2013
There will be success in love affairs and speculations. Auspiciousness throughout the month is predicted. All you need is to stay calm, don't try to bully anyone or force anyone. Let things happen as they intend to be. Do not make legal agreements, postponement will be a good option. Do not sign on any paper in trust or kindness.
Virgo November Horoscope 2013
You will be confused between good and bad thoughts all throughout. Slip of tongue will prove costly to you. Maternal family may see some bad events in their house. There can be incidents of inexplicable reasons.
Libra November Horoscope 2013
Libra is going through a rough time due to Saturn and Rahu and from 5th of November there will be further increase in the problems. It will be better to remain calm and think wisely before committing any act.
Scorpio November Horoscope 2013
You will enjoy this month fully. There will be marital bliss. Good time has been predicted from professional front. You will eat many sweets this month; so teeth may get infected and give you trouble.
Sagittarius November Horoscope 2013
Love affair is not ruled out this month. Younger brother may face health issues. There will be travels for gains and fun. Pilgrimage is also an option for you. Work front will be disturbed.
Capricorn November Horoscope 2013
There will be growth professionally. Health could give hiccups. You may see sudden ends to your plans and also there are chances of acquiring ancestral property going on for natives with relative DBA's. Disputes with higher officials may arise marginally.
Aquarius November Horoscope 2013
Love is waiting to be explored for you, so do not miss the chance. Ignore initial setbacks and be focused. Good time for married and unmarried natives equally. Long journey is also there for you.
Pisces November Horoscope 2013
Be firm in what you decide and do not change your plans constantly. Take care while eating outside. Be careful as you may suffer defamation. Act wisely. There are hidden forces working against you, so do not trust all with sweet tongue.
| | | | | | |
| --- | --- | --- | --- | --- | --- |
| S. No. | DATE | PLANET | SIGN | STARLORD | SUBLORD |
| 1 | 1.11.2013 | SUN | LIBRA | RAHU | KETU |
| 2 | | RAHU | LIBRA | RAHU | MERCURY |
| 3 | | SATURN | LIBRA | RAHU | MARS |
| 4 | | MERCURY | LIBRA | RAHU | VENUS |
| 5 | | MARS | LEO | VENUS | SUN |
| 6 | | JUPITER | GEMINI | JUPITER | KETU |
| 7 | | VENUS | SAGITTARIUS | KETU | VENUS |
| 8 | | KETU | ARIES | KETU | VENUS |
| 9 | 3.11.2013 | KETU | ARIES | KETU | MERCURY |
| 10 | 5.11.2013 | SATURN | LIBRA | JUPITER | JUPITER |
| 11 | 8.11.2013 | JUPITER | GEMINI | RETROGRADE | |
| 12 | 11.11.2013 | MERCURY | LIBRA | DIRECT | |
| 13 | 17.11.2013 | SUN | SCORPIO | JUPITER | MARS |
| 14 | 18.11.2013 | RAHU | LIBRA | RAHU | SATURN |
| 15 | 20.11.2013 | SATURN | LIBRA | JUPITER | SATURN |
| 16 | 21.11.2013 | MARS | LEO | SUN | SUN |
| 17 | 28.11.2013 | JUPITER | GEMINI | JUPITER | MERCURY |