"Talking Calendar" is one touch away from narrating you about Hindu holidays, fasts, auspicious muhurat, festivals, daily panchang and horoscope 2019. Just one tap makes your life easy and accessible!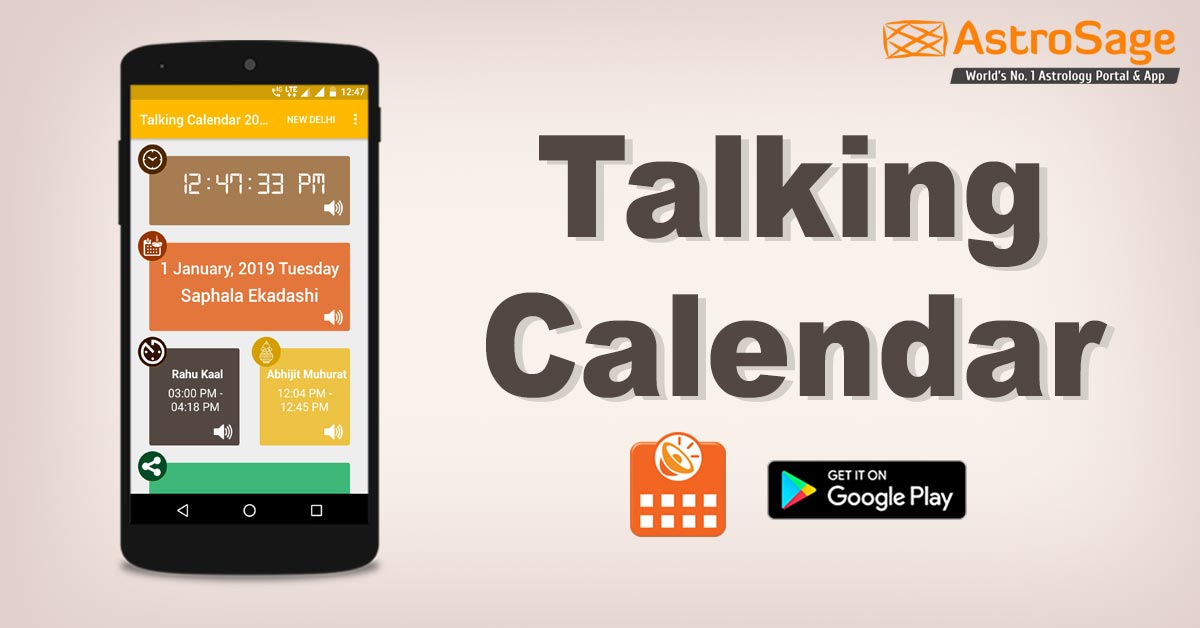 Talking Calendar App
Talking Calendar is a must have App for those who need an effortless access to the dates of Hindu festivals and Indian holidays, along with the tithis of fast. With one tap on this app, you can find accurate details about daily panchang, muhurat, rahu kaal, as well as horoscope for the year 2019. The Talking Calendar App 2019 not only helps people who are specially-abled but also saves your time. Nothing can be better than a clock that speaks. Next time you need to ask someone what the date is, consult the Talking Calendar App and hear a answer that's always correct. There's no possibility of this clock ticking the pins at a wrong time. The best part of this app is - when the Sun is glazing and you are unable to read from the screen, you can actually hear the time.

'Talking Calendar' Salient Features
Comes with a Talking Clock
Caters to every day need
Works with a tap or touch
User-friendly
Accessible in the language you are comfortable with
Clarity in speech and pronunciation
Offers details about panchang - abhijit muhurat, tithi, nakshatra, yoga, karana, hora, choghadiya, rahu kaal etc.
Speaks about the fasts and festivals as per Hindu calendar
Reads the date and time for you.
Works well for people who can't see
Precise and accurate
Simple and quick
Free of cost
Eliminates the need of typing your search
Simple block pattern for ease of access
Option to change your language as well as location
Saves your time
Hands-free, the calendar "speaks" to you
Tell about sunrise, sunset, moonrise, moonset timings
Clears the air about panchak and bhadra
Gives you the freedom to share important events with friends and family
Power of Voice-Based App
Talking calendar App is not restricted to tell you only the date and time. This app corresponds to Hindu calendar that includes details about the Rahu Kaal, Abhijit Muhurat, Tithi, Nakshatra, Maas (month), Vaar (day), Yoga, Karan etc. The time of sunrise, sunset, moonrise and moonset are also clearly stated in this app. Indians pay great heed to special planetary positions like the panchak and bhadra. Talking Calendar app takes care of that as well. You don't even need to consult an astrologer for such fine details. Even if you don't know to read and write, you can listen to it.
Talking Calendar app is designed considering the needs of an everyday Indian who relates to Hindu calendar, wants to know about the auspicious time or muhurat when anything new and auspicious can be started and has a firm understanding of why to know the timing specific to the place you live. This app solves the problem of everyone who has to visit an astrologer every time even to know the duration of Rahu Kaal. This app is a gift to people who can't use an app since they can't read. Just tap on the screen and the app would speak!
Download "Talking Calendar" app now.
All the elements in a Panchang that would make a difference to a common man are mentioned in this app. The complex calendar applications which are not user-friendly need not be in your phone anymore. Just download Talking Calendar app and hear out the details that matter to you.

Download 'Talking Calendar' app from Google Play now.