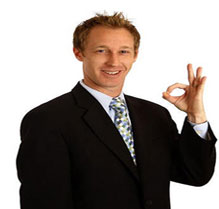 Are you desperately looking for a government job? Even after many attempts you failed to crack the entrance exams of Government services, is this so? Don't lose your heart, here are some effective tips that will help you get a government job.
Everyone desires to have the stability in life. If you're also the person who looks for the secure future and a stable financial life, no other option is better than having the 'Government Job'. Even if a person has already reached a satisfied level of success, a desire for the government job never fades away. Aspiration of a government job is very natural, as all people crave for assurance as far as money is concerned. It can be said that if you are financially sound, life seems a lot easier.
Have you ever assumed that even after trying very hard for a government job, why didn't you get it? Or how a person who is not even diligent enough gets the desired goal easily? Or you might have experienced a situation where you were sure of getting a government job but at the end you couldn't. All such affairs are literally very disheartening and depressing. You are just left wondering, what really went wrong?
You may think that there is no answer to these questions. Perhaps, you will be surprised to know about some best ways that will certainly help you getting a government job. Therefore, it is not at all wrong to say that you can improve your chances for designating in a government job by just applying some simple but effective tips. It is important for you to know that the primary reason for all such incidents is the planet Saturn. Planet Saturn is considered as the significator of government job.
Vedic Astrology signifies that Saturn is that planet which strongly affects its natives. The positive or negative inclination of the person is determined by the position of Saturn in the Birth chart. Saturn is responsible for the improvement of a person's concentration and enhances meditation and spirituality. If you choose to walk on the road constructed by Saturn then you will definitely get a government job as soon as possible.
To allow Saturn or to convince Saturn to create such a road for you, you must apply all these given factors in your life.
1. Worship Lord Hanuman or Lord Bhairo: As per the Vedic astrology Lord Hanuman or Lord Bhairo should be worshipped on regular basis to please the Planet Saturn (shani). Lord Hanuman or Lord Bhairo is said to be the ruling deity of Saturn. Therefore, you are destined to reach the step of success as soon as possible by worshipping this deity.
2. Recite Hanuman chalisa or any other Hanuman stotra: It is very beneficial to recite Hanuman chalisa or any other Hanuman Stotra because this way you will be able to remove the negative effects of Saturn.
3. Japa of Shani mantra: The most effective mantra to attract the positivity of the planet Saturn (shani) is the Shani mantra. Therefore, to recite the shani mantra 19000 times in 40 days is strongly recommended. Om pram preem proum sah shanaischaraya namah is the Shani mantra that is to be recited.
4. Recite the Shani stotra: In order to enhance the positive effects of Shani (Saturn) reciting Shani stotra is one more vital factor that will definitely decrease the chances of failure.
5. Donate a buffalo or black til (sesame seeds) on Saturday: Present your gratitude towards Saturn in the form of donating buffalo or black til (Sesame Seeds) on Saturday. With this the obstacles that were not allowing you to get a government job will be removed.
6. Fasting on Saturdays: Saturday is the day which is ruled by Shani. Fasting on Saturdays will improve your ability of focusing towards your goals and will help you in achieving your goals.
7. 14 Mukhi Rudraksha: Wear a 14 mukhi Rudraksha. Rudraksha is known to be the auspicious tear of Lord Shiva. So, if you wear a 14 mukhi Rudraksha, you will experience ultimate energy as your Shani will be strengthened by the unmatchable power of rudraksha.
8. Dasharatha Shani Stotra: Dasharatha Shani Stotra is an exceptional remedy to completely eliminate the troubles caused by the negative effects of Shani.
9. Dhature ki Jad: Keep 'Dhature ki Jad' always with you and wherever possible this will boost up the positivity of Shani and the hindrances between you and your government job will be removed gradually.
10. Blue Sapphire: Blue-sapphire is a precious gemstone which bestows almost all the qualities of Saturn effectively. Wearing blue sapphire will develop dedication and concentration in you which is very important to keep pace with life.
If your belief is strong in your capabilities and in your God then anything and everything is possible for you. These remedies will definitely empower you and your Saturn, but trusting yourself is the most important element. Therefore, go ahead and apply all these remedies with a trust in your abilities and witness the cards of success turning in your favor.