By Nitin Datta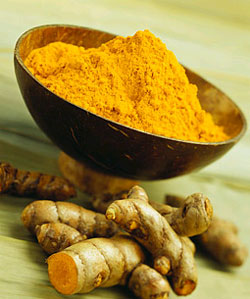 Turmeric finds a very respectable place in our kitchen and at our worship places. Astrologically, turmeric is associated with Jupiter and it draws its natural characteristics and yellow color from Jupiter only.
Its properties as a natural antiseptic and ingredient in food dishes is very well known to us. Many of the important worship rituals and auspicious events like marriage are incomplete without it. Turmeric is said to possess the positive energy of Jupiter. Easy accessibility to turmeric makes it simple but a very powerful ingredient for performing remedies. The following are some of the important remedies that can be performed using turmeric:
Tying a piece of turmeric root (Haldi Ganth) on the wrist/neck strengthens the auspiciousness of Jupiter.
Those who cannot afford to buy Pukhraj (Yellow Sapphire) as a remedy to afflicted Jupiter can avail the full benefits by using turmeric.
An object of worship can be purified by sprinkling water mixed with turmeric.
Wearing turmeric mark (Tika) on forehead improves chances of success and overall state of mind.
Marking the boundary wall of the home with a Swastika made from turmeric keeps negative influences at bay.
Taking bath with water mixed with small quantity of turmeric purifies the body as well as mind.
Offering turmeric mark (Tika) to deities like Ganapati and Lakshmi is considered very auspicious.
A mix of turmeric and sandal during worship is considered very auspicious for gaining desired results.
Turmeric is considered a Satwik product. Its mere existence in the home is very auspicious.
Jupiter is the one of the greatest benefic planet in astrology. Any affliction to Jupiter in the birth horoscope can be taken care of by performing simple remedies using turmeric. It appears as very simple item but its results are very powerful. The above mentioned remedies are more useful for all those who have debilitated Jupiter, combusted Jupiter, retrograde Jupiter or Jupiter as the owner of 1st, 4th, 5th, 9th and 10th house. Even people with inherently strong Jupiter can perform these remedies to enhance the auspiciousness of Jupiter in their horoscope.