55% off
Coral (7 Carat)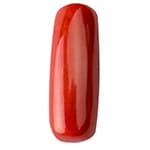 Ruling planet: Mars
Zodiac sign: Scorpio and Aries
The Coral (Moonga) holds a coveted place among the nine gems. It's reddish in color and symbols victory. Coral is associated with the planet Mars and Scorpio and Aries are the zodiac signs.Mars is the planet for ambition, passion, valor and success. Wearing a coral can beget all the good things of life. It wards off evil spirits and protects from sickness. Mars stimulates the mind and wearing a coral can help in mental faculties functioning in perfect harmony with the body and spirit. Wearing a coral can avert warfare and helps in curing blood related problems in the body. Coral is also good for the skin and helps the body temperature remain normal. If there are property disputes, wearing a coral can avert the dispute and make the wearer gain property and real estate.

Note: The image represents actual product though color of the image and product may slightly differ.
Price: INR Rs. 13798
Sale: INR Rs. 6200
You Save: INR Rs. 7598 (55%)
Add To Cart
Buy Now