50% off
Blue Sapphire (2 Carat)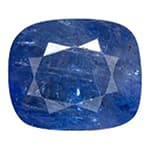 Ruling planet: Saturn
Zodiac sign: Capricorn and Aquarius
Blue Sapphire (Neelam) is the gem stone that is associated with the biggest planet of the zodiac sign that is Saturn. Saturn is like a judge and always is upright and righteous. The zodiac signs Capricorn and Aquarius are ruled by Saturn. They are steadfast in their approach and have wisdom. If Saturn is exalted in a person's birth chart, then wearing a Blue Sapphire (Neelam) ring or pendant may bring positive and healthy results. Sapphire is associated with removing poverty and attaining wealth. Wearing a Sapphire can improve the health of the individual and also give long life. Saturn also catapults people to fame, name and fortune. Wearing Sapphire can produce positive results. On wearing a sapphire gem stone if it changes color the stone is warning the wearer of impending danger.

Note: The image represents actual product though color of the image and product may slightly differ.
Price: INR Rs. 13298
Sale: INR Rs. 6649
You Save: INR Rs. 6649 (50%)
Add To Cart
Buy Now