44% off
Hessonite Pendant [Lab Certified]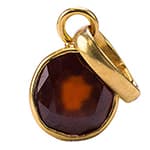 Ruling planet: North Lunar Node or Rahu
Zodiac sign: Capricorn cusp Aquarius
Hessonite (Gomed) are favorable for people born in the month of January. People born under the zodiac sign of Capricorn cusp Aquarius should wear hessonite. The color of hessonites is mostly reddish brown but it can be red, light red, violet, purple etc. Wearing this gemstone in a ring or pendant helps to relieve of tension and stress and accumulate wealth. It helps to become professionally successful. It also helps to ward off malefic effects of Rahu from one's life. Wear it in a panchdhatu ring or pendant for attractive results. Before wearing it, immerse it in a mixture of water and milk and chant the mantra,"Om Ram Rahave Namah". Ideal days to wear it are Saturday and Wednesday in order to yield positive results.

Price: INR Rs. 6498
Sale: INR Rs. 3599
You Save: INR Rs. 2899 (44%)
Add To Cart
Buy Now