Lok Sabha general elections are taking place from April 7 to May 12, 2014. Today, we are talking about Arvind Kejriwal, prime ministerial candidate of the newest - Aam Aadmi Party. He promised many things to gain the votes of people, let's see what astrologer Nitin Datta has to say about his future.
Speech Of Kejriwal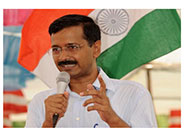 Arvind Kejriwal has a powerful tendency to influence and convince people, by his speech.
Moon
controlling his speech is exalted in the Lagna (ascendant) signifying a powerful tendency to influence people by his speech. The amazing fact about his speech is that he does not tend to have a commanding/deep voice, but supports his speech by facts and figures that are staggering in nature. The logic in the speech becomes very clear once he starts orating.
Mercury
, signifying intellect and the power to analyse, is placed in fourth house. Fourth house represents the masses (common man), in the horoscope. Besides Mercury there is
Jupiter
,
Venus
, and
Sun
which are also placed in the fourth house. No wonder that Mr. Kejriwal has been able to convince the masses considerably in AAP's favor.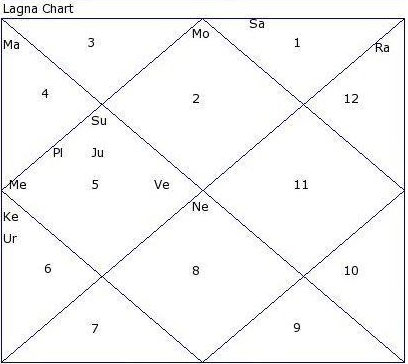 Actions & Performance
Mars represents the vital energy to act. Thoughts get converted into action only by Mars's intervention. Mr Kejriwal's Mars is debilitated (very weak), so he tends to speak more and perform less. Likewise, Saturn, which represents the regression, patience, and perseverance to hold on to a situation and dig a way out of the problems, is also debilitated in the horoscope. No wonder he plunged into the general elections even after winning the Delhi Elections and becoming the Chief Minister of Delhi. He did everything in a hap hazard manner. Interestingly, Saturn also represents the "masses" in astrology and weak Saturn along with weak Mars may not deliver the requisite level of performance from the commensurating level of trust given by the masses. That's exactly what Mr. Kejriwal did.
Contesting Elections From Varanasi
It appears that Mr. Kejriwal chose to contest elections from Varanasi by force and not by choice. He chose Varanasi because Mr. Narendra Modi chose to contest the elections from Varanasi. This shows that his agenda is not to win the elections and serve this nation but to defeat Mr. Modi. The planetary transit shows some support, but sustainability would be a question in his win. He would probably be able to create a spark by earning some respectable number of votes, but Mr. Modi appears a better contestant to win the elections.
Stay Blessed!
By Nitin Datta