In 2017, Durga Puja is starting from September 26 and will continue till September 30. Maa Durga freed the world from the monstrous forces. Durga Puja not only celebrates her victory, but also celebrates the triumph of mankind. According to our Hindu Calendar, it is observed in the Shukla Paksha of Ashwin month. According to our Scriptures, on this day only, Goddess Durga killed Mahishasura. Read on to know more about the divine festival of Durga Puja...
Durga Puja 2017: What Is Durga Puja?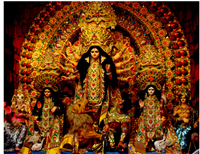 Maa Durga (the warrior Goddess), the epitome of righteousness and endearment, is the most loved female deity of Hindus all over India and other countries of the world as well. Every year, grand celebrations are observed in the honor of Mother Goddess, on the day of Durga Puja or Durgotsav during Sharad Navratri. It is a six day long festival. The dates of Durgotsav are decided according to the Hindu Calendar .
Durga Puja ends on the tenth day of Sharad Navratri. This day is also known by other names such as Dussehra and Vijayadashami.
Durga Puja is a major festival of East India, celebrated in the honor of Maa Durga (Mahishasura Mardini), who celebrates her victory over the demon Mahishasura.
Mysore is known to be the native place of Mahishasura, so Durga Puja is also a major festival of Mysore. A grand traditional Dasara procession is carried out on the streets of Mysore on the last day, i.e. Dussehra, which starts from Mysore Palace and ends at Bannimantap.
The celebrations of the 6-day long festival, Durga Puja starts from the day of Shashthi and continues till the day of Vijayadashami or Durga Puja (Durgotsav). Commencement of Durga Puja is whistled much before the day of Shashthi, on the day of Mahalaya. The day of Mahalaya is also the beginning of Devipaksha.
Durga Puja 2017: Significance Of Goddess Durga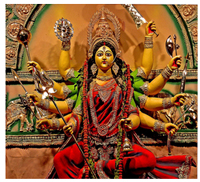 Maa Durga is the source of all the energies. Her nine manifestations are worshiped during the nine days of Sharad Navratri, and the complete form of Shakti, Goddess Maa Durga is worshiped on the tenth day of Sharad Navratri for attaining immense peace and happiness. The nine manifestations of Maa Durga are Kali , Bhavani, Bhagwati, Gauri, Ambika, Lalita, etc. Maa Durga is considered as the representation of feminine power.
Maa Durga is also known as 'Durgati Nashini', which is a combination of the words 'Durgati' and 'Nashini'. Here, Durgati refers to all the negativities, troubles, and evil things of life and Nashini refers to the one who eliminates all these things. Durgati Nashini (Maa Durga) eliminates all the troubles of her devotees' life. The existence of any evil power is impossible in front of Maa Durga's immense divine powers. Maa Durga's ten arms, three eyes, and her vehicle (lion) are the representations of her power.
Ten Arms Of Maa Durga
Maa Durga (Mahishasura Mardini) protects her devotees from all the possible directions with her ten arms. Different kinds of weapons and Mudras are acquired by Maa Durga's hands. Different weapons and Mudras of her hands also symbolize her teachings.
Chakra : Chakra of Maa Durga is the symbol of Dharma. It vanquishes all the evil powers and teaches us the right path of Dharma to be followed in life.
Conch : Conch of Durgatinashini spreads positivity and removes negativity from the surroundings by the power of its divine sound. It teaches us to spread positivity all around with good deeds.
Sword : This sharp edged weapon of Mahishasura Mardini has the power to destroy all the evil powers and negativities. The edge of her sword has the quality that it won't let any negativity last in front of it.
Bow & Arrow : Bow & Arrow are the representation of energy. Holding of bow and arrow in one hand represents the hold of Maa Durga on both potential as well as kinetic forms of energies.
Lotus : Lotus flower of Maa Durga teaches us that despite of being on the top of dirty water and mud, it spreads its beauty and fragrance everywhere. It teaches us to remain calm and beautiful even in the worst situation.
Gada : Gada of Mahishasura Mardini is the representation of power, loyalty, dedication, and devotion. It teaches us that every task should be performed with full dedication and devotion.
Trishul : Trishul is the symbol of courage and remover of miseries. It teaches us that we should never lose the courage in life and that's the only way that we can remove all kinds of miseries from our life.
Forgiving Mudra : The forgiving Mudra of one of Durga Mata's hand teaches us that we should learn to forgive the mistakes of others. Forgiveness is a very big quality, which frees the doer of the mistake and the sufferer from its burden.
Thunderbolt : Thunderbolt in Maa Durga's hand is the representation of toughness. It has the ability to break everything that comes into its way. It teaches us like a thunderbolt, we should also face and conquer all the challenges of life without being affected.
Spear : A spear is weapon with a long shaft and pointed end. Spear has the ability to pierce its target, if thrown with full precision. Spear teaches us that if we apply correct precision, we can pierce every trouble of our lives.
Three Eyes Of Maa Durga
Mahishasura Mardini has three eyes, that's why she is also known as 'Tryambake'. Moon , Sun , and fire are considered to be the representation of her three eyes. Moon (desire) is represented through her left eye, Sun (action) is represented through her right eye and fire (knowledge) is the representation of her third eye.
Maa Durga's Lion
Vehicles used by different Hindu deities represent the powers that are controlled or mastered by them. Lion is the symbol of greed, wickedness, selfishness, and cruelty. Riding a lion denotes that Maa Durga helps in controlling all these bad qualities and make her devotees enlightened human beings from within. It also teaches us that these bad qualities should be governed by us, but we should not be governed by them.
Red Colored Clothes
Maa Durga is always seen in red colored Saree (traditional attire). Red color is the symbol of power, action, and danger. Therefore, this color symbolizes that she is the personification of immense divine power. She acts immediately with suitable action for saving her devotees from any trouble or suffering. Mother Goddess Durga is also considered extremely dangerous for all the evil things.
After discussing these divine symbols of Goddess Durga, let's now discuss the legends of Durga Puja (Durgotsav) in Sharad Navratri before celebrating it.
Durga Puja 2017: Legends of Durga Puja
Now, let's read about the legends of Durga Puja in detail. After reading these legends, you will be able to know that why Maa Durga is known as Mahishasura Mardini. You will also be able to know that why Lord Rama prayed to Maa Durga for her blessings.
Legend Of Mahishasura
Mahishasura was a buffalo headed demon, who successfully gained the boon of Lord Shiva after observing a long and hard penance. He was blessed that no man, demon, deity, or beast would be able to kill him. Mahishasura was a cruel demon and his brutality increased after getting the blessings of Lord Shiva. Maa Durga destroyed demon Mahishasura; thus, she is also known as Mahishasura Mardini.
For destroying demon Mahishasura and his terror from earth, the three supreme powers, the trinity: Lord Brahma, Lord Vishnu , and Lord Shiva (Brahma-Vishnu-Mahesh) came together and merged their powers to create an extraordinary powerful Goddess – Maa Durga. Her anger, power, and urge for saving the earth from the devil's evil powers resulted in the destruction of demon Mahishasura and thus, the destruction of terror from earth.
Legend Of Lord Rama
Another very important legend associated with Durga Puja is of Lord Rama. As per Hindu beliefs, Lord Rama worshiped Maa Durga before entering into a fight with Ravana. Since Ravana was blessed with miraculous powers, Lord Rama needed blessings of Goddess Durga to destroy his evil power from earth. Thus, he worshiped Maa Durga and performed Chandi-Puja during the nine special days of Sharad Navratri. After getting the blessings of Maa Durga, Lord Rama successfully destroyed the kingdom of Ravana and freed Mata Seeta from his clutches.
We have just discussed about the legends of Durga Puja (Durgotsav). These legends will help you in celebrating the festival of Durga Puja in a more devotional manner.
Durga Puja 2017: Celebrations Of Durga Puja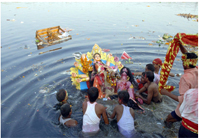 The grand celebrations of Durga Puja are mainly observed in West Bengal and particularly in Kolkata. Durga Puja is a medium of earning income for most of the artists of Kolkata. Although, now the festival is celebrated in other parts of the country as well, but for realizing the real spirit of the festival, one should not miss the Durga Puja celebrations in Bengal.
Every year, some latest theme based Pandals are created by the devotees to connect our modern day problems with the universal problem solver, Maa Durga.
This significant festival of Durga Puja actually starts from the day of Mahalaya, as already discussed above. On Mahalaya, Goddess Maa Durga is invited on earth by her devotees. They invite her to worship and be a part of her immense kindness.
After inviting Maa Durga to earth, on the day of Mahalaya, Puja celebrations start on the day of Shashti and ends on Vijayadashami.
Shashti
The sixth day of Sharad Navratri marks the important ritual of Devi Bodhan. Special prayers are delivered in the honor of Mother Goddess, who is called to visit the earth. All the devotees gather in Pandals and welcome Maa Durga with the sound of Dhak (special drum).
Maha Saptami
The second day of grand celebrations of festival of Durga Puja is called Maha Saptami. Important ritual like 'Nabapatrika' is performed by the devotees along with the special Puja of Maha Saptami. In the ritual of 'Nabapatrika' or 'Kola Bow', a banana tree is bathed with the holy water and decorated with a beautiful saree, as the wife of Lord Ganesha. The plant is then placed beside the idol of Lord Ganesha. All the nine plants are honoured, as the nine incarnations of Maa Durga.
Maha Ashtami
Maha Ashtami of Sharad Navratri holds a great importance. The famous ritual performed on this day is 'Kumari Puja', in which girls below the age of 12 years are worshiped. People invite these little girls at their homes and honor them as Mother Goddess. Special Prasad of Suji Halwa, Puri, and Chane is also presented to them.
Maha Navami
Maha Navami is the last day of Sharad Navratri and thus, a very important day for worshiping Goddess Durga. Some people also honor young girls on Maha Navami as the forms of Maa Durga. In southern parts of India, Maha Navami is of great significance for starting any new work. People of South India also worship the equipments used by them at their workplace like automobiles, machinery, and books on the day of Maha Navami.
Vijaya Dashmi
The last day of Sharad Navratri, Vijayadashami of Durga Puja is the most important day of the celebrations of Durga Puja. Large processions are carried out by the people throughout the city with beautiful idols of Maa Durga. These idols are then immersed in water of holy river or ponds, on the day of Vijayadashami or Durgotsav.
Vijayadashami is an important day for saying goodbye to Maa Durga. All the devotees bid farewell to Maa Durga and pray her to come again soon the next year by saying "Asche Bochor Abar Hobe". Women play with Sindoor (vermilion) and pray for the long life of their husbands on the day of Vijayadashami.
Durga Puja 2017: Delicious Delicacies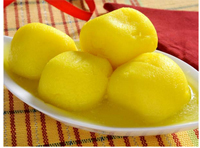 Durga Puja is a major festival in Bengal, which is famous for its sweets and fish curries. Every year, some new recipes are introduced for adding on the flavor to festival celebrations, same is going to happen on Durga Puja this year.
Some mouth watering delicacies are again going to be seen in the celebrations of Durga Puja. Let's talk about these delicacies:
Sandesh (Bengali dessert)
Rava fried fish
Rasgulla (Indian sweet dish)
Doi Maach (fish curry made of curd)
Nariyal Laddu (sweet dish prepared of coconut)
Fish Pakora (fish cutlets)
Try preparing these recipes at home with your own creativity for adding a festive touch to the festival of Durga Puja.
Happy Durga Puja to all!