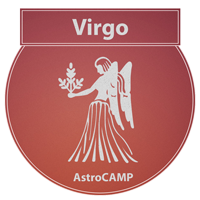 The year 2020 looks good for Virgo Moon Sign people according to the Virgo Horoscope 2020. This year is going to be excellent for you in fields like marriage, career and education. Saturn would enter in your fifth house in Capricorn sign on January 24. At the beginning of the year, Rahu would be in your 10th house in Gemini sign and later, it will enter in Taurus sign in 9th house on September 23.
Another major planet Jupiter enters Capricorn sign in your 5th house on March 29. It would transit back in Sagittarius on June 30 after becoming retrograde and again would enter in Capricorn in the 5th house after becoming direct. Combust Venus will be in the same state from May 29 to June 09. Let's read in detail predictions for Virgo sign for the year 2020.
Economic Conditions for Virgo Horoscope 2020
The starting of the year 2020 seems to be good for you. In February, you may think of changing your job. A new source of income may arise which would offer you a sense of security, in your financial matters. During the months of March, April and May, you may have on your mind, an idea of purchasing some luxurious goods for the comfort of your family or a vehicle or some kind of property. Gains owing to inheritance are also predicted. You may as well spend on the construction of a house or its renovation this year.
You may gain through speculations, bonds and share market. You need to remember that all the investment should have a long-term basis. There may be a loss if you go for short term investments. You may put your money in religious deeds during the middle of the year. There are chances of long distance journeys with your family during this time as well. In the month of November and December, you will enjoy a good economic state. There is going to be a continuous inflow of money this year. The year looks auspicious for your money matters.
Health according to Virgo Horoscope 2020
An unhealthy body can't be home to a happy mind. Keep yourself agile both physically and mentally if you wish to achieve your goals. During this year, in the month of January, your health may decline due to the affliction of your Lagna Lord. In the month of February, your father's health may become the reason for visiting doctors. During the third, fourth and fifth month i.e. March-May, you need to take care of your spouse as well as your children. The indications for their health are not good. During the initial months of the year, you must pay attention to your health. The rest of the year is good for health matters. Your interest in Yoga and meditation may save you from a lot of health issues, keep exercising. There is no sign of any major illness this year. The year 2020 seems to be excellent for your health.
Career Horoscope for Virgo 2020
This year, Virgo people may expect good results in career and related fields. Rahu will remain in your 10th house apparently throughout the year. It would be auspicious for your career perspective. You may switch your job and bag a hike in your current salary. You will also receive name and fame throughout the year. After September, there are chances to travel abroad for business purpose.
During March-May, you are likely to get desired results. You may achieve some authoritative position during this period. Support and assistance from your seniors and authorities is ensured. Your tenth lord Mercury will transit in different signs and houses during this period. However, it would not impact you much while transiting in any sign or house. Your luck will favour you almost throughout the year. Your eleventh house would always be aspected by the planet Saturn, which would benefit you this year. You will grow slowly at your career front.
If you have your own business, it will grow. You will yourself become a better professional while you strive to expand your business. You may even start a new business venture. It will be an auspicious year for the same. You may expect gains and good revenue from your business after March 30. it's going to be profitable. The year 2020 is going to be excellent for you as far as career matters are concerned.
Also Read: Profession through Astrology
Education Horoscope for Virgo 2020
According to Virgo astrology 2020 predictions, students of Virgo sign will get good results. This year is excellent for competitive exams. Especially in the months of March-May, you will get the desired results. Your luck will be in your favour throughout the year. Your ninth lord Venus will almost remain in favourable houses, that means luck will be in your favour. This year you may receive results of your previous hard work.
After March 30, the time is crucial for students as they may develop a special interest in studies. Since Rahu is sitting in the 10th house and also aspecting your 6th house. It would enable you to achieve your desired goal. You may also develop some interest in different research areas like occult or mysterious world.
If you are preparing for government job or other competitive examinations, you will get success. You will also get sudden success in academics. Students will show interest in learning their subjects and also they may get good results even after working comparatively less. If you have been lately thinking of going abroad for higher education, time is favourable. Give it a try during the initial months of the year or after September, once Rahu would enter in Taurus sign. Overall, this year is excellent for education purpose.
Family life as per Virgo Horoscope 2020
This year, your family life will be good. Jupiter, which is largely considered an auspicious planet, will remain in your fourth house most of the time this year. It will bring peace and harmony within the family. There are high chances of receiving inheritance (property or money) during the months of March-May which sounds like a good news for you. You may purchase some items of comfort and luxury for your family in the month of March due to an aspect of second lord Venus on your second house. Positive Saturn is also aspecting to your second house of wealth, it will bring happiness in terms of your wealth.
There are occasions where you may involve yourself in Pujas at home due to the placement of Jupiter in your fourth house. You will get full cooperation of your family this year. You may travel long distances with your spouse. You may also visit pilgrimage, temples or religious places with your family. Overall, the period is good for you.
Also Read: Vastu Shastra
Marriage and relations as per Virgo Horoscope 2020
According to Virgo Horoscope 2020, this year your happiness appears to be coming from your spouse. They might themselves be the reason or may give rise to a reason that would spread smiles and happiness. Especially during the beginning of the year, there could be a good news, you long expected from your children. If your children are of marriageable age, you may find a suitable match. There are indications for a marriage taking place at your home. If you got married recently, you may get lots of opportunities to romance with your spouse. Also, anticipate childbirth this year.
During March-May, there's a high probability of a new entry in your family tree. It could be a marriage or birth of a child. Most of the time, Jupiter will be posited in your fourth house, which would help you in receiving happiness and prosperity throughout this year. You will get to spend quality time with your spouse and children. You need to take care of your partner's health in the middle of the year and also in the last two months of this year. Overall, this year is good for your married life.
Love Affairs as per Virgo Horoscope 2020
According to Virgo Horoscope 2020, if you are in love someone, you may get married this year. There is a strong indication of love marriage taking place after the month of March. There would be some arguments during March-May, however, it will not last long. Love would be in the air. Your bond with your partner will be so strong that it would be a matter of pride for you.
If you have been waiting for the moment to propose someone, go ahead during the middle of the year. If you never found somebody you could see as a soul-mate, there is a strong possibility of meeting someone special during March-May. You will appear to be very calm and composed in handling your love matters owing to the placement of Saturn in your fifth house. Overall, this year is excellent for love matters for you.
Remedies for Virgo sign people for the year 2020
The remedy for natives of moon sign Virgo that will reduce their worries and help them in their endeavours is:
Regularly recite Neel Shani Stotra written by Maharaja Dashrath and along with it, read Shri Vishnu Sahasranama. Feed green gram and green vegetables to cow and move your hand gently on its back three times. Apart from this, you should gift green coloured Saree, Suit or Bangles to little girls below the age of 11 and also to your sister, your maternal or paternal aunt on Wednesday.
You can also wear the Vidhara Mool (Argyreia Speciosa) on Wednesday to increase the positive influence of Mercury as well as good health.