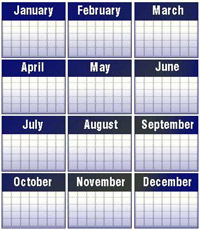 Panchak 2015 will affect each and every individual with its effects. Panchak 2015 will occur in all the 12 months. Here, in the report on Panchak in 2015 each and everything about Panchak is included to make you aware of all the facts related to Panchak.
Panchak is that period of time which continues for approximately 5 days and is considered inauspicious. The occurrence of Panchak is due to the transit of the Moon from last five constellations (Nakshatra) or from the last two zodiac signs. These constellations are Dhanishtha, Shatabhisha, Purvabhadrapada, Uttarabhadrapada and Revati. There are many things that a person can?t pursue during Panchak because of its malefic effects. People are advised to abstain from certain tasks to avoid any kind of negativity that the Panchak can have on them. The period of Panchak doesn?t arrive for once or twice, but it is a phenomenon that takes place after every 27 days approximately. Therefore, it becomes very important for a person to keep a check on the dates of Panchak.
Almost everyone in Hinduism is aware of the adverse effects of the Panchak and in any case they avoid those things that shouldn?t be done during Panchak. A table with the starting and the ending date of the Panchak has been given below for the ease of the people. It is only the matter of 5 days each month and the table will enable you to plan your work keeping those 5 days of Panchak in mind.
Panchak 2015 Dates Table
| | | | |
| --- | --- | --- | --- |
| Panchak Begins | Timings | Panchak Ends | Timings |
| January 22, 2015 | 08:49 | January 26, 2015 | 11:47 |
| February 18, 2015 | 19:50 | February 22, 2015 | 20:00 |
| March 18, 2015 | 06:59 | March 22, 2015 | 06:29 |
| April 14, 2015 | 15:53 | April 18, 2015 | 17:22 |
| May 11, 2015 | 22:18 | May 15, 2015 | 02:41 |
| June 07, 2015 | 03:40 | June 12, 2015 | 09:39 |
| July 05, 2015 | 10:00 | July 09, 2015 | 15:07 |
| August 01, 2015 | 18:30 | August 05, 2015 | 20:56 |
| August 28, 2015 | 04:51 | September 01, 2015 | 04:48 |
| September 25, 2015 | 15:35 | September 29, 2015 | 15:00 |
| October 22, 2015 | 24:49 | October 26, 2015 | 02:12 |
| November 19, 2015 | 07:34 | November 23, 2015 | 12:17 |
| December 16, 2015 | 12:55 | December 20, 2015 | 19:45 |
There are some definite tasks that can end badly if undertaken during the Panchak, whereas some work can prove to be highly beneficial. All you are required to know is the time on which Panchak will occur and the work that should be abstained or pursued. It is very important for a person to be aware of the kind of work that should be refrained from or pursued so that none of the wrong thing is done during Panchak. Dhanishtha and Shatabhisha are movable Nakshatra in the other five Nakshatra. As they are movable, the work related to travelling or marketing can be extremely beneficial.
There are certain things that can?t be done in Panchak, as they can really adverse effects. But, at times it becomes difficult to refrain from such tasks. Therefore, there are some remedies that allow you to carry out even the abstained work. These remedies reduce the ill effects of the Panchak. Some of the main things that should completely be avoided during Panchak are:
During Ghanishtha constellation one is not allowed to gather grass, wood and oil as it might result into fire. But, if it is necessary too buy any item of wood then it can be possible with the havan of Goddess Gayatri. The Havan will help in the elimination of the negativities.
In Panchak a person should avoid going in the south direction as it is the direction of Yam. To travel in the south direction. you must offer a fruit to Lord Hanuman.
A terrace should not be constructed in the Revati constellation. If in any case this cant be avoided then give sweets to the workers.
During Panchak a charpayi can???t be constructed too. But, buying a charpaayi is allowed. Even if the chanrpayi is bought not constructed, use it only after Panchak.
During Panchak cremating a dead body can be very dangerous as it might result into 5 more deaths nearby. As, cremating a dead body is such a thing that cant be avoided in any case, so perform Shantikarma with utter faith to cremate a body. The remedy of cremation also includes cremation of five dummies of the dead body too.
Even if the remedies are present to take up the abstained tasks, it is advisable to avoid all these tasks at the first place. Until and unless the work is highly important, do not do it during Panchak. It is easy with the table to keep an eye on the dates of Panchak and make your schedule your way.