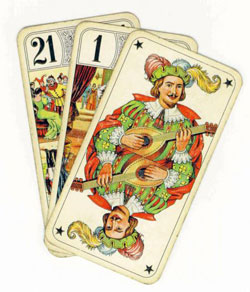 Tarot 2013 is one of the most interesting methods of peeping into the upcoming year. People are always keen to know about the events of their life in future. Reading tarot is a part of occult sciences and holds huge significance for its believers. Tarot reading is not a piece of cake but it requires complete understanding of this occult science and a deep knowledge of all the cards of tarot. There are 78 cards in a single deck through which the predictions are made. These 78 cards are systematically divided into two parts named as major arcana and minor arcana.
These cards reveal secrets about one's life in their own unique way. Each card is a symbol of different happenings and aspects of life. The major arcana that includes 22 cards is believed to reveal more things than the minor arcana that includes 56 cards. Here, you will come to know about how your life is going to be in the year 2013 according to the readings of Tarot.
Aries Tarot 2013 Horoscope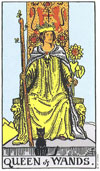 Card for Arians is the 'Queen of Wands' that falls under major Arcana. The queen adds beauty to the character of women and enhances their persona as she is the Goddess of the female forces. She grants qualities like energy, passion and enthusiasm to the nature of the native. As you have acquired this card, you might gain popularity among the people you know. You must face all the situations formed in the year 2013 with the same zeal that is carried by the queen of wands. 2013 is going to get you some very great opportunities indeed and you have to stay alert to grab them otherwise you might have to face the consequences later. It will be the perfect time for you to utilize your time in the things that you want to do. Positive results will come even with fewer efforts. As she also symbolizes some features of water, you are capable of molding yourself in accordance to the conditions. Use this ability of yours to handle the conditions of 2013 to avoid any complication. This phase might turn out to be the best phase of your life so act wisely.
Taurus Tarot 2013 Horoscope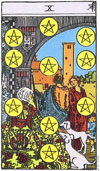 You have received the card of wealth i.e. 'Tens of Coins' Taurians. Surely it is a good card to get. As this card represents wealth, it can be said that you will have an easy access to wealth this year. But, if you are planning to gain wealth by some wrong means then you might have to face disappointments. This will take you by surprise that wealth here is not only linked to money but also to the other requirements of life such as love, relationship, emotions, peace and many other things. This card will motivate you to create your own path as the couple of this card did the same. With their efforts they obtained happiness from all sides. They were complete from the side of family as well as professionally. Usage of this phase of time wisely is extremely important for you Taurians. Good news like marriage or arrival of a new member in family might come your way. Committed people will invest their time in making their relationship better and will enjoy doing so as well. Dedicate yourself completely to the things that matter such as profession and family, things will get better than before.
Gemini Tarot 2013 Horoscope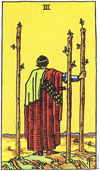 The card that has come in your pocket is 'Three of Wands'. It is better for you to get cautious about anything you do in the year 2013. The card signifies confusion; you will be confused about what to do in future. There is no doubt that you would want to go with your intuitions but your deep thoughts will distract you at every point. Destiny will only open up its arm for you if you pick up the work of your own choice. Be brave and give a chance to your creativity, it will surely take you to greater heights. As the clouds of confusion will keep a hold on you therefore try to know all the pros and cons beforehand. This card is an indicator of a female who is trying her best to fulfill her desires. She is the creator of her destiny and does her best to outshine all others. This is the attitude that you need to carry this year. Success is assured only if you live the life you desire for. Your conscience will lead you to the correct path so don't worry and get ready to give your best shot.
Cancer Tarot 2013 Horoscope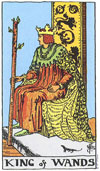 'King of Wands' is the card that you received Cancerians. This card is the symbol of many things such as bravery, male power, intelligence and wittiness. Even though you will get positive results this year with the help of this card, you will crave for even more gains. Your level of satisfaction will not be fulfilled with one work and you will tend to initiate new work immediately. The 'King of Wands' card holds the great power of change. It bestows its native with immense energy and courage to take up new tasks and complete them with utter dedication. As, male forces are one of the significator of this card, women will act more manly and might take some decisions practically rather than being emotional. You people are advised to control your anger as much as possible otherwise you might end up ruining your image in public. The king in the card is brave and drives his energy out of the earth and partially hidden moon. Use patience and bravery of the king as asset to travel along the time during the year 2013. With an ultimate level of energy you people are also blessed with perfect health for the upcoming year as predicted through the card of Tarot.
Leo Tarot 2013 Horoscope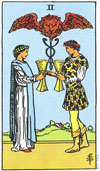 'Two of Cups' is the card for Leo that indicates partnership. This card can prove to be very lucky at times as it is an indicator of faith between you and your partner. The best part of this card is that it includes all kind of partnership present at all levels that is professional and personal. The bond of friendship, love and even business partners will be strengthened due to the influence of this card. The effects of this card will bring some positive changes with the touch of negative change in your life. You will attract your partner like never before but even other people will be interested in you and would like to be associated with you. Such situations will create a little fuss in your professional life but can be very disastrous in the matters related to love. Your partner will feel insecure at every step and it would be difficult for you to calm them down at once. If seen from a neutral point then it is the perfect time to enhance your business and your abilities. People around you will be impressed by your proposals and you will not find it difficult to execute your plans. Your partnership will help you in all possible ways in giving wings to your business.
Virgo Tarot 2013 Horoscope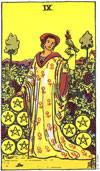 The card that came in your hand is the 'Nine of Coins'. You will be a source of inspiration for the people around you. The key to your success would be hard work and dedication. Being this card on your side, you are not required to rely on anyone this year. You develop your sources of income yourself and will show everyone that you are an independent person. The year is going to be too great for you from all aspects. A promotion and hike in income might come your way. The best part is that your seniors at workplace will be highly impressed with your performance. You people are known for your discipline and your discipline will fetch you many rewards in the year 2013. The changes of the year will be good and positive in all senses. You are very strong and got enough strength to lead a group of people. Your professional growth will take you to greater heights for sure.
Libra Tarot 2013 Horoscope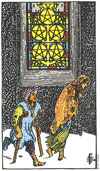 People of Libra sign have got 'Five of coins' card. This card shows that life for you in 2013 is going to be very easy. You will have to try very hard to feel some happiness. But difficulties don't mean that you won't get success. Keep yourself calm and composed in all matters and strive for the best only. Your family might fall apart at times, as this card is also an indicator of struggle in personal as well as professional life. You will be bluffed by incidents happening right in front of your eyes. It is better for you to trust your inner self rather than falling for the things in first sight. Aggression will also overpower you in 2013 as it comes naturally with this card. Being enraged will not help you in any case. You will realize that your life is going through a change. You must accept the change with grace and should work hard in order to give that change a positive turn. Due to this card, it can't be said that you will be stable in terms of finance. Struggling with patience will make all the things fine gradually.
Scorpio Tarot 2013 Horoscope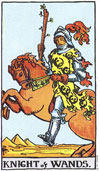 The card for the people under Scorpio sign is 'Knight of Wands'. Get ready to experience joy, pleasure, energy and responsibilities at the same time. 'Knight of Wands' has got a lot to offer you Scorpions. The greatest advantage of this card is that you won't let any sad moment to overpower you in any case. Even in time of sadness, you will want to enjoy your sadness through any means. You might crave for a company that suits you the best. If a person is not as enthusiastic as you this year then you will not think twice before leaving that person behind. As this card is a significator of impulsiveness, you might lose some very important opportunities. You will do before and think afterwards. This might cost you something very important. Scheduling everything beforehand is the only thing that will help you to go through the year easily. As you will be impulsive this time, you might feel challenged by time every now and then. Don't be fooled with the spontaneity of time and think at least thrice before acting.
Sagittarius Tarot 2013 Horoscope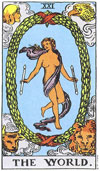 Card for Sagittarians is 'The World'. This card is like a jackpot for you people as it suits your personality the best. 'The World' is a proper indicator of journeys. There is no doubt in saying that you might travel a lot this year. But, the symbol of this card also signifies adaptation of culture to the each wandered place. You will learn to adapt in any kind of situation with ease with the purpose of survival or earning living. You are a free spirit indeed and person who like to take risks, but sometimes you need to be less adventurous and wiser. This card is endowing all the things that you require. You will be more understanding and will also learn to go through all the pros and cons. The card comprises a person who travelled the world and learned everything by analyzing different aspects. Therefore, this card is granting you the quality of analyzing things intelligently. You are not at all a quitter and the card is adding stars to this quality of yours. You will know the worth of any task that you take in hand and will complete it successfully.
Capricorn Tarot 2013 Horoscope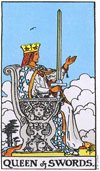 Card for you is 'Queen of Swords' for the year 2013. The card indicates toward some really hard times. Your spoken words will be taken wrong by almost everyone. So, you are advised to watch your words. Think twice before making any comment and also avoid indulging yourself in any sort of argument. Verbal or physical fights are not at all for you in the year 2013. None of the thing is going to be easy for you. Your intentions are good no doubt but this year is about how you portray your feelings. It is very necessary for you to be polite and select kind words to convey your message. Your seniors at work might try to trouble you and your time at work place will dishearten you this year. As your words are not going to be sweet, this will cause serious problems in your love life. To avoid any complication in your love life try to be at safer side by not picking up fights on minor issues. It seems that you need to take care about lots of things in the year 2013.
Aquarius Tarot 2013 Horoscope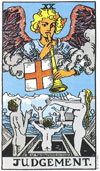 'Judgment' is the card received by the Aquarians. You can be termed as lucky as you have got one of the most pious cards. Your ability of looking at things from the eyes of your soul will be enhanced. You will learn to look at the brighter side rather than going for the negative aspect. This card indicates that the Almighty is pleased with you and is bestowing his blessings on you. You might not only receive happiness but will also create the path to the happiness yourself. The pink color of the card is the symbol of pure love. This color signifies love of God for you and also that your life will be fulfilled with the beauty of love. The other things present on your card that is the wings of an angel signifies that you will be supported in all your deeds by the people you love and the Almighty as well. Support and love of everyone around will lead you toward good deeds and these deeds will definitely bless you in future. Enjoy the time and be thankful to the divine power.
Pisces Tarot 2013 Horoscope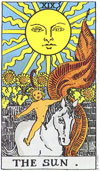 Pisces people have got 'The Sun' card in their hand. If you are a Piscean then you better leave the worries behind and travel along the time cheerfully. As the name suggests this card is a great significator of new opportunities and awakening in life. You will feel as if you have taken birth again on this earth to accomplish all the pending work with just a blink of an eye. Your outlook will be brighter than ever before suddenly. Your attitude toward life will change but being selfish and rude will ruin the positivity of time. The bright colors on the cards are also indicating stability for you. If you have been going through some financial problems then they might get resolved this year. Try to look for new ways for earning and increase your sources of income with your abilities. The Sun on the card is blessing you with immense energy and with this energy you will be happy to take up new tasks. You will earn lot of respect this year and your dignity will be maintained throughout the year 2013. Making the best out of this time is solely in your hands.