AstroSage brings to you a fabulous app - 'AstroSage Kundli' for the Windows Mobile users, which is absolutely FREE of cost. This FREE 'AstroSage Kundli' app comes as the perfect New Year gift for all the Windows mobile users. Get ready to make AstroSage Kundli app yours & enjoy the world of astrology!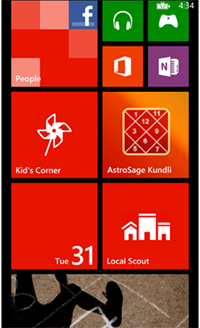 AstroSage is once again ready with some exciting news and its the launch of its latest astrology app - 'AstroSage Kundli'. This app which was previously available for Android and iPhone is now available for Windows platform as well. 'AstroSage Kundli' app is a perfect gift for the Windows mobile lovers.
"AstroSage Kundli" is user friendly and is not only contemporary but also absolutely FREE. Yes, Windows phone users can now get the best of astrology help and calculations without spending a single penny. Now is the time to act smart and stay away from the expensive astrology services as AstroSage Kundli app is your personal astrologer, which is at your service 24/7 for FREE. To avail this service, all you need to do is:
Install 'AstroSage Kundli' app
Enter their details
From the list of categories service available, select the one you want and get your prediction generated
AstroSage Kundli For Windows Features
Vedic Astrology Charts (lagna / rasi chart, navamsa, moon chart)
Predictions/ Personalized Horoscope- Life Predictions, Monthly & Annual Predictions, Daily Predictions
Vimshottari Dasha / Udu Dasha upto five levels
Large city atlas with thousands of cities, and Google Maps Support for finding city latitude and longitude
GPS support for Prashna Kundli (Horary Charts) and Time Charts
Tajik Varshfal (Solar Return with Muntha)
User friendly UI with flipping screens
AstroSage is India's Largest Astrology Web Portal and is the first Astrology firm to bring FREE AstroSage Kundli app for Windows Platform. For now, the app is available in English, but soon our users will get access to it in Hindi as well. We don't stop here, as very soon we will provide you with some additional features which will double up your experience in using this amazing app. We are ingenious, up-to-date and serve our users with an aim of doing something that will ease their life.
AstroSage, a renowned name was the first company to launch India's first astrology channel on the popular site 'YouTube' - The AstroSage TV. The reason behind taking this AstroSage Kundli app on Windows platform is the amazing response our audiences gave, after the launch of the Kundli app for Android and iPhone users. Our aim is to give you something meaningful and worthy of your time. Within just few days of its launch, AstroSage Kundli app broke records by featuring as the #1 app at iTunes.
We promise to provide you the best and latest technologies for today, tomorrow and forever.
Below available screenshots will give you some assistance to start off.
We are sure that all you Windows mobile users are as much thrilled and excited as we are. Get started with AstroSage Kundli app - 'AstroSage Kundli'.
Download AstroSage Kundli App For Android Here
Download AstroSage Kundli App For iPhone/ iPad Here