Govardhan Puja 2019, will be celebrated on Monday, 28 October. As per the Hindu Panchang, the Annakut Puja 2019 falls on the Prathama Tithi of Kartik month's Krishna Paksha. This major Hindu festival is celebrated on the very next day of Diwali all over India and also in some parts of Nepal. Nature has always been treated as a mother in the realm of Hindu religion and culture. During Govardhan Puja 2019 also, natives will be seen praying mother nature so as to protect and preserve depleting natural resources. This day also marks the victory of Lord Krishna over the King of heaven, Lord Indra. As per the rules laid down by the Indian scriptures, it is also considered auspicious to worship Lord Indra, Lord Varuna and Lord Agni on this day, along with Lord Krishna.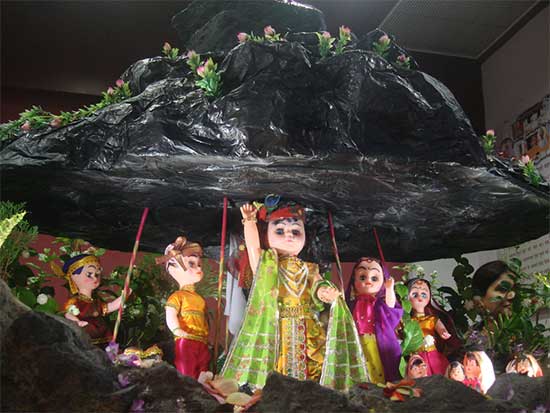 During Govardhan Puja 2019, devotees will be seen preparing an ample quantity of vegetarian food so as to offer their gratitude to the Lord. It is quite a grand celebration for the Vaishnavites. The celebrations of Annakut Puja mostly take place in the 'Vrajbhumi' which comprises of places like Vrindavan, Mathura, Gokul, Nandgaon and Barsana. The festival of Govardhan Puja is a dedication to nature and Lord Krishna. Govardhan Puja rituals include various religious ceremonies and feasts(Bhandara) organized in various temple altars all throughout the country. Once the Puja is commenced, prasad in the form of food items are distributed to the devotees. It is also considered auspicious to complete circles of the Govardhan Parvat during this festival. Thus, this year too. i.e. in Govardhan Parvat 2019, many worshippers will be seen taking part in Bhandaras and circumambulating the Govardhan mountain.
Let us now have a look at the Govardhan Puja dates and Muhurat in the year of 2019.
Govardhan Puja Muhurat in 2019
| | |
| --- | --- |
| Govardhan Puja Muhurat (Evening) | From 15:25:46 to 17:39:44 on 28 October, 2019 |
| Time Duration | 2 Hours 13 Minutes |
Note: This muhurat is for New Delhi, India.
Govardhan Puja 2019: Significance in Mythology
Govardhan Puja 2019 happens to be a very significant occurrence in the list of festivals taking place this year. It finds a special mention in the sacred text of Hinduism, Vishnu Purana. This festival marks the greatness of Vishnu or Lord Krishna who went on to tear apart Lord Indra, the King of heaven's pride and arrogance. Legend has it that once Lord Krishna witnessed the people of Gokul making grand preparations, singing songs and cooking scrumptious delicacies. Confused , he approached his mother and asked why these grand organisations are taking place, to which his mother answered that the natives of Gokul are revering Lord Indra as he is the one who looks after their cattle, fodder and is also responsible for rains.
Krishna wondered for a while and responded that it is actually the Govardhan Parvat or mountain who takes care of inhabitants of Gokul as it is not only provides fodder to the cattle, but also remains a primary source of rainfall. Thus, he suggested that people should actually be worshipping the Govardhan market, instead of preparing feats for Lord Indra. People took his advice into account and started to follow his footsteps. This infuriated Indra Dev to a large extent and he started the downpour of heavy rainfall in Gokul, which in turn disrupted the daily activities of the local people and made life difficult for them. In order to rescue his peers, Lord Krishna lifted the Govardhan mountain with his little finger and provided a shed to the people from this calamity. It kept on pouring continuously, but the people remained safe under the mountain. Witnessing the uplifted fate of the Gokul inhabitants, Indra Dev acknowledged the power of Sri Krishna and this brought an end to his pride and arrogance. This is what originated the Govardhan Puja and ever since then people have been worshipping Lord Krishna and this specific mountain on this day. Govardhan Puja 2019 will also not be an exception as people will duly observe all the necessary rites and rituals which are to be followed on this day. Some of them are mentioned below.
Govardhan Puja 2019 : Rites and Rituals
During Govardhan Puja 2019, you are specially advised to follow some extremely necessary Puja rituals to remain at the receiving end of good results and prosperity.
During Annakut Puja, wake up early in the morning and take a holy bath.
However, you should apply oil all over your body before sitting down for the holy bath.
Devotees should also create a Givardhan Parvat made of cow dung and decorated with flowers.
The Puja should be commenced during the morning or evening hours.
When the Puja is going on water, incense sticks, fruits and oblation should be offered to Govardhan. On this day only, cows, bulls and other animals who serve agricultural purposes should be worshipped along with Govardhan.
During Govardhan Puja 2019, natives should also make an effigy of Lord Govardhan and place a clay lamp on his navel. One should also not forget to include curd, gangajal, milk, crystallized sugar (bataashe) and honey in the lamp and then collect the Prashad once the Puja gets commenced successfully.
Circumambulate around the idol of Lord Govardhan and eulogize him in your mind during this time.
While circumambulating, one should take some water in a vessel and let it spill on the ground. Afterwards when it is done, you should take some barley seeds and sow them.
During Govardhan Puja 2019, devotees should also worship Lord VIshwakarma, who happens to be the ruling lord of all kinds of machinery and vehicles.
Gow Mata or cows should also be specially worshipped on this day.
Govardhan Puja 2019: How to Prepare Annakoot?
During Govardhan Puja 2019, devotees will also witness the organisation of Annakoot in various temples. It is a mixture made of various cereals which is used to make offerings to Lord Krishna. In some places Khicdi of pearl millet is prepared along with Puris. Besides the Annakoot, milk made delicacies and other dishes are made to make the offering to Lord Krishna. Once the Puja is commenced, the dishes are distributed among the devotees. We can also witness a vigil atmosphere in various temples hosting songs and dances all throughout the night and devotees wishing Lord krishna to bless them with overall fulfilment.
Govardhan Puja 2019: Associated Facts
Govardhan Puja is celebrated as Bali Pratipada or Bali Padva in the state of Maharashtra. This occasion is celebrated to mark the victory of Lord Vamana, lord Vishnu's incarnation over demon king Bali. The whole state will be seen engaged in the festivities during Govardhan Puja 2019. Coincidentally, Gujarti New Year will also be celebrated on the day of Govardhan Puja 2019. During this festival people come together to have a merry time and enjoy a scrumptious meal.
So, this was our article on Govardhan Puja 2019. We hope that it proves to be beneficial for you. We wish you all the very best for your future!!