Holi is an important festival in our Hindu culture. It is celebrated all over India with great zest and zeal. It falls on a full moon day in the Hindi month of Phalguna. This year, Holi is going to held on 13 March 2017. This festival of colours is celebrated till 16 days in the Vrindavan. Because it is a sign of love of Radha and Krishna. To know more about this festival, read on…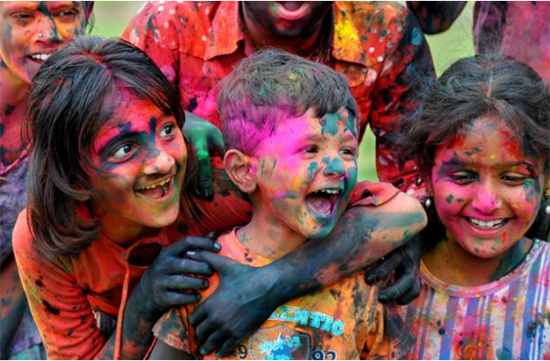 Meaning Of Holi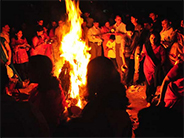 Holi is taken from the word 'Hola' which means offering prayers to the Almighty and thanking him for the good harvesting of crops. Holi reminds the world that those who believe in god and in his existence are never harmed. Holi also give us the teachings that evil always face defeat and good always wins. On the other hand, people who harm others are punished by the Almighty and are destroyed in ashes same as Holika was.
The Legend Behind Holi
Though numerous legends are associated with Holi, but the most prominent one is the story of King Hiranyakashyap and his son Prahlad. According to the legends, Hiranyakashyap who was an atheist, forced everybody in his kingdom to worship him. However, his own son Prahlada was a devotee of Lord Vishnu. The king was therefore against him and wanted him to die. After trying on various plans to kill his son, Hiranyakashipu at last approached his sister Holika for help. Holika had a boon that she can never get affected by fire as she was immune to it. The king knew it and therefore, asked her to enter fire with Prahlad in her lap. Holika agreed and sat in the fire along with Prahlad but by God's grace she got trapped by the flames and was killed; whereas, Prahlad was saved. In remembrance of this historical story, people light bonfire known as Holika and celebrate victory of good over evil.
Festival With Multiple Names
Our country has many states, customs, castes, and traditions. We have a rich culture & heritage and therefore, name of each festival varies from place to place. So does the case with Holi festival, it also has so many traditions and customs associated with it. Let's take a look at the multiple names of this festival of colors:
Punjab - Hola Mohalla
Haryana - Dhulandi Holi
Maharashtra - Rangpanchami
Goa- Shingo
West Bengal- Dol Purnima/ Dol Jatra
Bihar- Phagawa
Barsana- Lathmar Holi
Tamil Nadu - Kaman Pandigai
The 2 Days Of Celebration
Holi is the festival that is celebrated for two days. That means two days of enjoyment and celebrations is awaited by everyone. Let's discuss the events of both these days:
Day 1 (Holika Dahan): On day 1 of Holi celebrations, people gather and set up a huge bonfire, in morning. In the evening, the bonfire is enlightened, keeping in mind the legend of Prahlad and Holika. Images of Holika are burnt in the fire and folk songs are sung and played. According to the customs of some regions, mothers take five rounds of fire with their baby to get their child blessed by the Lord of fire (Agni Deva).
Day 2 (Dhulendi): Second day of Holi i.e. on the main day of Parva (festival), children, men, women, and youth apply colored powders (Gulal and Abeer) on each other. Children fill water balloons and Pichkaris with colored water and spray them on their friends and family. Blessings of elders are taken by sprinkling color on their feet.
So, Holi should also be celebrated with the motto that evil should be destroyed and good should win over. Also, on Holi color your loved ones with colors of love and affection.
Celebrations Across The Country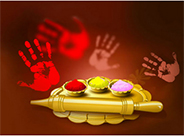 Holi is the festival that unites everyone. Holi is celebrated with so much of fun and enjoyment by everyone, even though they stay in various parts of the country. There are so many states and regions that keep in mind the zeal of the festival of colors and celebrate Holi with same excitement, as it is celebrated in any other places. Let's know about these celebrations and the ways of celebrating Holi in different states:
Gujarat: Gujarat celebrates Holi for 2 days. On the first day, people lit bonfire in the evening and offer corn and coconut into it. Second day is the day of color, water balloons and colored water. Colors are applied to each other and people engage themselves in dance and music. Talking about Holi celebrations in Ahmedabad, a pot filled with buttermilk is hung high. Young boys gather and try to reach to the pot and break it. To make the tradition more enjoyable, girls try to stop them by distracting them through throwing colored water and balloons.
Bihar: In Bihar, Holi is famous by the name of Phagunwa. This festival of colors is celebrated here by lighting of bonfire by the eldest member of the family. After lighting the fire, he greets everyone by applying color on their forehead. Arad woods, grains, cow dung cake and dried leaves are then offered to the fire. On the next morning, people clean their homes and celebrate the day with lots of frolic and colors. Traditional folk songs are sung and people dance on the rhythm of Dhol. Mouth watering dishes are prepared, which enhance the festive mood to great extent.
Bengal: The word 'Dol Jatra' means Holi for the Bengali people. As per the dignified traditions of this land, idols of Lord Krishna and Goddess Radha are decorated beautifully which are then placed on palanquin for procession. Here, the day is extremely treasured for the students as they dress up in either white colored or saffron colored clothes. They wear garlands and dance on the tunes of instruments like Dubri, Veena and Ektara. Fast is observed by the eldest member of the family and he/she prays to Krishna and Lord of fire (Agni Dev). After offering prayers to the Lord, Gulal (red color powder)is applied to Krishna and Bhog is offered to him and to Agnidev.
Maharashtra : Holi in Maharashtra continues for a period of 5-7 days. The preparations start one week before the festival. Youngsters collect money and firewood before a week. The firewoods are burnt in the evening of Shimga. To honor the Agnidev, dessert and meals are prepared with Puran Poli as the main dish of the day. Shimga represents destruction of evil and children shout "Holi Re Holi Puranachi Poli''. The main festival is enjoyed on Rangapanchami, which comes after five days of Shimga.
Tamil Nadu: Tamil Nadu celebrates Holi as 'Vasanthotsavam'. Temples are decorated and music and dance is enjoyed by the residents. People apply colors on each other and welcome the spring season.
Celebrations World Wide
Nepal : Holi is celebrated with great enthusiasm in Nepal. Friends and relatives exchange colors and spray colored water on each other. Throwing water balloons is an important part of the festival. People here believe that celebrating Holi takes away all the miseries and adds more colors to life.
Mauritius : For the natives of Mauritius, Holi marks the beginning of spring. It also means saying goodbye to winters and welcoming the new season.
The Famous Lathmar & Vrindavan Holi
Lathmar Holi: Lath Mar Holi is one of the main attractions of Holi and is a popular ritual of Barsana, a town of Uttar Pradesh. Celebrations begin with numerous people gathering in the Radha Rani temple. As per the tradition, women beat up the men with bamboo sticks. To protect themselves, men use shield and wear turban in their head. Holi songs are sung and heard and 'Thandai' (kind of cold drink) mixed with Bhang (cannabis leaves) is enjoyed by all.
Vrindavan Holi: For the people of Vrindavan, Holi celebrations begin with Ekadashi. Here, the festival is celebrated for a period of seven days with colors and flowers along with chanting of 'Radhe-Radhe'. Also, idol of Shri Banke Bihari Ji is kept outside the premises of temple.
Preparation Of Colors In Medieval Times
In the ancient times, people used to prepare holi colors (Gulal) in their homes. To make the colors, tesu or palash flowers were used. These flowers are deep orange or bright red in color. After collecting the flowers, they were spread in the sunshine to dry them. After drying them they were grind into fine powder which was then mixed with water to form dye of beautiful saffron-red color.
Types Of Colors
Abir (Gulal): Originally, Holi is played with abir or you can say dry colors. Abir comes in different colors such as vibrant red, yellow, green, blue, pink and many more.
Wet color: Wet colors i.e. colors mixed with water are known as called Rang. Rang are loved by kids and youngsters and are strong in action as compared to Gulal.
Flowers: Traditional way of playing Holi is through flowers. Holi celebrated using flowers is skin friendly.
What Each Color Depicts
Holi is a colorful day, the sky looks immensely beautiful with different colors spread up in the air. Every color says something and represents a message. Let's understand the significance of following colors:
Red: Red color signifies purity.
Green: Green color represents vitality.
Pink : Friendliness is taught by Pink color.
Yellow: Religious feeling is invoked by the color yellow.
Blue: Calmness and peace is governed by the color blue.
Delicacies Of The Day
Celebrations of Holi will be incomplete without adding the tinge of delicacies to this festival of colors. To make this colorful day more meaningful and delightful, a number of special dishes are prepared. These delicacies will add a spark to the colorful environment of Holi. Check out the names of some the most famous delicacies which can be prepared exclusively on Holi:
Malpuas
Dahi Vadas
Puran Poli
Gujiya
Mathri
Thandai
Drink Of The Day: Bhang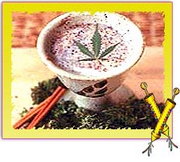 The traditional drink of Holi is "Bhang" or you can call it a synonym of the word Holi. Leaves of Bhang (Cannabis) are mixed in sweet thick yogurt or lassi.
Why Is Bhang An Integral Part Of Holi?
Holi falls in the month of March and Cannabis is also harvested at the same time. Therefore, Bhang is an extremely important part of this colorful day.
AstroSage wishes all its readers a safe and colorful Holi. Stay safe, spread love and celebrate this festival of colors which signifies victory of good over evil.
Enjoy a very blessed and Happy Holi