Maha Shivaratri is meant to be the most important festival in Hindu mythology. It is celebrated on the Chaturdashi of Phalguna month, as per the Hindu calendar. In 2017, it will be held on 24th February. This festival is celebrated all over India. It is believed that this Vrat has a special significance in one's life. It's a belief that on this day only, Lord Shiva married Goddess Parvati and took the form of Shiva Linga.
Mahashivratri 2017 Date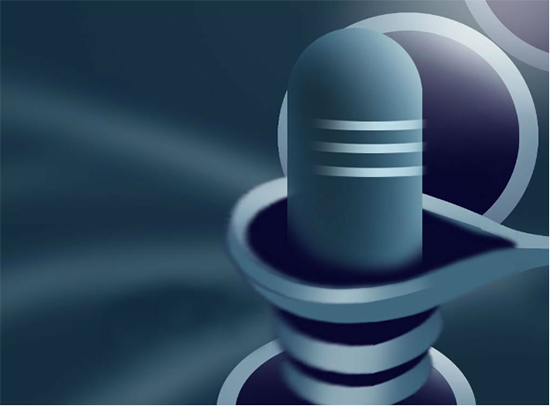 As per the classical text Nirnaya Sindhu, Shivratri is celebrated on the Chaturdashi (the fourteenth lunar night) of every Hindu lunar month. The Chaturdashi falling in the dark fortnight of the Magha month of Hindu Calendar is known as Maha Shivratri. As the day is quite auspicious to get the blessings of Lord Shiva, people follow various measures to impress Shiva on Maha Shivratri. If you also want to become lucky, check out the perfect timing to worship Lord Shiva on Maha Shivratri in 2017.
What Is Mahashivratri?
Maha Shivratri festival is believed to be the one, when Lord Shiva and Shakti (Goddess Parvati) got married. The word 'Maha' means 'great', and 'Shivaratri' means 'the night of Lord Shiva'. Hence, it is known as 'great night of Lord Shiva'. Maha Shivratri is counted as the most important, among all the Shivaratri of the year. People observe fast on the occasion of Maha Shivratri. You can also keep a fast on Mahashivratri to follow the path of dedication and devotion towards Lord Shiva. Maha Shivratri is celebrated on a big scale in India, and Nepal also joins the gusto of this grand celebration. There are various facts that are associated with Maha Shivratri. Let's explore these facts from this article on Mahashivratri and know more about Maha Shivratri in 2017, Lord Shiva and Goddess Parvati.
Though Shivratri comes every month, yet the biggest one of the year is known as Maha Shivratri.
Mahashivratri 2017: Worship & Fast
As per the classical text Nirnaya Sindhu, devotees should eat only one meal on the day preceding the night of Chaturdashi Tithi (be it the day of Chaturdashi or Trayodashi Tithi). Further, it states that devotees should worship Lord Shiva family on the same night. From the next morning, the fast begins after doing all those daily routine tasks of the morning i.e. bathing, worshiping, etc. Devotees should begin the fast after taking oath of observing it with full faith and devotion. If Chaturdashi continues to the night, the fast should not be broken even after dusk and should be followed until the Chaturdashi Tithi is over.
Mahashivratri is celebrated with great enthusiasm among the devotees. People sing hymns and other religious songs to please Lord Shiva. Temples are also decorated all over the country, as this festival is celebrated on a large scale. On this day, people offer wood apple leaves, milk, water, etc. while worshiping Lord Shiva. These things are considered as favorites of Lord Shiva.
Devotees chant Mantra of "Om Namah Shivaya" all over the night to please Lord Shiva. The proper ways of keeping a fast and celebrating this great festival of Mahashivratri in 2017 that is dedicated to Lord Shiva are as follows:
Devotees take bath with a water which is boiled by putting sesame seeds in it and put on new clothes.
A fast is kept and only fruits and milk are taken as a diet.
Nearest temple of Lord Shiva is visited and Lord Shiva Puja is done by bathing the Lingam with honey, milk, water, etc. Mantra of "Om Namah Shivaya" is enchanted along.
After sacred bath, Haldi (turmeric) and Kumkum (vermilion) are applied on the Shiva Lingam along with a garland of lotus flowers over it.
Bel leaves are placed on the top of the Lingam.
Then, hymns and prayers are sung while lighting the incense sticks.

At last, the devotees ring the bell of the temple to get the blessings of Lord Shiva.
Hopefully, this information will prove to be useful while you observe Maha Shivaratri fast in 2017.
Mahashivratri: Significance of Fast
It is said that if a person observes the fast of Maha Shivaratri with firm devotion and dedication, the person can overcome the evils that reside in him/her. The fast of Mahashivratri helps one to control the two natural tendencies. One is Rajas Guna (quality of acting with passion), and other one is Tamas Guna (quality of being less active). It is said that when a person observes the fast and keeps awake the whole night, just to worship Lord Shiva, the person suppress and conquers the Tamas Guna. A person who gets over this Guna, lead a happy life and gets freed from the unending cycle of birth and death. So, now you can also keep the Maha Shivaratri fast in 2017 and get Lord Shiva's blessings.
Spiritual Significance of Maha Shivratri
It is said that Shiva and Shakti are the indicators of oneness and awareness. Hence, this year on the occasion of Mahashivratri in 2017, you can also find the solution of lots of problems by examining your good and bad points.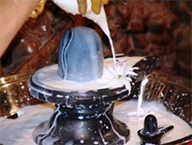 Maha in english means big, Shiva indicates auspiciousness & positivity, and Ratri means night. So, it means that one can identify his/her inner self on Maha Shivratri. Night indicates ignorance and the occasion of Maha Shivaratri tells that one can come out of the darkness of ignorance. Also, by worshiping Lord Shiva, one can rise up and achieve higher level of divinity. As Lord Shiva is believed to be the God who has always saved world, it is well said:
This is the gist of all worship: to be pure and to do good to others. He who sees Shiva in the poor, in the weak, and in the diseased, really worships Shiva. And if he sees Shiva only in the image, his worship is but preliminary. He who has served and helped one poor man seeing Shiva in him, without thinking of his caste or creed or race or anything, with him Shiva is more pleased than with the man who sees Him only in temples"
~ Swami Vivekananda
Legends Of Mahashivratri
There are numerous legends that are associated with the occasion of Maha Shivaratri. They are related to different incidents, but they all tell one story that is all about the importance of Mahashivratri. Let's get to know these legends:
Marriage of Lord Shiva & Goddess Parvati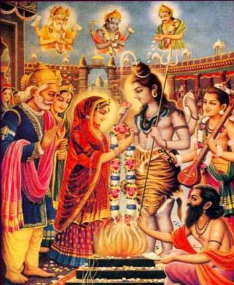 Lord Shiva first got married to Sati, who was King Daksha's daughter. But, Daksha was not happy with the marriage.During a Yajna (holy sacrifice), King Daksha insulted Lord Shiva and ignored his presence. This made Sati, very angry. She could not bear her husband's insult and jumped into the fire of Yajna, and finished her life. By this incident, Lord Shiva became very angry and performed Tandav (violent dance) in anger and cut Daksha's head. After that, he went to the Himalayas, as he was very sad on his wife's death. By seeing all this, all Gods planned to bring Lord Shiva back; hence, they re-surged Sati in the form of Goddess Parvati. When Lord Shiva and Parvati met and got married, that occasion was named as Mahashivratri.
Lord Shiva: The Neelkanth
It is said that the process of the churning of Ocean (Samudra Manthan) took place by all the Gods and Demons. This Manthan was decided to get Amrit (immortality nectar) out of the ocean. But, during this churning, a very poisonous toxin, which came out from the mouth of the snake, who was used as a rope to churn ocean by the help of a mountain. That toxin was so poisonous that it could kill everyone on the earth.So, Lord Vishnu told all the Gods to go to the Lord Shiva and ask him for help. When all the Gods reached Lord Shiva, he agreed to save the earth. The poison turned his throat blue, and since then he was named as Neelkanth.. It was advised to keep Lord Shiva awake all over the night so that he should get safety from any after effects of poison. Therefore, to keep him awake, all gods performed various dance forms and played music. As the morning arrived, Lord Shiva became happy by the pleasing devotion of all the Gods. He said that if anyone would worship him and please him on the day of Mahashivratri, his/ her wishes will get fulfilled. From that day onward, devotees use to keep fast, sing hymns, and please Lord Shiva to receive his blessings.
Emergence Of Jyotirlinga: The Pillar Of Light
It is said that once Lord Vishnu and Lord Brahma had a fight on the issue that who is greater among them. When all the gods saw that the quarrel kept on rising, they went to the Lord Shiva, and asked him to resolve the matter between the two. Lord Shiva then came to finish up the useless fight between them. Lord Shiva formed a pillar of light between Lord Brahma and Lord Vishnu, and asked them to find the end of the light emitting from the pillar. Lord Brahma sat on swan and went up while Lord Vishnu sat on Varaha and went towards Earth. While Brahma was going up he saw that Ketaki was falling down from the top of the pillar. So, he took it along with it to prove that he saw the top of fire pillar. Lord Vishnu could not find the end so he came back. But, as Lord Brahma was lying, Lord Shiva told him that he will not be worshiped; along with this, Ketaki flower will also not be used for worshiping gods. The day when Lord Shiva emerged as the pillar of light, was the fourteenth day of Hindu month of Magha. Since then, the day is celebrated as Maha Shivratri.
Hopefully, this article would help you out the best possible way, and you can celebrate Mahashivratri in 2017. With this article you can perform all the rituals in proper manner on Maha Shivaratri in 2017, and please Lord Shiva. Be faithful and keep the Maha Shivaratri fast in 2017 and get your wishes fulfilled.