The term Navratri is a sanskrit word which is made of two words i.e. 'Nav' and 'ratri' which means nine and nights respectively. These nine nights and 10 days are meant to worship Goddess Durga. This festival is celebrated by the people of every region with great joy and enthusiasm. This festival is of 5 types i.e. Vasanta Navratri, Ashadha Navaratri, Sharada Navaratri, Paush Navaratri and Magha Navaratri. Let's know more about this occasion..
History And Legends Of Navratri
There is always some history or legend related to every festival in India, which gives us the actual reason to celebrate. Similarly, some stories are associated with Navaratri that depicts the victory of good over evil powers. Let's discuss these legends:
Mahishasura's Legend :
Once, there was a demon called Mahishasura. He was a great devotee, who did a long and hard penance of Lord Shiva to gain his blessings. Lord Shiva blessed him and gave him a boon that neither a man nor any deity can kill him. After gaining this favor from Lord Shiva, Mahishasura became arrogant and started killing innocent people mercilessly. Then, in order to stop him, Lord Brahma, Lord Vishnu, and Lord Shiva came together and created a woman warrior, Maa Durga.
Maa Durga killed Mahishasura on the tenth day, after a long war of nine days. These nine days are referred as Navratri.
The Legend Of Uma :
Uma was the daughter of the King of Himalayas, Raja Daksha. She was married to Lord Shiva against the will of her father. In order to take revenge, Daksha organised a Yagna, where he invited all the deities except Lord Shiva. When Uma came to know about Yagna, she couldn't resist herself and visited her parents to take part in Yagna. Her father offended Lord Shiva. Seeing her father's rude behaviour, Uma was greatly hurt and jumped into the fire of Agni Kund (gulf of fire) that is why she is also called Sati. Then, she took rebirth as Parvati and again married to Lord Shiva with her parents' approval. Since then, it is believed that during the nine days of Navratri, Maa Parvati or Maa Uma comes on earth to visit her parents' home.
Navratri 2017 & Dussehra
It is believed that when Maa Sita was bounded in the clutches of Ravana, Lord Rama worshiped the incarnations of Goddess Maa Durga for 9 days. He accumulated the powers required to defeat Ravana . Those 9 days are called Navratri and the 10th day when Rama killed Ravana, came to be known as Vijayadashami or Dussehra.
Dussehra is also a very big festival in India, which signifies the triumph of good over evil.
Types Of Navratras :
Navratri is observed 5 times in a year. These days are considered as the sacred opportunity for worshiping the different forms of Divine Power - Shakti.
Sharad Navaratri :
This is the most important Navratri among all the five Navratras. It falls in the months of September-October. Sharad Navratri will start from September 21, 2017, and last till September 30, 2017. During these nine days, each day has a great significance. The eighth day of Sharad Navratri is celebrated as Durga Ashtami, which refers to the eighth day of Durga.
Chaitra Navratri :
Chaitra Navratri is the second most powerful one among all the five Navratras. It falls in the month of March - April. In 2017, it will begin on March 28 and will end on April 5. In these 9 days, different forms of Goddess Durga is being worshipped. Each day has its own importance.
Gupta Navratras :
Gupta Navratras are of three types -
Ashadha Gupta Navratri
This Navratri is meant to be fruitful for Tantric Puja and other Hindu practices. It is also known as Gayatri or Shakambhari Navratri. In 2017, it will start from June 24 and will end at July 3.
Paush Gupta Navratri
Paush Navratri comes during the Shukla Paksha of Paush i.e. during December–January. Paush Gupt Navratri is from December 26, 2017 and will last till January 2, 2018.
Magha Gupta Navaratri
This Navratri comes during the Shukla Paksha of Magha i.e. during January–February. It is also referred as Gupta Navratri. Magha Navratri is beginning from January 28, 2017 and will end on February 6, 2017.
9 Goddesses Of Navratri :
Each night of Navratri is dedicated to one of the 9 incarnations of Goddess Shakti. Though the Goddess is one, but she is represented and worshipped in 9 different forms. Let's get to know about them:
1. Maa Shailputri
Shail means mountain and Putri means daughter. She is also known as Sati (the first form of Shakti), wife of Lord Shiva and daughter of Daksha. She uses bull as her conveyance. She holds a lotus and trident in her hand.
Mantras for Shailputri Devi:
Om Devi Shailputri Namah ||
Vande Vanchhit Laabhaay, Chandrardhkritshekharaam |
Vrisharudham Shooldharaam Shailputriim Yashaswinim ||
2 . Maa Brahmacharini
Maa Brahmacharini is worshipped on the second day of Navratri. The word 'Brahm' here refers to 'Tapa', that's why she is also called Tapa Charini, the one who perform Tapa or penance. She symbolises love and loyalty, holding a rosary in her right and Kamandalu in her left hand. Her devotees are endowed with peace and prosperity.
Mantras for Devi Brahmacharini:
Om Devi Brahmcharinyai Namah ||
Dadhaanaa Kar Padaabhyaamakshmala Kamandalu |
Devi Prasidati Mayi Brahmacharini Anuttama ||
3 . Maa Chandraghanta
Maa Chandraghanta is worshiped on the third day of Navratri. She wears half Moon on her forehead in the shape of bell that is why she is called Chandraghanta. She rides on a tiger, symbolising beauty, strength, and bravery with weapons in her hand.
Mantras for Maa Chandraghanta:
Om Devi Chandraghantayayi Namaha ||
Pindaj Pravaarudh chandkopastrkairyuta |
Prasadam Tanute Madhyam Chandraghanteti vishruta ||
4 . Maa Kushmanda
Maa Kushmanda is worshiped on the fourth day of Navratri. She is also considered as the creator of universe. She has 8 hands holding weapons, rosary, etc..
Mantra for Maa Kushmanda:
Om Devi Kushmandayayi Namah ||
Suraasampoornam Kalasham Rudhiraaplutamev Cha |
Dahdana Hastpadmaabhyaam Kushmanda Shubhdaastu Me ||
5. Skanda Mata
Skanda Mata is the mother of Skanda or Lord Kartikeya that is why she is called Skanda Mata. She has four arms holding the infant Skanda in her right upper arm and a lotus in her right and left hand.
Mantras for Skanda Mata Devi:
Om Devi Skandmatayayi Namah ||
Sinhaasangataam Nityam Padmaanchit Kardwayaa |
Shubhdaastu Sadaa Devi Skandmata Yashaswini ||
6. Maa Katyayani
The sixth day of Navratri is dedicated to Maa Katyayani. Her name is called Katyayani because she was born as an Avatar of Durga. She took this Avatar (incarnation) for fulfilling the wish of one of her greatest devotee Kata. Maa Katyayani rides on the Lion and having four arms.
Mantras for Katyayani Devi:
Om Devi Katyayanyayi Namah ||
Chandrahaasojjval Karaa Shaardoolvarvaahanaa |
Katyayani Shubham Dadyaad Devi Daanavghatini ||
7. Maa Kaalratri
Maa Kalratri is the symbol of anger and destruction. She fights against all the evils, and give her devotees freedom from troubles and fears of life. She is a four armed Goddess and rides on a donkey.
Mantras for Kalaratri Devi:
Om Devi Kalratryayi Swaha ||
Ekveni Japakarnpoora Nagn Kharaasthita |
Lamboshthi Karnika karni Tailaabhyaktshariirini ||
Vaam Paadollasallohlata Kantakbhushanaa |
Bardhan Moordham Dhwajaa Krishnaa Kalratribhayankari ||
8. Maata Maha Gauri
Mata Mahagauri was named as Mahagauri when she acquired extremely fair color. It is believed that Lord Shiva cleaned her with water from Ganga, when she did penance to get Shiva as her husband.
Mantras for Maha Gauri Devi:
Om Devi Mahagauryayi Namah ||
Shwete Vrishesamarudha Shwetaambardhara Shuchih |
Mahagari Shubham Dadyanmahadev Praodadaa ||
9. Maa Siddhidatri
Maa Siddhidatri is worshiped on the ninth day of Navratri. She is the symbol of knowledge and perfection. She destroys all the distress of her devotees. She possesses four arms and rides on a lion.
Mantras for Maa Siddhidatri:
Om Devi Siddhidatryayi Namah ||
Siddha Gandharva Yakshdyairasurairamarairapi |
Sevyamaanaa Sadabhuyaat Siddhida Siddhidayini ||
Spiritual Significance Of Navratri
The nine nights of Navratri are divided into 3 sets of 3 nights. The first three nights are dedicated to Maa Durga, the next three nights are dedicated to Maa Lakshmi and the rest three nights are for Maa Saraswati. The following 10 th day is celebrated as Vijayadashmi for the victory of good over evil.
Durga is Durgati Harini, which means that she has the tendency to remove all evils. By worshiping Maa Durga, her devotees are also able to remove all the evil qualities from them such as laziness, ignorance, and anger. She helps her devotees in gaining noble virtues.
Maa Lakshmi is the symbol of purity, prosperity, and wealth. Not only material wealth, but also spiritual wealth is equally important. The purification of mind can be obtained by worshiping Maa Lakshmi.
Maa Saraswati symbolises knowledge. She is the Goddess of supreme knowledge i.e. knowledge of the self. This knowledge lightens up the soul and helps in making better individuals.
These nine nights are a process of removing all evils from within, purifying the soul, and then gaining the supreme knowledge of oneself for the betterment of an individual.
Navratri Vrat 2017: Fasting & Delicacies
There is a tradition of fasting or Vrat during Navratri for honoring the supreme mother Goddess, it also helps in gaining more self-discipline and self-control, which is essential for removing all evils from within. Follow all the rules of fasting for celebrating Navratri.
Rules of Navratri Vrat :
Take meal (special food for fasting) once a day (dinner is recommended).
Onion and garlic should not be added while preparing food. (Even those who don't observe fast, abstain from the consumption of garlic and onion.)
The devotee should first offer the prayers to the Goddess and then consume the meal as Prasad (holy food).
The food should be taken after sunset and for the rest of the day the fruits, milk, Kheer (sweet rice porridge), or dry fruits can be taken.
Some Special Delicacies Of Navratri Vrat
If you are observing fast in Navratri, following are the names of certain delicacies that are prepared exclusively for the Navratri fast:
Jeera Aloo (potatoes cooked with cumin seeds)
Kheer (sweet rice porridge in milk)
Lauki Ka Halwa (sweet dish of bottle gourd)
Coconut balls with condensed milk
Kuttu Ki Puri (fried bread of Kuttu flour)
Kuttu Pakoras
Potato patties
Banana chips
Kaju Barfi/ Kaju Katli (cashew nut sweet dish)

Smoothies
Navratri : Holy Food For Goddess
Enough about mouth watering delicacies for Navratri Vrat, let's now talk about the holy food for Goddess:
On the first day, pure Ghee (purified butter) is offered to the feet of Maa Shailputri.
On the second day, sugar is offered to Maa Brahmacharini.
On the third day, milk, milk sweets, and Kheer is offered to Maa Chandraghanta.
On the fourth day, Malpua (sweet pancake) is offered to Maa Kushmanda.
On the fifth day, banana is offered to Maa Skandmata.
On the sixth day, honey is offered to Maa Katyayani.
On the seventh day, jaggery is offered to Maa Kaalratri.
On the eighth day, coconut is offered to Maa Mahagauri.
On the ninth and the last day of Navratri, Til (sesame seeds) is offered to Maa Siddhidatri.
Navratri : Full Of Fun & Dance
Dance and music are also a very important part of Navratri celebrations. Different types of dances are performed in various parts of the country in the honor of Goddess Maa Durga. Enjoy Navratri in 2017 by joining them.
Dandiya Raas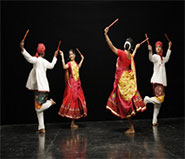 It is the most famous dance form performed during Navratri, in colorful and attractive dresses, embroidered Choli and Ghaghra for women, and Kedias and turbans for men.
This dance form is performed in Gujarat. So, if you wish to experience this amazing dance form, may join the Dandiya nights.
Dandiya nights are organized all around the globe, as it is quite an interesting event.
Garba
Garba is a famous dance form of Gujarat performed during all the nine nights of Navratri. It is traditionally performed around the Garba Deep, which is a clay lantern.
This dance form is also from Gujarat. Garba and Dandiya both are the most colorful and interesting dance forms of India during Navratri celebrations.
Dhunuchi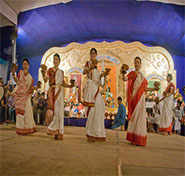 Dhunuchi is the traditional dance form, performed in Bengal for worshiping Maa Durga during Navratri. Bengalis celebrate Durga Puja during Navratri. Hence, Dhunuchi is the part of Durga Puja festival celebrations. It is also called the dance with the sparkling smoke. High amount of skill and practice is required to perform on the rhythm while balancing the earthen receptacles.
Dhunuchi is performed in front of Maa Durga idol, in traditional clothes. Women wear traditional red and white Sarees, and men wear white Kurta and Dhoti.
These nine nights of Navratri are the sign of purity, and of great significance for our spiritual awakening. Hope this article will help you in celebrating your Navratri in 2017 in a more delightful manner.
Happy Navratri..!!