Venus will transit in Libra on November 30 and will stay there till December 6, 2015. Generally, this transit will produce favorable results for most people. But prepare yourself for its bad effects also, by reading the predictions of astrologer "Acharya Raman".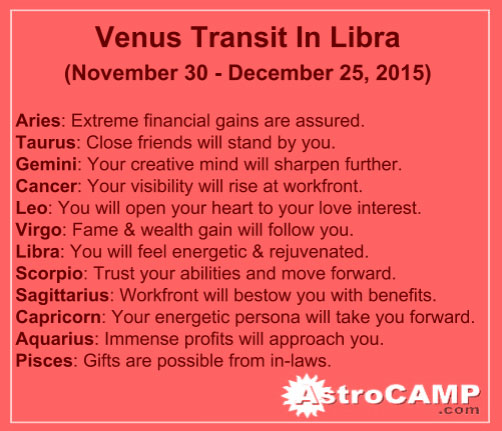 Venus will transit in its own sign Libra on November 30, 2015 and it will remain there till December 25, 2015. It will travel through the constellations of Mars, Rahu and Jupiter. Venus is an auspicious planet, generally it doesn't produce inauspicious effects. But, it will give unfavorable results if its position is not auspicious in birth chart.
You will feel these effects strongly if you are going through the sub-sub-period of Venus.
Aries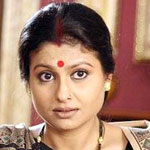 Jaya Bhattacharya
Venus transit in your seventh house will give happiness in personal life. You will remain happy and spend on expensive items. Your confidence and sense of humor will increase. You will keep thinking about outings and entertainment, this may affect your daily routine a bit, but any major damage will not occur. You will enjoy some long journeys. Financial benefits are also coming your way in this duration.
Click here to know more about your sign: Aries Zodiac Sign
Taurus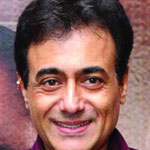 Nitish Bharadwaj
Transit of lord of ascendant in sixth house may give some loss. Confidence may reduce and problems are possible in personal life. Your energy and efficiency will reduce. Happiness will also disappear from love relationships, but it is not necessary that all will go against you. You will get the support from friends and money from different sources. This transit will definitely give benefits to you, but don't expect much.
Click here to know more about your sign: Taurus Zodiac Sign
Gemini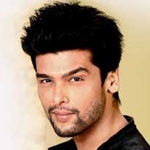 Kushal Tandon
Venus is extremely good in fifth house, your talents will come out. People will get attracted towards your speech and you will feel happy. You will enjoy music and entertainment. You may spend most of your time in outing with friends. You have to stay cautious regarding love relationships, because you will spend less time with your sweetheart and losses are possible.
Click here to know more about your sign: Gemini Zodiac Sign
Cancer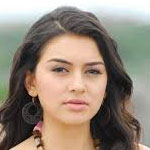 Hanshika Motwani
Your efficiency will increase in job and business. The good thing about this transit is you will bring a new feel at your home. You may change some things like carpets, paintings etc. You may also try some changes in vehicle. Time is good for love relationships and you should take advantage from that. Married people should plan some outings with family. This is also going to be an auspicious transit for religion and spirituality.
Click here to know more about your sign: Cancer Zodiac Sign
Leo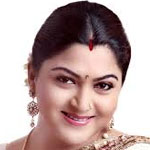 Khusboo
Time is very good for expressing your feelings. You may buy some expensive gadgets. Creativity will come in your communication skills. You can make your new image with new clothes. But, take care while speaking, don't speak anything which may hurt others. Stay cautious regarding financial matters and invest carefully. Don't give money to anyone on debt.
Click here to know more about your sign: Leo Zodiac Sign
Virgo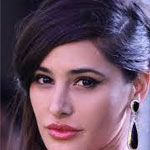 Nargis fakhri
Arrival of Venus in second house is considered auspicious. You will get financial benefits and a good tuning will remain among family members. Chances of meeting or chatting with distant friends are there. Your fame will also increase as per your abilities and time. But, you have to take care of your health. Also, avoid excess of sexual desires, it may create losses. Property dealers and dealers of expensive things and vehicles will get good benefits.
Click here to know more about your sign: Virgo Zodiac Sign
Libra
Laxmikant Berde
Lots of energy will flow in you due to arrival of Venus in ascendant, sexual desires will also increase. Your interest will increase in music and dance. Your efforts will give fruitful results. Control your expenses and don't buy anything from online sites, otherwise unnecessary problems are possible. Personal life will remain good. Minor reduction is possible in health, but there is no need to worry. Financial benefits are also possible from life-partner.
Click here to know more about your sign: Libra Zodiac Sign
Scorpio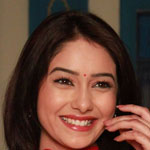 Leena Jumani
Twelfth house is very dear to Venus, so it will produce benefits for you. Minor health problems are possible, but they will not create much trouble. Don't trust blindly on your friends, otherwise losses are possible. Believe in your actions and move ahead. Don't give much time to secret relationships, otherwise you may feel lazy. Venus may try to increase sexual desires a lot, so control yourself.
Click here to know more about your sign: Scorpio Zodiac Sign
Sagittarius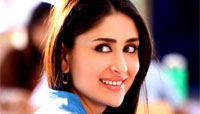 Kareena Kapoor
You will benefit greatly from friends. You are also likely to spend a great amount of quality time with them and enjoy. Your efforts will help in gaining success and relatives will also help. Temporary dejection is possible in love relationships, but later you will feel better. Profits are also possible in work, but avoid spending unnecessarily.
Click here to know more about your sign: Sagittarius Zodiac Sign
Capricorn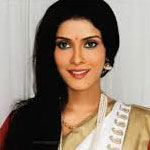 Nandana sen
When the lord of tenth house will arrive in tenth house, it will surely give benefits. People associated with media, music and entertainment will get benefits. Most of your works will get accomplished without doing much effort. If your work is related to foreign land, you will gain benefits. Your interest will increase in religion, spirituality and pilgrimage. You may feel to change the decoration of home. The energy in you will help in moving ahead.
Click here to know more about your sign: Capricorn Zodiac Sign
Aquarius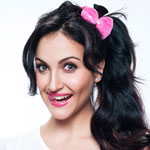 Elli avram
Venus will cross the constellations of Mars, Rahu and Jupiter and also stays in its own sign. Mars is good for you, Rahu is transiting in eighth house and constellation of Jupiter will also come later. This transit will give more benefits to you than loss. Luck is with you, but it may disappoint for some time. You may start a new work, distant journeys are also possible. Natives who earn their livelihood with religious activities will get some good financial benefits.
Click here to know more about your sign: Aquarius Zodiac Sign
Pisces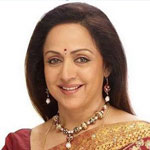 Hema Malini
Problems are possible in personal life. Luck will not support much. Your sexual desires will increase a lot, try to control them. Any surprise or gift may come from in-laws. Hurdles are possible in work which will make you feel stressed. But, keep doing your work with full dedication. Your confidence may decrease. But, soon everything will turn out in your favor, so avoid stress.
Click here to know more about your sign: Pisces Zodiac Sign
So, this was all we had for you. If you wish to know everything in detail about you and your life for FREE, click here:
Make Your FREE Detailed Kundali Here