By Kavita Srivastava
Man has always been fascinated by brilliant, shiny, colorful shells, stones and crystals since the evolution of civilization; whether in the form of showpieces or a mere simple stone that could do wonders by healing spiritually and casting away the negative energy. Their possession makes one more important than others.
Crystal in fact came from the period in history when the Earth was forming. The heating and cooling of the planet formed the magnificent crystalline objects we have today.
Crystals have always been regarded as bringers of peace, prosperity and happiness. Favorable crystals bring about name, fame, power and make life easier. Ancient scriptures from across the world have praised them as powerful agents of energy that influence human fate and destiny, induce good energy and expel the negative energy that produces sickness and suffering.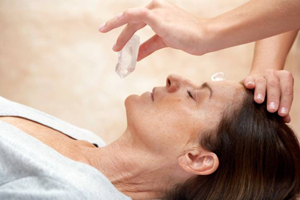 Healing Crystalsare one of the most beautiful, mystical and profound "energy medicine" tools, which have been used for centuries throughout all cultures, religions and empires. Crystals bring amazing benefits to the healing arena!
Crystals magnify the highest energy within, and both the newly spiritually aware and the seasoned crystal worker can gain insight and focus into their lives when combining this energy with the suggested positive affirmations to elicit forces of attraction and confidence.Crystal therapy is the age old traditional faith and belief of people that crystals possess certain magical healing properties and energies that affect human body, soul, and energy.
Crystals works on the mechanism of releasing and receiving energy. Crystals can do wonders if it worn correctly. The appropriate crystal have magical effects if it worn by a person. The aura of a crystal plays pivotal role in the healing process if a person is going through some ailments or serious of unfortunate events as well. Their aura surrounds the body of bearer and cast away the evil energy and protects the bearer from misfortune and illness.

Renowned astrologers and tarot readers utilize the spiritual and healing properties in gemstones and crystals to bring about balance and wellness for themselves and for their clients. You can intuitively choose what crystals are appropriate for you.
Crystals can be worn, whether in the form ofjewelry like rings, bracelets, or necklaces or worn solely, correctly worn crystalscan potently benefit a person's psychological tendencies, physical health, business affairs and relationships, while helping to minimize the impact of a wide range of negative conditions and situations.
Types of crystals
AMETHYST- Has blood purifying qualities and can suppress the appetite
AQUAMARINE- Helps prevent disease to heart and kidney
CORAL- Stimulates good digestion, also aids blood purification and prevents stomach cramps
DIAMOND- Good for emotion and willpower
EMERALD- Memory and wisdom, also prevents diabetes and is good for glands
GARNET- Tissue Purifier, good for rheumatism, arthritis, cleans glands (e.g., pineal, prostrate, pituitary, etc
JADE- Calms tension, migraines, helps thought and wisdom
MOONSTONE- Edema, kidney, bladder, and period pains, Also helps intuition thought process
OPAL- Reproductive system/immune system aid
PEARL- Blood cleanser, helps thought/wisdom
QUARTZ - healing, energy, calmness, granulation