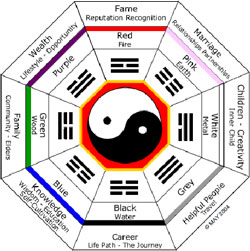 Feng Shui tips for home can be followed in order to change the homely vibrations and set an optimistic atmosphere. Buying your own house is a dream-come-true, and decorating it with passion and love makes it a "home". However, someone eyeing your house and bringing in negative vibes can affect the overall vibe, which surely no one likes.
Therefore, we bring to you some useful Feng Shui tips for your home that help maintain the energy of the house and keep it lively and optimistic. Installing Feng Shui items or gadgets help to instil a sense of positivity and good thoughts within the environment. From adjusting plants, colours, paintings to installing gadgets, Feng Shui items and photo frames in a particular direction or at a particular spot can majorly impact the atmosphere.
Feng Shui: What Is It?
Feng Shui originated from China, and is a pseudoscience which uses energy forces from the environment to instil a sense of harmony and peace. The literal term of the word is "Wind" & "Air". Special importance of "Qi" has been discussed as well as stated in Feng Shui. Qi is the energy that resides within a human being, and is both negative and positive. It is composed of Yin and Yang, which creates the whole universe. The practice of Feng Shui includes architectural changes, which interjects with the natural forces and installs peace and harmony.
Using Feng Shui tips for your home or office space can really help you connect with nature and infuse a sense of faith and optimism.
Feng Shui Tips For Home: Do's & Don'ts
Keep the Northeast corner of the house clean, and install a picture which portrays running, flowing water for happiness and prosperity.
Apart from this, you can also install a Horse Gadget according to Feng Shui tips in either the most popular area of your house. Keeping it in the South direction is also said to be auspicious.
Placing the Horse Gadget in the North direction is said to be favourable for students, as it helps them focus and perform well. In Feng Shui, the Horse represents fire, which is why you must keep in mind not to use the one reined or restrained when installing such items.
If you wish to get your desired life partner or feel your partner lacking when it comes to love, then you can install Butterfly Symbols at home.
Butterfly symbol in your bedroom helps the married couples regain excitement and passion in their relationship. However, keep in mind that the numbers of butterflies must be minimum.
One of the useful Feng Shui tips for home, installing butterfly symbols in the form of painting or gadget in the room of young girls/boys helps to increase creativity.
Avoid installing pictures of war episodes, war-related pictures from Ramayana or Mahabharata, anger, scary, gruesome, sadistic, weeping baby, famine, dried trees etc. as they can incur unfavourable results.
Here we have provided you some useful Feng Shui tips for home to follow and gain desired results. Read and know more about Feng Shui.