The India vs South Africa 2013 - 2nd test match prediction is now available at AstroCAMP. KP System tells the name of the winning team. Both the teams will battle it out for the title, let's see who goes home with the cup.
The Indian safari is not favorable till now. After a destructive one day series, Indians are eager for a victory over the world's best, the South Africans. Today will be the second test between these world class cricket teams. As an ardent lover of cricket and KP, I would like to provide my prediction. The following is the horoscope casted for horary number 216, which is in favor of India. I calculated it using the most accurate software in www.astrocamp.com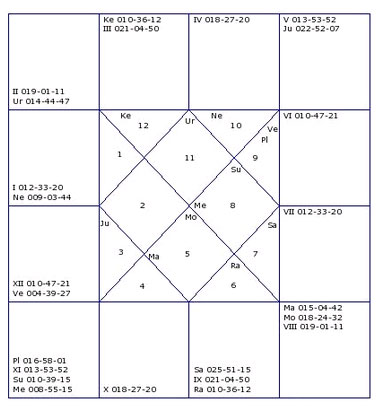 The rule is unique, the strength of the 6th sub lord. If he is linked with 1, 6, 10 and 11 houses then success is assured, otherwise not.
In this horoscope, the sub lord of 6th house is Sun. He is in 10th house in the star if Ketu and Saturn sub. Saturn is placed in 9th house in Jupiter star. Therefore, Sun is connected with 2,3,5,7 and 9 houses strongly. This is not favorable for India. It seems to me that stars are in favor of RSA. Otherwise there may be a draw. Good luck to both the teams.
By VGR Pavan