By VGR Pavan
May 7th : DD Vs KKR
Horary number in favor of DD is taken as 87 and the horary map is follows: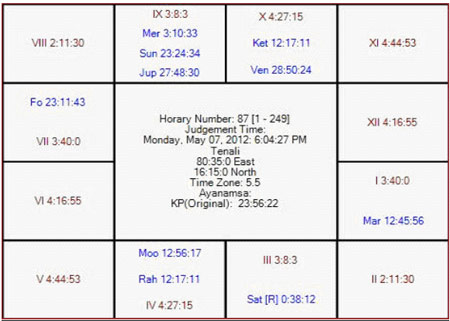 For this Horoscope DD will be in Ascendant whereas KKR in 7th house.
Here 6th sub lord is Saturn; he is lord of the 6th and 7th houses in 2nd house but deposited in the star of Mars and sub of Mercury. Mars is in Asc whereas Mercury though in 9th house in the star of Kethu in 10th house. Therefore Saturn is signifying 9-10-11 houses at sub level.
Further, 11th sub lord is Venus; she is Mars star and sub of Saturn. Mars is in Asc whereas Saturn is in the star of Mars is in Asc. Therefore Venus is connected with Asc through star and sub.
Lastly I verified the Asc sub lord Moon; she is in the star of Saturn and sub of Mars. Saturn is in 2nd house being lord of the 6th house and Mars is in the star of Kethu in 10th house. Further the 7th sub lord is Venus as discussed earlier.
Further star lord during the match is Saturn and the sub lords during the match are Rahu and Jupiter. Rahu is in the sub of Mars whereas Jupiter is in the sub of Moon hence connected with 2-6 houses at sub level.
Hence stars may favor DD.
As a matter of curiosity I opened the time chart as follows: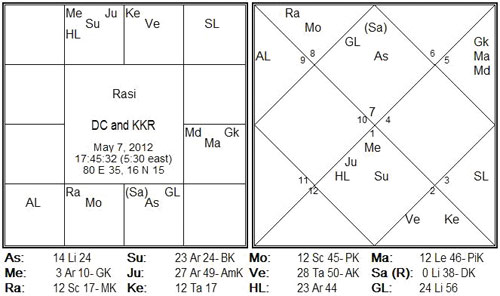 I prefer Astakavarga system of prediction, for this chakra both Asc and 7th house has same number of points 27! But the 11th house (desire fulfillment ) from Asc has 40 points but 5th house (11th house to 7th house of opponent) got 39 points. Therefore there might be a tough battle and in the last Delhi may have an advantage. Further today's star lord Saturn is in Asc and giving 4 points to it but only3 points to the 7th house.
My intention to write all this info is only to impress upon the readers (both astrologers and laymen) that astrology is an ocean we can use it for various events through different techniques. But it is very complex to unveil the truth. Therefore it is easy to guess but very tough to prove.
Here I wish to disclose that all my predictions are only out of academic interest. I think readers can understand my intention.