By VGR Pavan
The last grand slam for this year-US Open is reaching to an end. We are two games to go for grand finale. Nadal is dreaming for this prestigious and well paid title but should fight with Djokovic today. I would like to offer predictions for this match through the science of Horary Astrology as follows:
The following is the horary map prepared for seed no. 249 in favor of Nadal.
Sub lords of 6 and 11 houses are important and they should be strongly connected with 1, 6, 10 and 11 houses. The star and subs transited by Moon during the match are also important.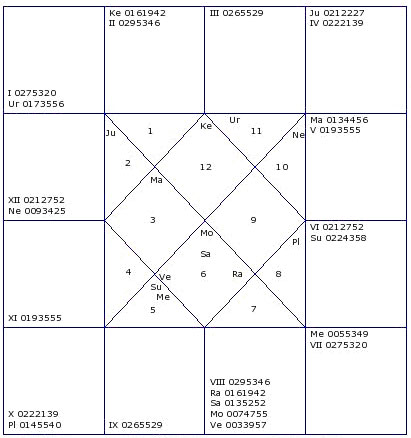 Here the sub lord of the 6th house is Jupiter. He is in 3rd house in own star and sub. Jupiter owns 1-10 houses hence will become strongest for them. Therefore Jupiter is connected with 1-3-10 houses at sub level which is positive for Nadal. Further Moon will transit in Rahu star. It seems to me that stars are in favor of Nadal. Good Luck to both the players.