Onam in 2017 will be celebrated on 4th of September. According to the Malayalam Calendar, it is observed in Shravana Nakshatra in the month of Chingam. It is celebrated to memorialize the birth of incarnation of Lord Vishnu as Vamana (dwarf). This festival is 10 days carnival. It is mainly celebrated by the people of South India especially Trivandrum, Thrissur, Cochin, and Kottayam. Read on to know more...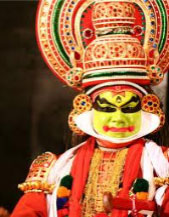 Onam : Meaning Of Onam Or Thiruvonam
The term 'Onam' or 'Thiruvonam' came into existence from the Sanskrit word 'Shravanam'. In South India, 'Thiru' refers to passage of time and is used to denote places, events, and activities related to Lord Vishnu; whereas, Onam refers to the month Shravan or Shravanam.
Onam : Attractions Of Onam
The first day of Onam is known as Atham whereas the last day is Thiruvonam. These ten enormous days of harvest festival of Onam offer a lot to see and enjoy. From the social gatherings to mouth watering dishes, from pickles & alluring Pookalam to the traditional outfits, Onam is all about fun and frolic. Let's take a look at the main attractions of this harvest festival :
Beautiful Pookalam (floral mat)
Breathtaking Vallamkali (snake boat race)
Exotic Kaikottikali dance
Tempting Onasadya (the elaborate meal)
Onam 2017 Dates
To make sure you celebrate all the days and events of Onam 2017, we have provided this table telling about Onam 2017 dates.
| Date | Day | Tithi | Event |
| --- | --- | --- | --- |
| August 26, 2017 | Saturday | Panchami | Atham |
| August 27, 2017 | Sunday | Shashthi | Chithira |
| August 28, 2017 | Monday | Saptami | Chodhi |
| August 29, 2017 | Tuesday | Ashtami | Vishakham |
| August 30, 2017 | Wednesday | Navami | Anizham |
| August 31, 2017 | Thursday | Dashami | Thriketta |
| September 1, 2017 | Friday | Dashami | Moolam |
| September 2, 2017 | Saturday | Ekadashi | Pooradam |
| September 3, 2017 | Sunday | Dwadashi | Uthradam |
| September 4, 2017 | Monday | Trayodashi | Thiruvonam/Onam |
These dates of Onam 2017 are accurate and will definitely help you in enjoying more of this harvest festival.
Onam : The Ten Festive Days Of Harvest Festival
Onam is celebrated for 10 days and each day has its own name and importance. Let's talk about each day of Onam in detail.
Onam : Day 1, Atham (August 26, 2017)
Onam begins with celebration of Atham, the first day of this festival. On this auspicious day, people get up early morning, take bath, wear clean clothes, and visit temple to offer prayers. The highlight of this day is the preparation of Pookalam or Athapoo. Pookalam is a floral mat which is prepared by the people on Atham. Afterwards, it is laid down in the courtyard for the remaining nine festive days. Purpose behind preparing and laying Pookalam is to welcome the spirit of legendary King Mahabali, who as per the beliefs of the people, pay a visit on each Onam.
Onam : Day 2, Chithira (August 27, 2017)
Second day of Onam is celebrated as Chithira. On this day too, people visit temple to offer prayers and seek blessings for themselves and for their families. Fresh flowers are added to Pookalam and preparations for the grand day i.e. Thiruvonam, starts from Chithira. This is the day to make plans for the main festive day. Shopping is done, events to be organized are discussed and demands of gifts are made by the children.
Onam : Day 3, Chodhi(August 28, 2017)
Also known as Chothi, Chodhi is the third day of Onam. The already beautiful Pookalam is made more attractive on this day by addition of some more flowers. Buzz of people is seen in the markets, shopping for new clothes, accessories, and gifts. To decorate the homes, household decoration items are purchased. Chodhi is the day when huge discounts and offers are given by the shopkeepers on almost every item.
Onam : Day 4, Vishakham (August 29, 2017)
Vishakham, the fourth day of Onam, is the day to speed up the celebration preparations. Streets are seen busy and crowded, women are seen preparing sweets, pickles, and Papad. On Vishakham, women dress beautiful in their traditional attire and engage themselves in singing, making merry and working on the eye catchy Pookalam.

Onam : Day 5, Anizham (August 30, 2017)
Here comes the fifth and one of the most interesting day of Onam, Anizham. The main event or you can say the highlight of this day is Vallamkali, the popular snake boat race. On the banks of Pamba river, Kerala, the race is organized. All the boats are decorated with beautiful flowers and are oared by a number of oarsmen. People and tourists from all over the world, come to witness this grand event and the atmosphere sees a high degree of zeal and excitement.
Onam : Day 6, Thrikketta (August 31, 2017)
Thriketta is the sixth day of Onam, the day which calls for family reunion. People staying away from their families, come back to their homes and enjoy the celebrations. On this day, social gatherings are held and various cultural events and programmes are organized. People from nearby areas, participate in these activities and events; thereby, raising the festive mood to a great extent.
Onam : Day 7, Moolam (September 1, 2017)
As the main day is coming closer, colors of celebration join the air on Moolam, the seventh day of Onam. All the faces brighten up with joy and the eagerness to celebrate the main day can be seen in the eyes of one and all.
Onam : Day 8, Pooradam (September 2, 2017)
Pooradam, the eighth day of Onam, is very important. On this day, pyramid shaped clay idols are created and decorated with flowers. These idols are popularly known as Poorada Uttigal. On Pooradam, houses are cleaned to welcome King Mahabali or Onathappan. Pookalam is made even more beautiful with addition of more flowers, increasing its size. Pooradam is also the day to meet with friends and relatives and exchange warm greetings.
Onam : Day 9, Uthradam (September 3, 2017)
The ninth and the second last day of Onam is Uthradam. Now is the time to complete all the incomplete things and make sure all preparations are done. As per the tradition of Uthradam, tenants present produce of their farms to the eldest member of the family, who then give them rewards. Ninth day i.e. Uthradam, is also known as Onnam Onam, meaning 'the first Onam'.
Onam : Day 10, Thiruvonam (September 4, 2017)
Finally, it is Thiruvonam, the last and the main day of Onam. On this day, Kerala wears the color of real celebration and joy. As a part of the rituals, people wake up early morning and smear oil, over their body. This tradition is followed by taking bath and wearing traditional clothes. Echoes of Onashamsakal are heard everywhere and wishes are exchanged with near & dear ones. Temples are visited and prayers are made. The beautiful and large Pookalam is now made even more attractive to welcome King Mahabali. In the afternoon, the main meal of Thiruvonam, which is Onasadya, is prepared. This grand meal has 11-13 vegetarian dishes which are served on banana leaf. On this day, Onakkali or Onam games are also played by the people and Patassu (crackers) are burnt.
Though, Onam is a ten day festival, but there are some rituals which are done on the the eleventh and twelfth day also. These days are known as Avittom and Chathayam, respectively.
Onam : Legend Behind Origin Of Onam
Legend says that long ago, Kerala was ruled by a generous and kind-hearted demon king, Mahabali. Under his governance, people of the kingdom were happy and contented. Soon, the King's benevolent nature and fame became talk of the town and he started ruling the entire world, including heaven. His growing power and rule, amazed Lord Indra and other gods. On this, Aditi, mother of Devas, asked Lord Vishnu to reduce the powers of the king. Lord Vishnu changed himself into the form of a dwarf man called Vamana and went to the King. At that time, Mahabali was performing Yajna. Vamana on approaching the King, asked him for donation. Mahabali was impressed with Vamana's wisdom and asked him to make a wish. The dwarf man very humbly asked for three parts (measures) of land, to which Mahabali agreed. Vamana, increased his stature and covered the earth with his first step. With the second step, he covered heaven. Still the third step was left, the king realised that it could destroy the earth, Mahabali offered his head as the final step. As soon as Lord Vishnu placed his foot on the king's head, the king was sent to heavenly underworld or Sutala. As the lord knew the King's love and affection for his kingdom, he granted him a boon to return once every year. It is from that day, people of Kerala celebrate Onam as the homecoming day of their King, Mahabali.
Onam : Legend Of Palliyodam Boat
As per this legend, once some men were sailing on a boat known as 'Palliyodam'. The boat was burdened with food and got stuck at the turning point of the river. To seek help, the head of the oarsmen, Bhattathiripad, went to a nearby hut. Inside the hut, was a woman and her children who were crying out of poverty and hunger. As the man has more than enough food on his boat, he took out some of it and offered to them. The moment he gave them the food, the boat got navigated easily to the main course. From that day, it is believed that feeding food to a needy person on Onam, yields fruitful results and helps in achievement of all wishes and desires.
Feast Of The Day: Onam Sadya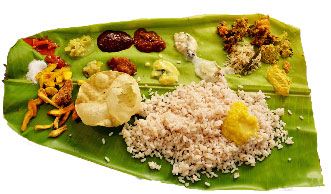 Onam is the duration of those 10 days which are filled with zeal, fervor, enthusiasm, culture, and some really ravishing dishes. Yes, Onam is the time to enjoy 'Onam Sadya', the grand meal. This meal which consists of 11-13 different dishes that are purely vegetarian. To give this dish more traditional touch, it is served on a banana leaf.
Onam : Customs & Traditions
Maveli Puja: Maveli Puja conducted on the ninth and tenth day of Onam, is a very significant ritual. As part of this Puja, three small sized figures (models) are created from red sand and are installed at the verandah. These figures are honored as King Mahabali and are worshiped in early morning and at dusk.
Tripunithura Athachamayam: Under this custom, comes a grand procession which is organized at Thripunithura. Tripunithura Athachamayam marks the beginning of Onam, is practiced since ages. In ancient times, it was a royal tradition and today, after so many years, this tradition is still very much alive in the hearts of the people. The charm, importance, and legacy of Tripunithura Athachamayam can be felt on every Onam. Uniquely dressed up elephants are the limelight of this procession.
Onathallu: This is also a very old custom of Onam and is also known as Kayyankali. It involves bare handed fight in which the warriors dress in Dhoti or white color cotton clothes. To protect their legs from injury, they wear bandage around them. Onathallu is a sort of game which is played by the male members of the family.
Onam is the time to add some beautiful memories in your life. Celebrate each day of Onam with your family & friends and surprise them by giving a visit. On this Onam, strengthen your bonds and relations with your loved ones. We wish you a very happy Onam. It's time for celebration, it's time for feast, and it's time for reunion.
AstroCAMP wishes you a Happy Onam..!