Rahu, the shadowy planet, will transit in 2015. Rahu transit will affect all the spheres of your life. While for some, the effects will be worth appreciating, for others it may appear exactly the opposite. Read and know through Rahu transit in 2015.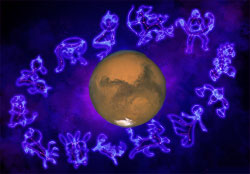 Rahu, the planet which is believed to have no solid body, moves extremely slow. Astrologers say that Rahu and Ketu transit on the same date. Rahu transit in 2015 will affect you according to its present position in your birth chart or Kundali. Rahu transit 2015 can give you both auspicious as well as inauspicious results. Generally, Rahu is considered to be a malefic planet; thus, it brings bad luck and misfortune. However, Rahu transit will vary for each zodiac sign, depending on its position at the time of transit. Let us take a look on the dates of Rahu transit 2015. It will help you in knowing how this dreadful planet will affect you throughout the year.
In 2014, Rahu transited into sign Virgo and will stay there in 2015 as well.
Beliefs say that Rahu has a body of snake and thus, is popularly known as the serpent demon.
As this planet is shadowy and has no body of its own; therefore, it has no zodiac sign too. Rahu is responsible for the bad attitude and bad habit of an individual.
Negative traits like ego, aggression, lust, and drinking habits, all are a result of Rahu. Malefic effects associated with Rahu makes one violent, rude, and harsh. Rahu Kaal, the time when Rahu enters one's birth chart, takes the native toward bad habits and bad company. Professions like media and politics need perfect combination of strategy & manipulation and Rahu is helpful in that. Therefore, people who belong to such professions gain success due to Rahu only.
Don't misunderstand Rahu as only a malefic planet, as it yields really positive outcomes when in combination with a benefic planet. We hope Rahu transit 2015 brings good results and positivity for you.