Date: April 25, Wednesday
Time: 8:00 PM (IST)
Venue: M. Chinnaswamy Stadium, Bengaluru
IPL is going on air from tomorrow, opening new errands of entertainment. Re-entry of veteran teams like CSK and RR will make this tournament more exciting. Like always this season also "AstroCAMP" will give all predictions for our web visitors. We try our best to give accurate predictions amidst retrograde motion of two major planets!
Match-24 is between RCB-CSK, horary number 226 in favor of CSK: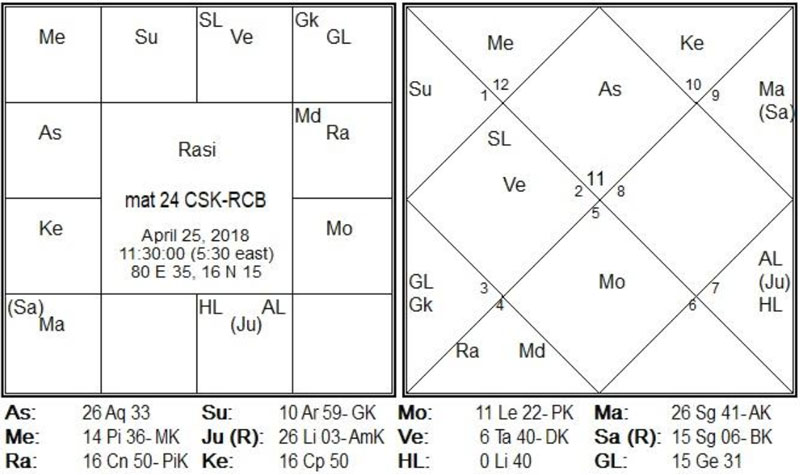 Here the sub lord of 6th house is Moon, it is in 6th house and deposited in star of Kethu and sub of Saturn. Kethu is in 11th house whereas Saturn is in 10th house but deposited in the star of Venus in 3rd house. Therefore Moon will become strong indicator for 3rd house. This combination is favorable for CSK.
Winner: It seems that stars are in favor of CSK.
Disclaimer: We would like to add that the IPL Team names, logos, IPL Marks and texts used are the sole property of IPL. These cricket information and predictions are provided for astrological, academic and research purposes only and doesn't support any kind of illegal or immoral activities such as betting. Kindly do not carry out such activities and stay true to law.