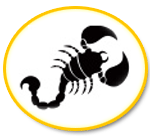 Scorpions have a great magnetic personality. As their mascot is "the scorpion", they can be argumentative and elegant but that's simply because they see all oppositions a healthy change. Scorpio is the most misunderstood of all zodiac signs. Even when scorpions appear self controlled and calm there is a furious intensity of emotional energy under the composed exterior. They are like volcano which may burst into eruption at any moment. Part of the negative side of scorpion nature is a tendency to discard friends once they cease to be useful. Even if they get everything in their favor they are still not satisfied. They probably take good care of their body or at least talk about doing so.
Scorpions always have a complicated relationship; they can even be moody for no obvious reasons. Scorpions have an amazing sense of humor and scorpions are direct and forceful and they seem to be an expert at what they do.
Self criticism, intense concentration and a adoring compel, which results in complete success or utter failure. The Scorpio must fight for a life of action not reaction. Scorpio dares to be simple and dupe and that is the first step in the direction of wisdom and victory. They are passionate in love and can hate in equal aggressiveness. Others opinion hardly matters to them as they know what they are. They have a very strong personality that makes people notice them when they walk by. They need to investigate the depths of their emotions and how to use them as a means of self-healing and helping others.
Lucky Numbers: 3, 9 and 4
Lucky Colors: Yellow, red and orange
Lucky day: Tuesday and Thursday
Lucky Gemstone: Coral, which is to be worn as a ring in ring finger
Compatible Zodiac Signs: Cancer, Pisces
Incompatible Zodiac Signs: Taurus, Leo, Aquarius