Today's match is between Sunrisers Hyderabad and Royal Challenger Bangalore. Both the teams are going into this match after a win, so this match is expected to be a tough fight.
I decided to judge this match results based on Horary Astrology (Prashna Kundli) of Krishnamurti Paddhati. The question was asked on behalf of Sunrisers Hyderabad. Here are the question details -
Question Taken: Will Sunrises Hyderabad will today's match?
Horary Number taken is 55.
Date of Judgment: April 7, 2013
Time of Judgment: 8:2:1 PM IST
Latitude: 28 : 38 : N
Longitude: 77 : 21 : E
For judging the match, we need to see 1st and 6th house. 1st house cuspal sub lord is Mars. Mars is situated in 10th house, the house of fame. Mars also owns 6th and 11th house. 6th house shows competition whereas 11th house shows winning. Mars is situated in the nakshatra of Mercury which we will discuss soon.
6th house cuspal sub lord is Mercury, situated in 9th house. Mercury also owns 1st and 4th house. Mercury is situated in the nakshatra of Jupiter, a planet situated in 12th house. 12th house is positive house for competitor and also owns 7th house. So Jupiter doesn't show much support for SH.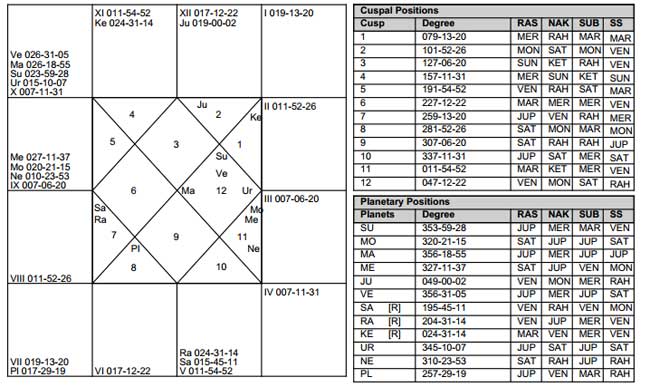 Overall, seeing above, Sunrisers Hyderabad will win the match today.