By VGR Pavan
We are witnessing the interesting tri-series between India-West-Indies-Srilanka. As an ardent lover of astrology I will try to offer my match predictions through horary astrology. Here I would like to disclose that these are only astrological inferences and cannot be taken as granted. Hence readers discretion is important about these predictions.
India
India is one of the participants of West Indies Tri Series 2013. Captain of the team is Mahendra Singh Dhoni. With the coach, Duncan Fletcher, the team is doing great these days. Indian Cricket Team is the full member of ICC (International Cricket Council) and is governed by BCCI (Board of Control of Cricket in India). With its first victory in 1983, the Cricket World Cup, India established itself as a strong team in overseas. Since then, the glory of Indian Cricket is blooming beautifully.
Sri Lanka
Sri Lanka is one of the participants of West Indies Tri Series 2013. Under the captaincy of Angelo Mathews, Sri Lanka is doing quite well these days. Graham Ford is coaching the Sri Lankan team. The team came out of its underdog reputation in 1996, when they won the Cricket World Cup. Since then, the team has maintained its position in the Cricket world. With 4 Asia Cups, 1 World Cup and 1 Champions Trophy; Sri Lanka National Cricket Team cannot be taken lightly.
Prediction of Ind vs SL Match
Sub lords of 6 and 11 houses are important and they should be strongly connected with 1, 6, 10 and 11 houses. The star and subs transited by Moon during the match are also important.
This important match is between India and Sri-Lanka on 09/07/2013 at 13:30 GMT at Kingston. The following is the horary map in favor of India.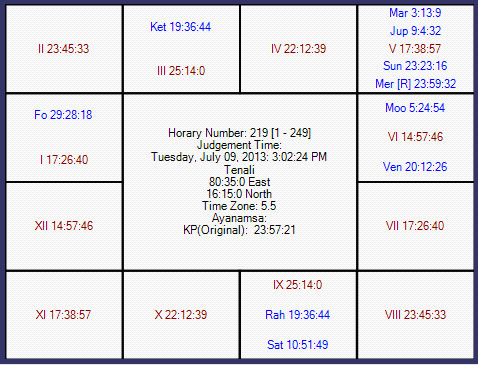 Here 6th sub lord is Jupiter; he is in Rahu star and own sub. Rahu is in 8th house in own star. Therefore Jupiter is strongly connected with 8th house hence negative for India.
Moon at the time of Match is in Saturn star. It seems to me that stars are in favor of Sri Lanka. Let see what happens. GOOD LUCK TO ALL.