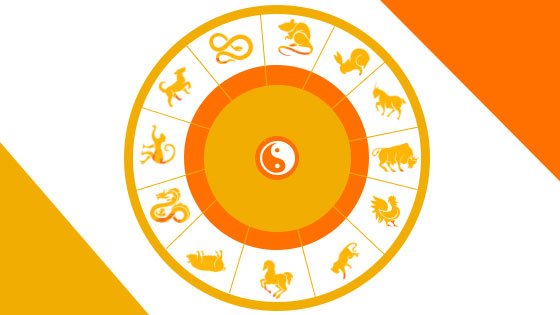 We at AstroCAMP are presenting you with Chinese Horoscope 2020 - Year of the rat. If we classify the year as per the animal signs of Chinese Horoscope and their five divisions, the rat is the animal sign and metal will be the main zodiac element of 2020 making it the year of the metal Rat. The Chinese year 2020 will start from 25th January and will end on 11th February 2021. Whatever decisions you take will affect you throughout the year. Let's find out how Rat will act on various aspects of life for the 12 different zodiac signs (animal signs) namely Rat, Ox, Tiger, Rabbit, Dragon, Snake, Horse, Sheep, Monkey, Rooster, Dog and Pig.
Also Read: Chinese Calendar 2020
Read the following Predictions of Chinese Horoscope 2020 for all the different zodiac signs.
1. Rat Horoscope for 2020
The year 2020 will bring some great opportunities to the Rat animal sign. However, the year itself belongs to White metal rat so Rat will have a fantastic time throughout the year. You will have a hold on each and everything that belongs to you. But being lazy can harm you, so do not take life for granted. On every aspect of life, you will get a positive response. Your charming and captivating nature will lead you towards victory in every field of life.
2. Ox or Cow Horoscope for 2020
In the year 2020, this Chinese zodiac (animal) sign will have to work harder to earn little. You are advised to wipe up all your previous achievements in 2020 for a smooth year ahead. Although, you will definitely get awarded for all your hard work. Your health might get affected this year so take good care of yourself. Eat well and do some exercise for a healthy body and mind. To attain a bright future you must clear up all the clutter. If you are thinking to start some new project, you must hold on, because this is not the right time for that. However, you can work on your past projects.
3. Tiger Horoscope for 2020
According to the predictions for 2020, as per Chinese Astrology, it will be a fruitful year for Tigers. This year will be in your favour from all the perspectives, whether it is family, love, relationships, health or job. Although, you have to work hard to earn well this year. Stay away from people with negative energy and get in touch with the positive ones. To get the utmost success in life, set your goals and work accordingly. Try to get your job done in one go. Do not wait for the second chance. Better go with the flow and accomplish your tasks instead of contemplating for too long.
Also Read: What is Chinese Astrology?
4. Rabbit Horoscope for 2020
Rabbits will work on their past goals this year. The year will be an informative and lively one for Rabbit animal sign. This year you are advised to learn all the tactics of life to resolve different problems of life. Find a new path in life and make it worthy enough. To live a happy and healthy life you should not stress out. Enjoy warm and healthy relationships by maintaining harmony and peace between you and your partner. Try to enhance yourself on every front of life. Always think wisely before taking any important decision this year.
5. Dragon Horoscope for 2020
According to this Chinese Astrology, the Year 2020 will be a very cool and calm year for Dragons. However, during this time you may feel a bit exhausted. This year, keep an eye on your health and maintain a healthy routine. Make sure you follow a healthy lifestyle. You may make new friends in life and their presence will keep you enthralled. At work front, you will get benefits from your colleagues. The environment of your workplace will be in your favour. To maintain the peace in life you must maintain a line between your personal and professional life.
6. Snake Horoscope for 2020
This year will be favourable for Snake zodiac sign. All your problems will get resolved by the end of this Chinese year. A new path of life ensuring progress is waiting for you. All you need to take care of, throughout the year, is your health. Try to get enough sleep and take extra care of your physical and mental health. Snakes always believe in an authentic and true relationship. This year, this trait of yours will be rewarded as single people of snake animal sign will meet their soulmate. Married people should avoid arguments with their spouse.
Also Read: Wealth & Finance Report
7. Horse Horoscope for 2020
According to the Chinese horoscope, the Year 2020 will prove to be a life-changing year for Horse zodiac sign. They will get the opportunity to change themselves in a positive manner. It's time to learn from your past and get indulged in good habits. To make your relationship work longer, make it more passionate. You can try out new things, which could be absolutely out of the box but admired by your partner. This year you may go on holiday with your close friends. By the end of this Chinese lunar year, you will gain a new source of earning.
8. Sheep Horoscope for 2020
This year will be a transforming year for Sheep animal sign. You will encounter different changes at every front of life. The year will bring changes in your behaviour, lifestyle, job and love life. You may change your job during the middle of this year. There is a possibility of you getting out or ending a meaningless relationship. Your earning will be good but you need to control your expenses. Married people will discover a strong bond between them and their spouse. You should avoid the idea of expanding your business this year.
9. Monkey Horoscope for 2020
This year promises to bring drastic changes in the life of natives of Monkey animal sign. Throughout this year, you may remain enthusiastic, and lively. This year of the white metal rat will enhance your social life and you will get name-fame in the society. Your economic condition will substantially improve along with your health. At work front, your spontaneous character will add a new wing to your career. Do not purposely indulge in any kind of arguments or quarrel this year.
Also Read: Feng Shui for house
10. Rooster Horoscope for 2020
This year will be fruitful for Rooster animal sign, as per Chinese Astrology. You will experience an emotional breakdown in personal life which might affect your relationship. Sometimes your impulsive behaviour can harm you at work front and in business too. To avoid money-related problems in future, start saving from the very day and control your expenditure. Always keep in mind that a little saving now can rescue you from future troubles. Although, this year will be quite fascinating for you in many ways. But always remember that one wrong decision does have the potential to ruin everything.
11. Dog Horoscope for 2020
The year 2020 will be a new start for Dog animal sign. This year of the white metal rat will make your life uncomplicated and smooth. All you need to do this year is - sit back and enjoy. Your family life will be happier than ever and you will enjoy this time with your loved ones. You will be at the peak of your career. You may get a promotion as well. Apart from this, you have to remain focused on every single opportunity falling in your way and try to make most of it. You will spend a romantic and blissful time with your partner. Married couples may visit any foreign country this year.
12. Pig Horoscope for 2020
According to the Chinese Horoscope 2020, this Chinese lunar year will be moderate for Pigs. They will be energetic and fixate towards their work throughout the year. It will be a beneficial year for boars. You will get tremendous success in your career as well as on the business front. This year you just need to take care of your health because there is a possibility of some minor health issues bothering you. This year, you are advised to follow your inner instinct and avoid relying on anyone in financial matters. Although, on an average, it will be a good year for you.
AstroCAMP wishes you a very Happy New Year !