Delhi Elections 2015 is in full swing and nobody is sure that who is going be the CM of Delhi, as there is close fight between Arvind Kejriwal and Kiran Bedi. Even great election analysts and Pundits are unable to say anything about this close fight. Let's see what stars are saying about these 2 candidates.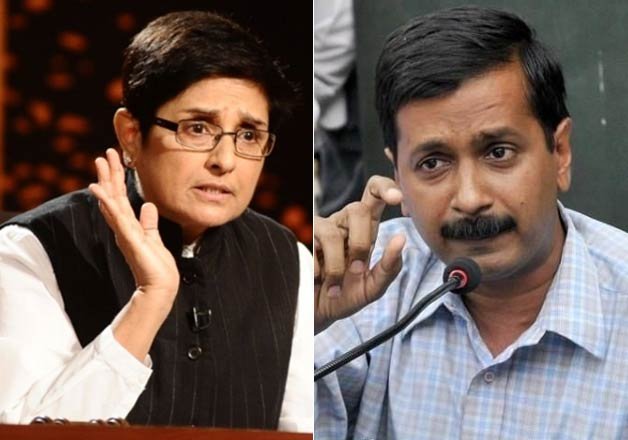 We will do horoscope analysis of Kiran Bedi and Arvind Kejriwal, and will try to find out the final winner.
Name: Kiran Bedi
Date of Birth: Thursday, June 09, 1949
Time of Birth: 14:10:00
Place of Birth: Amritsar
Longitude: 74 E 56
Latitude: 31 N 35
Time Zone: 5.5
Ayanamsa used: KP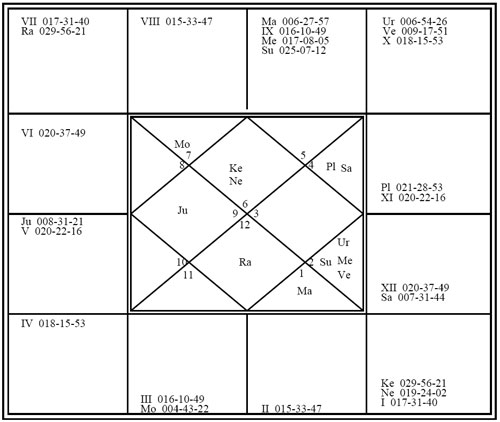 As per birth chart of Kiran Bedi, Virgo ascendant is rising and ascendant sub-lord is Saturn , which is connecting with 5th, 6th, and 11th houses indicating slow and permanent gain in life. 10th cuspal sub-lord is Moon . Moon is placed in 2nd cusp and owner of 11th houses. Moon is placed in star of Saturn, which occupies Leo sign and connecting 5th, 6th, and 11th houses, so as Moon is connecting with 2nd, 6th, and 11th houses showing strong win against opponent. So, there is strong promise in birth chart to be CM.
Dasha is the key factor for win in current elections because apart from promise in birth chart, we need support of Dasha to see results in current time. Currently, she is going under Dasha of Sun - Mercury - Jupiter up to 31st January 2015, and then Sun-Mercury-Saturn from 31st January to 21st March 2015. Voting in Delhi will be there on coming 7th February and results will come on 10th February. This time will be very crucial. So, Kiran Bedi will be under period of Sun-Mercury-Saturn during voting and results.
I always give importance to 2nd level and 3rd level Dasha. Mercury is placed in star of Moon and connecting with 1st, 9th, 10th, 2nd, and 11th houses. So, Mercury is clearly indicating victory and high post. 3rd level Dasha is of Saturn. So, Saturn always gives slow results after some hurdles, obstacles, and delays, but as Saturn is also connecting with 6th and 11th houses, it will be a fantastic time for Kiran Bedi and her opponents will be speechless ultimately.
Let's see 2nd part of coin. I mean Arvind Kejriwal horoscope analysis, which will clear the picture.
Name: Arvind Kejriwal
Date of Birth: Friday, August 16, 1968
Time of Birth: 23:46:00
Place of Birth: Hissar
Longitude: 75 E 45
Latitude: 29 N 10
Time Zone: 5.5
Ayanamsa used: KP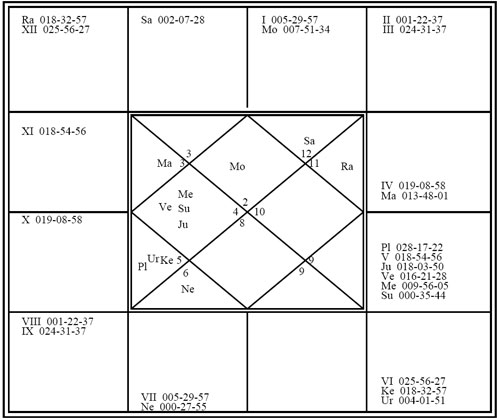 As per reference, Kejriwal birth details are doubtful, we cannot do deep analysis up to Sub lord level unless we are sure about birth time. So, just look at current Dasha of Kejriwal as per given birth details, Kejriwal will be under Dasha of Jupiter- Venus - Ketu from January to February at the crucial time of elections, Venus is connecting with 1st and 4th houses, and Venus is in own star. It shows support of public due to connection of 4th house, but 2nd, 6th, 10th, and 11th houses are missing. 3rd level Dasha lord Ketu has occupied 5th house, which is 12th from 6th, Ketu is again a negative factor. Though Ketu is in connection with 6th cusp due to sign lord Mercury connection, but 5th cusp is strong here again. But, 2nd, 6th, 10th, and 11th houses are missing. Moon, star lord of Ketu is connecting with 1st and 4th houses, again support from public is there, but no major gain as a CM post.
So, as per analysis of Kiran Bedi's chart, chances for Kiran Bedi is higher for CM post in Delhi this time. We cannot go deep analysis of Arvind Kejriwal due to doubtful birth details, but Kiran Bedi's chart is giving enough indication that an IPS officer is going to rule Delhi.
We wish all the best to both candidates.
By Astrologer Mrityunjai Ojha