By Acharya Raman
Wife is a word which has become most dreaded now-a-days. Every day we read in newspapers that X lady filed a police suit against her in-laws and tormenting. Giving power is a good thing but excess of power creates madness which we can see clearly in these modern times. I am not at all against women empowerment, I am biggest supporter of it. I too have a sweet daughter.
There is a saying that behind every successful man there is a woman. Now it is getting reversed for many. What combinations in a horoscope give such horrendous life to a native is a thing worth noting. I will try to reveal some of the clues to the readers - below are given two horoscopes (a) Male (b) Female
(A) Male Horoscope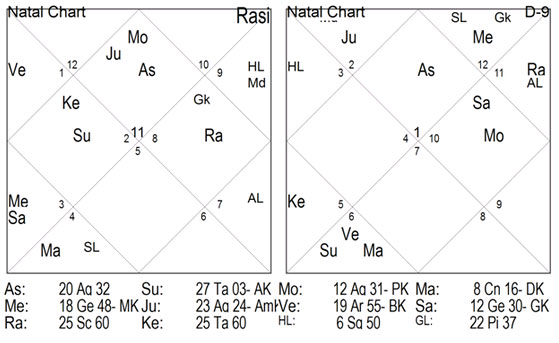 (B) Female Horoscope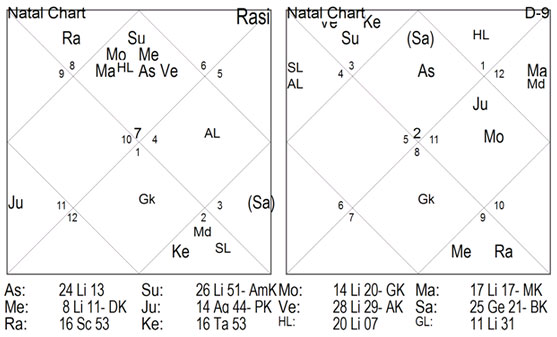 Kindly note both the horoscopes. The horoscope (B) belongs to the female who married (A). See the position of Rahu in the second house, retrograde Saturn and proximity to Sun of all planets in the ascendant. The 7th Lord Mars is aspecting 7th house, this Yoga gives love affair quite early in life and so this native had a long affair of 8 years from her school time, before she got married to (A). Separatist planet Saturn is aspecting 7th house in Navamsa. The native (B) was a hysterical person and used to cut herself by knife etc. to make her parents fulfill her demands. Sun and Mars in ascendant give such tendencies.
She has filed a lawsuit against the native (A) and his family and is demanding 30 lacs for settlement. Rahu is a planet which gives conspiracies and malefic planet Saturn is currently transiting in her ascendant. False blames and bad mouthing are traits of Rahu and Ketu. She is hyper talkative and can go to any extreme to make herself accepted as right. Mars the 7th Lord is combust and the birth is on the New Moon day of Diwali. Venus is on ending degrees around 28.21.
My aim here is to pinpoint some traits of a good horoscope which can bring happiness in the lives of the couple and also to tell what to avoid in the first glance. There are many charts with me to demonstrate but this will be quite sufficient.
In a male/ female chart the 7th Lord should not be hemmed between malefics and should not be combust. In Navamsa , it should be checked. The 7th house should be aspected by one benefic at least; and should be away from the aspects of malefic planets. The ascendant should be seen with same respect because it is after all the native who will be doing the right and wrong things in his/her life.
The combination of Mars-Venus should be dealt with the same sort of combination or else rejection is the best remedy. MarsVenus combination is very bad in 7th house or ascendant in any one`s chart. The second house is Kutumb Sthaan and Vaani Sthaan. A malefic like Saturn or Rahu destroys it completely and the native turns out to be a venomous creature when aggravated even slightly. Such people do not have good relations with their own family, leave aside in-laws.
The 7th Lord should be away from Rahu-Ketu axis. In the chart (A), the Lord of the seventh house, Sun is hemmed on Rahu-Ketu axis. This gives a partner whose character can be dubious. This is not the case always, there are other factors also.
Jupiter is being crowned as most beneficial planet but I have seen that in 5th house Jupiter does the reverse. It hinders the progeny many times. In 2,5,7,11, Jupiter is said to be ineffective on the basis of Karako Bhaav Naashyati theory. The native (B) aborted her second pregnancy even though the native (A) was willing to have it. Her affair also was broken, but Jupiter in 5th house does give affairs is what I have seen many times and depending upon other factors they may or may not reach the result which is marriage in our society.
Apart from the ascendant and 7th house , the 11th house gains and 2nd house of Kutumb also needs to be seen judiciously for a long lasting relationship between the families of the natives. Kindly note that in both the horoscopes 2nd Lords are in ascendant, which is 12th to second house. Both of them have no relations or have with very few of their relatives. This Yoga makes one stand on his/her feet by own efforts is another thing. Both are working and have their own separate lives.
Marriages are made in heaven It is said and is very true. Our past Karmas give us such pains in this life and instead of complaining one should indulge in good deeds to lessen the Karmic burden of evils he/she has done in past lives.
I hope readers will like this effort and your feedback will be most valuable.
You may also like to read: