"Happy New Year" is another set of three magical words which brings smile to our faces. After spending 12 months in each year, we are blessed with the tag of a new year which serves as a new beginning for us. Every thirteenth month brings us a new year to give our life the spark that it needs and to help us keep moving in the forward direction.
New Year is observed on 1st of January, after 31st December marks the end of the previous year. 1st January is the beginning of the new year according to the Gregorian and Julian calendar.
Other than that different cultures have different new year schedules. For example, the Chinese New Year (the year of the Yin Earth Pig) will begin on 5th February 2019 and will extend to 25th January 2020, after the completion of the Year of the Yang Earth Dog. The Hindu New year will begin on Diwali, the Sikh New Year starts on Baisakhi while the Islamic New Year will begin with Muharram. The New Year is known by different names like Nav-varsh in Hindi, Naya Saal in Urdu, etc.
Know Festivals & Upcoming Holidays in 2020: Calendar 2020
The Year 2019
The New Year 2019 will begin on Tuesday. It will be:
The 2019th year of the Common Era
The 2019th year of Anno Domini
The 19th year of the 3rd millennium
The 19th year of the 21st century
The last year of the 2010 decade
Numerological viewpoint of the year 2019
The year 2019 can be expressed in numerological terms as follows:
2+0+1+9= 12
The obtained value 12 can further be simplified as:
1+2=3
Hence, according to Numerology, 3 is the number for the year 2019.
As per Numerology, 3 signifies Trinity. The year will bring peace and prosperity and will bestow upon you the ability to fight for a cause and emerge victorious. Also, you will have the strength and courage to get over your problems and hurdles.
Read: Numerology Predictions 2020
Major events in the year 2019
January 1

Unmanned space probe New Horizons will make a close approach of the Kuiper belt object (KBO) 2014 MU69 on this date.

Jan 5 - Feb 1

Football (Soccer) AFC Asian Cup will take place in UAE.

Jan 9-27

Handball World Championships (men) will take place in Germany & Denmark.

Jan 12 - Feb 3

African Cup of Nations for Football (Soccer) will be held at Cameroon.

21 January

A total lunar eclipse will take place.

Mar 14-21

Multi-sports events will take place in Special Olympics World Summer Games in Abu Dhabi, United Arab Emirates

08 April

The general elections of India will be done on 08 April. They can be preponed in March if the need arises.

April 17

Indonesia will hold its 12th general election. Voters will be able to select their own representatives at all levels.

Apr 21-28

World Table Tennis Championships will be held in Budapest, Hungary.

April 30

Emperor Akihito of Japan will execute the first abdication by a Japanese monarch in about two centuries.

May 14–18

The Eurovision Song Contest 2019 will take place in Tel Aviv, Israel.

May 23–26

European Parliament election will be held.

May 30-Jul 15

Cricket World Cup will be held in England.

June 7 – July 7

The 2019 FIFA Women's World Cup will be held in France.

Aug 26–Sep 9

Tennis US Open is scheduled to be held in New York, USA.

December 26

An annular solar eclipse will be visible from South Asia
Happy New Year Quotes
Here are some New Year Quotes you can use to highlight the importance and vibe of of Happy New Year 2019 celebrations.
"Cheers to a new year and another chance for us to get it right. - Oprah Winfrey"
"Tomorrow is the first blank page of a 365-page book. Write a good one. – Brad Paisley"
"Your success and happiness lies in you. Resolve to keep happy, and your joy and you shall form an invincible host against difficulties. – Helen Keller"
"There are greater things to be achieved in every New Year, and each and everyone must prepare themselves to be great, not by words of the mouth, but by a lot of sacrifices. – Michael Bassey Johnson"
New Year Wishes
Send someone a Happy New Year wish and make their day much brighter. Select one from below and send this to your friends, loved ones, colleagues, family members and acquaintances.
"As the New Year is about to begin, I want you to look for better things in life. Happy New Year 2019!"
"Before your social media gets flooded, the calendar changes its leaf, the mobile networks get congested I want to wish you a very Happy New Year 2019!!"
"Let's bid goodbye to this year with a positive hope and smile on our faces. Wish you a wonderful and Happy New Year 2019 dear!"
"The start of every year takes you a step closer to the attainment of your dreams. Hope this year is the breakthrough one and your dreams finally turn into reality. Wishing you a blissful New Year 2019!"
"Expand your friend circles this New Year, meet new people, communicate and make new friends. It's all about rejoicing and welcoming the New Year 2019 in grandeur."
Happy New Year Images
Download these images and send it across your group of friends on various mobile apps and social media platforms.
Happy New Year Greetings !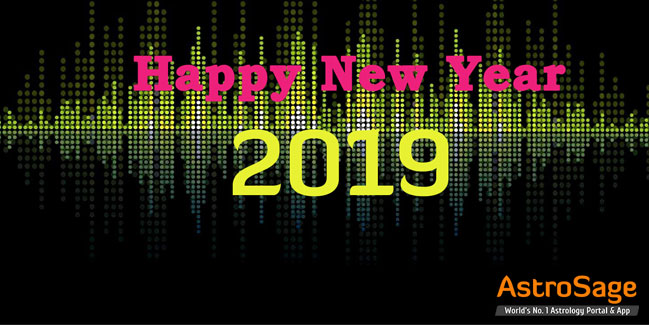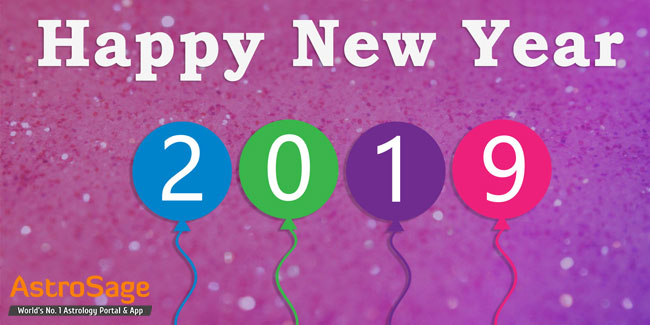 New Year SMSes
With people being tech-savvy, let's roll out some heartfelt messages to send to our loved ones on the eve of New Year 2019.
"Time to set new resolution.
Time to turn your dreams into action
Show affection for everyone.
Share your smile with everyone.
Always shine like Sun.
New year is time for lots of fun.
Enjoy New Year 2019 Celebrations!"
"My wishes for you are not limited to just the next year
but to all the years that you experience in your lifetime and in your reincarnations!
Have a fun-filled, smashing, rocking and happening New Year 2019!"
"New hopes!
New resolutions!
New Aspiration!
Love N Laughter in your life!
Peace N Prosperity in your life!
Success N Good Times On New Year!
Wishing you a Sparkling N Rocking New Year 2019!"
"My wishes for you, Great start for Jan,
Love for Feb, Peace for March,
No worries for April, Fun for May,
Joy for June to Nov, Happiness for Dec.
Have a lucky and wonderful 2019!"
Significance of New Year
New Year serves to be a new beginning for us from which we can start things on a fresh page. It is like a new chance or a golden opportunity to us, during which we should try to give a fresh and better start to our life. It acts as a fresh slate to us on which we can write our own fate.
New Year is celebrated with pomp and fervour. People meet their loved ones and spend time with them. Those who cannot meet their friends and relatives may contact them via a phone call, message or social networking sites. New Year connects people to their near and dear ones. They take time out of their busy schedule to wish their loved ones a very happy new year. It is the time when people remember and feel close to their special ones.
Click here: Horoscope 2020 Predictions
New Year Eve
The evening of 31st December is known as the New Year Eve. It is basically the countdown to New Year's arrival. Also, it is a celebration of having spend another year of life. It is an occasion worth celebrating and people should not miss it. With no predefined rituals, it is an occasion that can be enjoyed to the fullest. New Year Eve is the time when people start preparing for new year celebration. There must be some memorable events, some people you met and some relationships you got into, which will bring a smile to your face. Learn from your past experiences and move forward to a fresh start that ends with the New Year Eve and starts with the New Year.
Concept of New Year
The concept of New Year celebration varies from person to person. The way in which people celebrate New Year differs widely on the basis of age groups. The four categories of people according to their age and way of celebration are given as follows:
Children
Kids and toddlers have high spirits about new year. They are the ones who believe that new year is actually the beginning of a new life. A notion that anything that they do on new year will be done by done by them all round the year is prevalent. Kids collect candies and make cards for their loved ones.
Youngsters
Youngsters are generally found to be high on adrenaline when it comes to celebration of New year. Partying all night with friends, watching movies, going to discos and clubs, binge-eating their favourite foods in spiritedness and merriment. For youngsters, sightseeing and bursting crackers is also a popular way to celebrate New Year.
Adults
The adults like to celebrate their new year peacefully. A number of television shows that are specially shoot for occasion the New Year are what adults cling to. Some people also host a small party to spend time with their family and friends during New Year.
Senior Citizens
Senior citizens have their own peaceful ways of spending New Year. They spend time recalling how they spent their New Year when they were young. Good food and the love of their family and friends is all they need to make their new year memorable.
New year Resolutions for 2019
New Year resolutions are the charm of New Year celebration. With the beginning of a new year, people make promises to themselves. These vows are positive in nature and are meant for betterment of the concerned individual.
New Year resolutions are the commitments that people decide to cling onto during the prevalent year. Mostly, students pledge to concentrate on their studies, respect their elders, etc. A number of people make commitments to leave their bad habits like (smoking and drinking) behind while stepping into the new year. The most common New Year resolutions aim for:
Gaining a good health
Maintaining a good relationship with family and friends
Improvisation at educational front
Being spiritual
Focussing on career
Global celebrations for New Year
Because New year is a global celebration that is celebrated all across the world, it is an event which stirs up the people of the whole planet. Though new year begins at different times at different places because of different time zones, the spirit with which it is celebrated remains the same.
Make this year a Happy New Year
There are a number of ways in which you can make this New year celebration worth remembering and celebrating. You should try to cut your unnecessary expenditures and get involved into a little bit of social work and charity. The smiles that you bring on other's face will give you a sense of satisfaction and a feeling that cannot be expressed in words.
Remembering God and performing prayers will give an auspicious touch to this occasion, which will help you to achieve a better future. Try to cut on crackers as they are responsible for air and noise pollution. Also, their residues and burnt parts are often ingested by animals resulting in biological problems or may be death. A lot of people drink alcohol in parties during the New Year celebration. It is advised that you should adhere to the "No driving when drunk" policy. It can save you and other people from getting injured. Caring for fellow humans will make you a better person in the coming new year.
We hope that you can make the best out of 2019 and achieve whatever you aim for.
Best wishes for New Year!