Holi is one of the most popular festival of India which is celebrated in all the regions. According to the Hindu calendar, it is celebrated on the full moon day of Hindi month Phalguna. In 2017, this occasion will be on 13 March. This festival has various legends which varies from region to region. In Barsana and other parts of Vrindavan, it signifies the love of Radha and Krishna. Read on to know more about this festival…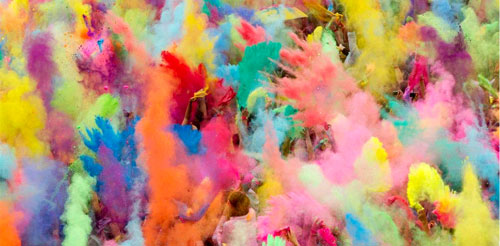 Every festival has its own significant feature associated with it. Holi is the festival whose distinguishing features are colors, color filled balloons, and Pichkaris. It is day of anxiety, humanity, happiness and lots of enthusiasm. Among the most awaited festivals, Holi brings spring with it.
Why Is Holi Celebrated?
The reason behind celebrating Holi is the popular legend of Holika and Prahlad. According to the story, Holika, the sister of Hiranyakashipu had a boon that she was resistant to fire. Taking advantage of this fact, Hiranyakashyap asked her to sit in the flames of fire with his son, Prahlad. The king used to dislike his son, because he was a devotee of Lord Vishnu, and Hiranyakashipu was an atheist. Holika did the same as she was told, but due to Vishnu's grace she was burnt in the fire, while Prahlad was saved. After this incident, tradition of Holika Dahan and Holi came into existence.
A Day Of Brotherhood, Fun & Frolic
Holi is a day which not only mixes colors in air, but also fills the environment with fun, bringing smiles on the faces of one and all. Children, men, women, all gather to play colors and celebrate the day. Red, blue, green, yellow, orange and a lot more colors are seen on the face of everyone. For the kids, Holi is something very interesting. With great enthusiasm, they purchase Pichkaris of their choice and fill them with colors for throwing colors on each other. Also, they enjoy the day with water-filled balloons.
Holi Celebrations Throughout The Country
Barsana- Barsana is the place where Goddess Radha was born. The Holi played here is the Lathmar Holi, which is witnessed and enjoyed by people from across the world. This famous Holi got its name due to the reason that in Lath Mar Holi women beat up men with Lath (stick).
Bengal- For the Bengali community, Holi means 'Dol Purnima'. Here Holi means a day of colors and sweets. Traditional sweets like Basanti Sandes and Kheer Sandesh are prepared on Holi.
Mathura and Vrindavan
- With a great energy and zeal, the festival of colors is celebrated in Mathura and Vrindavan. Holi is celebrated for about 16 days, and Lord Krishna is worshiped on the main day i.e. on Holi.
Maharashtra- In Maharashtra, Holi is celebrated for two days. On the first day, Holika Dahan is performed and on the second day, Holi is celebrated with colors.
Message Each Color Conveys
Red: Purity
Green: Strength
Pink: Brotherhood & friendliness
Yellow: Religious feeling
Blue: Tranquility & Patience
Special Dishes & Drinks Of Holi
Holi means colors, joy and some mouth watering delicacies and drinks. The ingredients and special flavors of these exclusive dishes and drinks, double up the celebrations of Holi. Some of the most exotic Holi delicacies are:
Bhang (official drink of Holi)
Gujiya
Dahi Bhalla
Sankhe
Thandai
Holi is such a prominent festival that not only in India, but it is celebrated outside the county as well. AstroCAMP wishes all its readers and subscribers & their families a safe and Happy Holi.
Celebrate Holi 2017 with AstroCAMP. Enjoy this colorful festival with us, here - Holi 2017