Lal Kitab: The End of all Miseries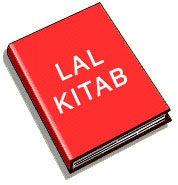 Drifting through the unpredictable and uncertain lanes of life, we get tangled into a complicated web. Frustrated and tired, we struggle daily to get rid this web of troubles. Sometimes we get out of it, while at times we find ourselves stuck at the corner. Let us extend a hand to get you out of this dark corner. We are attempting to make your struggle a little easier for you and your family. The answers to all your troubles lie in the practical remedies given in the Lal Kitab. Lal Kitab is a collection of remedies which help you get rid of the negative effects of planets and stars.
Now the question comes what is actually a Lal Kitab? Lal Kitab is a field of Astrology which explains in detail the relationship between a person and the stars. Also, it provides practical remedies to reduce the bad effects of different planets and stars.
Here it is very important to understand that there is a relationship between each human being and the universe which he/she inhabits. We do not exist individually; instead we are all interdependent. A fragile, yet indispensable chain binds us together. Similarly all the planets which roam around in the celestial plane impact us with their movements. While the position of these stars and planets can have a high degree of positive impact on our lives, their negative impact is capable of making our life hell.
We do not have any control over these bodies which reside far away from us. Does that mean that we should let the fate run our life? No, it means that we should find a way out. Here comes the Lal Kitab, which gives us a small vent to let the negativities flow out.
We bring you a set of Lal Kitab remedies which will change your life the way you thought was never possible. So put an end to all your miseries and look forward to a new life.
7 Effective Lal Kitab Tips
The negative effect of Mars causes quarrels, sickness and troubles. Every month, sweet loaves of bread, specially baked in Tandoor should be offered to the animals.

At night place a water pot under the head side of your bed and after waking up in the morning pour that water on a plant or a tree.

Use silver utensils for eating and drinking. This strengthens your Moon and depletes the evil effects of Rahu.

To strengthen your Jupiter, it is necessary that you respect your elderly people and monks. It would be highly helpful if you respect your father and do not annoy him.

One should avoid eating on bed and instead take meals in the kitchen. Do not store articles which have not been used for years. Cluttering your house and workplace with unnecessary items is not advised. Rahu causes unnecessary fears and worries. Following such remedies will deplete the ill effects of Rahu.

Do not harm dogs or cause them any hurt. Instead feed then, if possible. Ketu which is the symbolic of son and luxurious life will be strengthened.

For overall prosperity and happiness it is very important that you share your food with other living beings. From your meal offer a piece of chapatti to cows, monkeys, dogs and crows.

We all visit temples to seek blessings from the Almighty. This is a tradition which needs to be followed and preserved. However, people with a malefic planet, especially with a Saturn in the 8th house and 2nd house being empty should not visit temples or other places of worship. Similarly, if the planets in 6th, 8th and 12th house have a negative relation and the 2nd house is empty, the native should not visit any places of worship. Instead, that person should bow down his head from outside the temple to pay his offerings.
The above mentioned remedies are a few easy ways which do not require much effort on a persons part. We understand that we live a life which would not allow time consuming remedies. Analyse each remedy and you will see that they are practical. We do not believe in accepting things blindly and therefore ask you to try each of the remedy and be the judge yourself.
Lal Kitab these days has become famous by the name of Wonder Book. This Wonder Book will make your life easier, simpler and prosperous. After trying almost everything you would have finally found a way of life which will be easier and happier. Bring Lal Kitab into your life and welcome happiness.