Sun is transiting in Aries on April 14, 2014. This transit will going to produce different effects on each zodiac sign. Want to know how it will affect you and your zodiac sign? Read, what astrologer Acharya Raman has to say about this transit of Sun in Aries.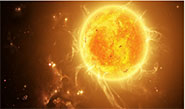 The King of planetary kingdom, Sun will move in Aries on 14th April. Sun will be coming on Rahu-Ketu axis and will be aspected by Saturn, his son and platonic enemy. It will be aspected by Mars also. So we can expect accidents, amputations to people, conspiracies against some big shots of the planet, fire incidents, gas leaks and defamation to some headline makers. Mercury is going debilitated in Pisces is another drawback of the current times. Political fever has gripped our country and some unhappy headline may come up in the time to come. Jupiter is not aspecting Mars or Sun or Ketu. On various natives, the likely effects will be:
Note: These predictions are based on your Ascendant signs.
Aries
You need to be more careful for the coming 13 days, there is likelihood of head injury, headaches, eye troubles, unwanted tensions and troubles in romantic life. Try to control your words and emotions.
Taurus
Try to be more careful during the last six days, otherwise this will be a good period specifically from the Sun transit angle. Short journeys and increased expenses are possible. Business problems and health issues are also indicated in the last six days.
Gemini
You will see gains from opponents, gains from legal matters, good family atmosphere and progress in work front by this transit. Pregnant ladies need to be more careful during this period.
Cancer
This transit will not produce much positive results. Some health problem, long trips, some loss and hospitalisation are also indicated by this transit.
Leo
Elder members of your family may face some health issues like eye problems, back problems. Your aggressiveness and determination may not produce much results. You may feel that your hard work is not paying off well.
Virgo
This transit will produce mixed results. Some delay in things or minor loss initially, but later you will see gains and happy period. Minor health problems and mental tensions are possible. Foreign travels and gains from opponents are also indicated for you.
Libra
This transit will not produce very good results as four malefics will occupy 1-7 axis. Try to be vigilant, careful and calm. Some useless tensions and exchange of some hot speeches are possible between you and others. Listen to others also before making any decision.
Scorpio
You will face some tough time initially, but things will turn into your favor slowly. You may face some problems in finance and love matters. But there are good gains in the last part. Summing up, you will be more towards positive side.
Sagittarius
Apart from some issues related to progeny, you will be having a good period. You may have problems related to digestive system and thus keep a check on what you are eating.
Capricorn
Some health issues may be possible. Don't take much stress for any competitive exam. You may face some problem in personal life. You should take care of breathing properly.
Aquarius
This transit will produce good results for you. Some short trips are possible. Romance will remain in your mind. You will feel inclined toward music, movies and good food. Some hidden desires may come forward. You may face some dispute with younger siblings.
Pisces
Avoid making any important decision during this period, be happy and cool minded at home. Some delays are possible in gains and profits. Matters may get delayed to the extent of losing interest in them. You may face some problems in your personal life.
By Acharya Raman