The King of planets Sun is transiting in Virgo on September 17, 2015 and it will stay there till October 17, 2015. Do you want to see its effects on your zodiac sign? Read the predictions by our expert astrologers and know the effects on you.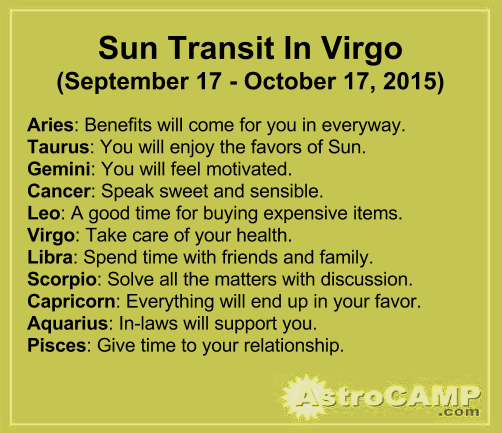 The King of planets, Sun is transiting in Virgo on September 17, 2015 and it will stay here till October 17, 2015. Transit of Sun in Virgo makes people more dedicated and energetic towards their work. This is an earthy, dual nature and female sign, people may have to face some health issues due to this transit. But, it is not necessary that it will produce harmful effects for everyone. The constellations of Sun, Moon and Mars comes in Virgo.
Let's see the effects of Sun Transit In Virgo on your zodiac sign:
Aries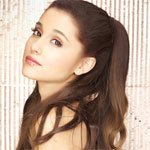 This transit will generally produce benefits for you. But, you have to stay cautious about your health. Ups and downs are an integral part of life. Minor problems in love relationship and stress is possible due to children. But, your will power will remain very strong and any problem will not be able to disturb you beyond a limit. You are a fighter and seen many problems in life, so you will overcome all of them. Don't overspeed your vehicle, otherwise problems are possible.
Click here to know more about your sign: Aries Zodiac Sign
Taurus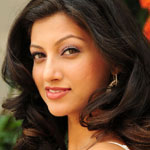 Avoid spicy food for some time. Also, maintain self-restraint. Time is good for your personal life, and you will be able to understand and resolve domestic problems up to a great extent. Minor problems are possible in love-life. But, some problems are also favorable for life, otherwise when do we get the time to do hard-work. Sun is aspecting eleventh house, and you are likely to gain benefits from any senior official. Legal matters will also end up in your favor. Overall, time is favorable. You will spend on entertainment and outings, but wastage of money will not occur. So, enjoy the favor of Sun.
Click here to know more about your sign: Taurus Zodiac Sign
Gemini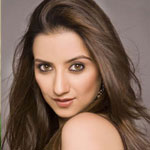 Mercury is the lord of both signs Gemini and Virgo. Arrival of Sun in this house will distract your mind, arguments will occur more at home than outside. You will feel motivated to work with a new energy at workplace. But, keep your ego aside, otherwise losses will occur. Listen to elders and don't misunderstood them. Scolding doesn't means that anybody is against you, it is for your good only. Benefits will come from friends and new relationships will also develop, so enjoy the favors of this transit.
Click here to know more about your sign: Gemini Zodiac Sign
Cancer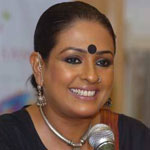 We should respect elders and love youngers in all the situations, because unity is the biggest strength of a family. Also, we should maintain a nice behavior with neighbors. Who knows they will help you some day, so don't think yourself superior than anyone. You should communicate properly with people. Speak sweet and sensible things, everyone will like you.
Click here to know more about your sign: Cancer Zodiac Sign
Leo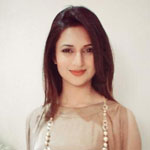 Buying gold is auspicious, not for any spiritual or astrological reasons, but for the future security also. So, if you are capable enough, buy some amount of gold this time. Time is good for buying expensive items, buy them as per your ability. Some problems are possible in eyes, headache may also occur, but probably you may not feel the need of visiting a doctor. Enemies will face inconvenience and some family members may also feel reduction in your behavior. Try to avoid this and stay happy.
Click here to know more about your sign: Leo Zodiac Sign
Virgo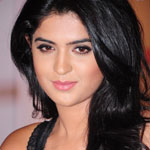 Don't overspend your money on leisure and luxuries, rather spend it on a good deeds or requirements. There is pleasure in living for other people, try it once. Control your anger and take care of blood pressure, you can also go for a blood test. Spend on your sweetheart, it may give some rewarding results. Stay cautious regarding health, otherwise injuries or accidents are possible. Friends will support you and you should also take a stand for them.
Click here to know more about your sign: Virgo Zodiac Sign
Libra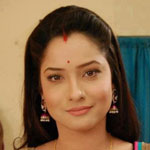 Go for an outing somewhere. This transit is favorable for you, so enjoy with your family members. Afterall, you are doing everything for them. Spend time with friends, if you are not married, enjoy life by doing some spendings or otherwise. Your performance may reduce, but don't take stress unnecessarily, try to release the volatility of mind in pleasure. Do not refuse if your family members want to go somewhere and you don't have time. Let them go wherever they want.
Click here to know more about your sign: Libra Zodiac Sign
Scorpio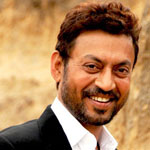 There is no need to take any kind of stress, benefits are coming from everywhere. Little ups and downs will come, but overall time is very favorable. Seniors will help, if you are in a government job, chances of gaining success are also very high. Try for the completion of halted tasks or promotion, help will surely come for you. Stay gentle, you will feel good. Don't get irritated with your sweetheart, solve the matter by discussing things.
Click here to know more about your sign: Scorpio Zodiac Sign
Sagittarius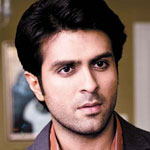 Transit of Sun is tenth house always give auspicious results, no matter that whether it is the lord of eighth house or twelfth house. Try to make alive the old broken links, it will surely give benefits. Perform some spiritual deeds and go for outings, it will help you in feeling fresh. This transit will remain favorable for you, so there is no need to take any stress. This time, you will handle all kinds of problems very nicely.
Click here to know more about your sign: Sagittarius Zodiac Sign
Capricorn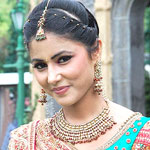 Everything will be alright after some initial difficulties. Avoid taking major decisions in this duration. Luck may not support or defamation may occur, so don't take any risk, as this is a matter of a few days only. Take care of your mobile and laptop, don't forget after putting them somewhere. Domestic life will also remain good, generally Sun don't produce much inauspiciousness, being the King of planets. But, then also it would be better to stay cautious.
Click here to know more about your sign: Capricorn Zodiac Sign
Aquarius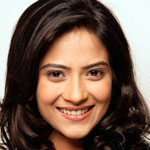 You should remain careful in your personal life. Money or any gift may come from in-laws. Unknown people will support you in work and you will move ahead. Your friends will help you and most of your works will get complete due to this. Take care of your eating habits and stay away from alcohol, tobacco or any other addiction. This transit will not produce any major harm for you, even if it is posited in eighth house. Sun is more cruel for Capricorn than Aquarius.
Click here to know more about your sign: Aquarius Zodiac Sign
Pisces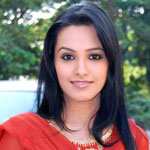 Problems will come in your personal life, arguments will occur unnecessarily and both will feel mentally stressed. Any one from you may go out of town for some time. But, this distance will help in reducing the problems in your personal life. Also, maintain a distance in your love life, think about the qualities of your sweetheart while sitting alone. And if you think you are comfortable without any relationship, then don't pull your relationship unnecessarily. Find any solution of this situation and move ahead.
Click here to know more about your sign: Pisces Zodiac Sign