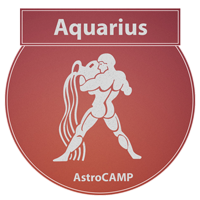 The year 2020 looks moderate for the natives of moon sign Aquarius as per Aquarius Horoscope 2020. You may get better results in your married life and love affairs. Saturn would enter in Capricorn sign in 12th house of your horoscope on January 24. At the commencement of the year, Rahu would be in the 5th house in Gemini sign and later on, it would enter in Taurus sign in 4th house on September 23.
Jupiter enters in Capricorn sign in 12th house on March 29. It would transit back in Sagittarius on June 30 after becoming retrograde and again would enter in Capricorn sign in the 12th house after becoming direct. Results for Combust Venus will be affecting during the period from May 29 to June 09. Detailed predictions for Aquarius Horoscope 2020 are given herewith:
Economic Condition for Aquarius Horoscope 2020
Economic life of Aquarians in the year 2020 seems to be moderate. Income may fluctuate or you may not have regular income due to the placement of Saturn in your 12th house, the house of expenditure and also it is aspecting to your second house of wealth. There are high chances of sudden expenditures which would drive you towards stress with regards to your financial situation. Despite the fact, you would be able to save your money and will accumulate a fine share of wealth.
Year 2020 doesn't look profitable for you as far as your investments are concerned. Consider all the aspects and remain attentive while taking any decision related to money. If starting your own business venture is the dream you are following, properly analyse the pros and cons of your business idea, prior to taking an action. You should not hesitate to take help from others. Avoid investing in speculations as Rahu is posited in your fifth house till the month of September. You may suffer a loss.
Read Rahu - Ketu: Mysterious Planets of Vedic Astrology
Health according to Aquarius Horoscope 2020
You need to take care of your health this year. 2020 is moderate for health perspective. Stomach related problems must not be ignored. You should not act careless and consult a doctor about matters related to your health. Once Saturn and Rahu transit in your 12th and 4th house respectively, it would give rise to mental stress. However, you need not worry as it won't be negatively affecting your health. You should do "Surya Namaskar" early in the morning. It would help you maintain good health. You should refrain from oily and fried food items as you may become overweight and initiate your journey towards obesity during this year.
Career Horoscope for Aquarius 2020
Year 2020 looks average for your career. Although you may have a good inflow of income due to the position of Jupiter in your 11th house, making you capable of coping up with adverse situation. Saturn would remain in your 12th house most of the year. Good aspect of Jupiter on your 7th house indicates good legal or business partnership this year. It is recommended not to involve your family members in your professional life or work.
Your luck will favour you most of the year. You may recover your losses if any occurs. You may gain through foreign connections if you are connected to or associated with foreign land or companies. If you are running your own business, you need to avoid taking risky decisions. If you are thinking of new business opportunity, take the advice of experts or people who are connected with or have some experience in that particular field. You may suffer a loss or may lose your job. There's also a possibility of you getting transferred from your existing place. You may also go abroad this year for work or business matters.
Also Read: The Material Trinity
Education Horoscope for Aquarius 2020
According to horoscope 2020, the beginning of this year may not be rewarding for the students who are preparing for competitive examinations. You may face difficulties in achieving your goals this year. You may go abroad for higher education during the months of March-June if you have been putting efforts for the same. Studying in foreign countries may prove to be beneficial for you. You may, however, face difficulty in technical studies this year.
Due to an aspect of Jupiter, Saturn and Mars on your 6th house of competition, you may get desired results during the middle of the year. The result would be in your favour in provided you work equally hard. The transit of Rahu in your 5th house may lead to concentration issues in studying. It would be sorted once Rahu gets transited in your fourth house after the month of September. You may chase the path of success thereafter. Overall, this year contains mixed results for students.
Family life as per Aquarius Horoscope 2020
This year, you will remain busy with one thing or the other and will not get enough time to spend with your family. You will be preoccupied at your work front or in your professional life. The environment within your family would be peaceful. The second house of the family is ruled by the planet Jupiter in your horoscope. It is well placed in your horoscope most of the time. Unfortunately, the stars are indicating towards a loss in your family. However, there's a nice probability of it being recoverable. Once Jupiter transits in Sagittarius, situation will be in your favour. Your family's financial position will be better. You may purchase land or vehicle during the initial months of the year and thereafter in the month of November.
This year looks good for your children, they may be rewarded for their endeavours. Due to an aspect of Jupiter on your 3rd house, you will get the support of your brothers and neighbours. Once Rahu changes its position and enters in your 4th house, it would lead to some situation causing stress and worry. You should take care of your mother during this period. Overall, this year is good as far as family life is concerned.
Also Read: Why is Getting a Haircut on Certain Days Prohibited?
Marriage and relations as per Aquarius Horoscope 2020
According to Aquarius Horoscope 2020, married life of Aquarians will remain good most of the year. Jupiter will be in your 11th house most of the time, which indicates towards harmony in your married life. It would aspect to your 3rd house, 5th house and 7th house of marriage.
Your children may also get benefits this year as the position of stars suggest that this year is going to be good for your children. They may develop a love for studying, however, there is an aspect of Rahu on your 5th house, which may create some disturbance with regards to their concentration.
If getting married is on your mind, this year you will finally join the club. There is a high chance of getting married in the initial month till January 24. Later on, there are fewer chances for marriage for you. You need to pay attention to your spouse in the month of August and September. Your love would intensify. If you are a newly married couple, there is a strong chance of birth of a child in the month of January. Your romance would be intensified in the initial months and you may romantic with your partner most of the time this year due to Jupiter's aspects. Overall, this year looks good except for a few months.
Love Affairs as per Aquarius Horoscope 2020
According to Aquarius Horoscope 2020, if you love somebody, this year is good for you to romance. You will find continuity in your love. Jupiter is aspecting your 5th house which is good for your love life. You and your partner would enjoy a good bond this year. During April-May, there might be some disturbance in your married life. The reason could be a weak understanding with your partner. This situation could come up during the months of April-May.
After March-June, the time will be particularly good for romance. Time is not very favourable for marriage this year but it does favour your love life. You may get a positive response if you propose someone before March and after June. You need to avoid imposing your thoughts on others and be a good listener. Overall, most of the year would be favourable for Aquarius Moon Sign people.
Remedies for Aquarius sign people for the year 2020:
One remedy can change the course of your life. To eliminate the ill-effects of malefic planets, perform this one remedy (upay):
Install Shri Yantra and worship it regularly. Chant any Mantra of Maa Laxmi. Feed Peda (Sweet) to Cow and also, if possible, donate cow in a cowshed. Behave properly with women, your colleagues and poor people. Help them in need. Offer flour to aunts.
In addition to all this, you should especially establish the Shree Yantra for wealth acquisition this year, and worship it regularly.