Indian cricket fans are for a double bonanza treat next summer 2019. The first is the flamboyant and extravagant event IPL 2019. The other is the national fever gripping world class ICC World Cup 2019. All roads in next summer either lead to England or the cricket grounds where the favorite team plays the IPL.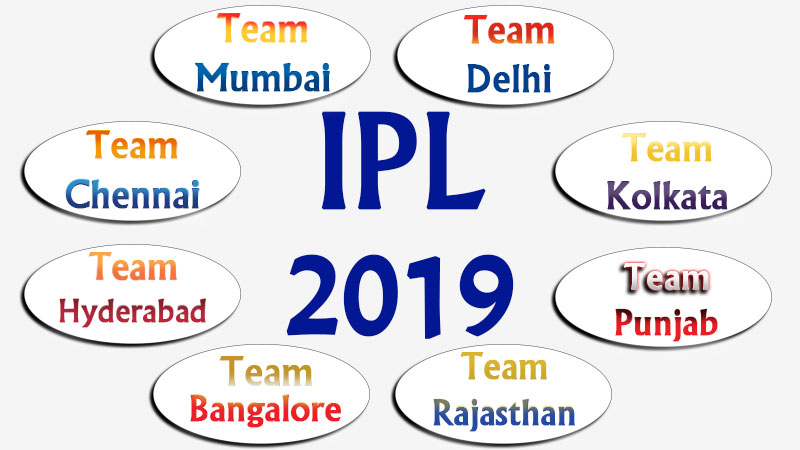 IPL 2019 is now a seasoned sporting event in India and watched worldwide with zeal and enthusiasm. All the initial hiccups and drawbacks are now cleared and the deck is set for the best of world's T20 matches. It is a galaxy of the world's best cricket stars fighting with each other to celebrate the glory of cricket.
The evolution of cricket has made this shortened form the most viewed and enjoyed form of cricket. The unpredictability and uncertainty till the last ball of the match make it not only nail-biting but offers much-needed relaxation in this complex and stressed world. Even though marred with certain malpractices of match-fixing and others to diminish the greatness of cricket it is now almost clean as the sky and ready to start this 23rd March 2019.
Read: Horoscope 2019 Predictions
IPL 2019 Schedule
Since 2019 is an election year in India, the IPL 2019 may be played in South Africa or the United Arab Emirates. The venue is yet to be chosen by the BCCI or Board of Control of Cricket in India. BCCI is the governing body of all forms of cricket played in India. Once the venue is declared by the BCCI the schedule which is to kick-start from 23rd March will be issued.
Major Retentions, Releases And Traded Players For IPL 2019
Every year before the commencement of IPL auctions for the next season, many teams have some releases and confirm the retentions. The following is the list of some major retentions and releases of IPL 2019.
The first important and very crucial for the ipl in 2019 retention is that of the two banned Australian cricketers Steve Smith and David Warner. These two ex-captains of Rajasthan Royals and Sunrisers Hyderabad will be retained for the IPL 2019. But their captaincy will be retained or not is yet to be confirmed by the teams. This is of great importance not only because the impact these two players make in the cricket match but also because of the debt they created in the last IPL with their absence.
The other major release is that of Shikhar Dhawan being traded by Sunrisers to his home team of Delhi Daredevils to get Abhishek Sharma, Vijay Shankar, and Shahbaz Nadeem.
Mumbai Indians
They bought Quinton De Kock from RCB without any trading.
Released: Mustafizur Rahman, Akila Dananjaya, JP Duminy and 7 others
Now they are sitting on a surplus of Rs. 11.15 crores to buy 7 Indian players and one from abroad.
Sunrisers Hyderabad
Traded Shikhar Dhawan to Delhi Daredevils for Abhishek Sharma, and two others.
Released Sachin Bab and 7 others
Sitting with a surplus of Rs. 9.75 crores to buy 3 Indian and 2 overseas players.
Rajasthan Royals
Released 10 players including Zaheer Khan
Sitting with a surplus of 20.95 crores to buy 6 Indian and 3 overseas players
Delhi Daredevils
Traded Abhishek Sharma, Vijay Shankar, and Shahbaz Nadeem to Sunrisers to get Shikhar Dhawan back home.
Released Some noted players like Gautam Gambhir, Mohammed Shami, Glenn Maxwell, and 7 others.
Sitting on a surplus of 25.50 crores to bu 7 Indian and 3 overseas players
Royal Challengers Bangalore
Traded Mandeep Singh for Marcus Stoinis with Kings XI Punjab
Released Quinton de Kock for money and noted players like Brendon McCullum and 4 others
Sit on a surplus of 18.5 crores to buy 8 Indian and 2 overseas players
Kolkata Knight Riders
Surprise release was Mitchell Starc and 7 others
Sitting on a surplus of 15.20 crores to buy 7 Indian and 5 overseas players
Kings XI Punjab
Released some famous players like Yuvraj Singh, Mohit Sharma 9 others
Traded Marcus Stoinis for Mandeep Singh
Sitting on a high surplus of 36.20 crores to buy 11 Indian players and 4 overseas players
Chennai Super Kings
The confident CSK have only 3 releases and no trading and retention of almost all their playing 11 of IPL 2018.
They have a minimum surplus of 8.40 crores to buy only 2 Indian players.
Know what your Chinese Zodiac Sign has in store: Chinese Horoscope 2019
Statistical Match Predictions
From the retention and releases along with the surplus available to buy the number of Indian and overseas players and the previous records suggest a repeat of Chennai Super Kings being the favorites.
With the return of David Warner into Sunrisers Hyderabad make them the toughest or even superior to that of CSK.
Also, Kings XI Punjab with the maximum salary capital of 36.20 crores could spring in some surprise purchases to tilt the ipl 2019 in their favor.
Mumbai Indians, 2017 IPL champions under the patronage of Sachin Tendulkar and the current Indian team captain Rohit Sharma could be the favorites. Gaining Quinton De Cock from Royal Challengers Bangalore under the full deal are sure indications that they are having a concrete plan to win the IPL 2019.
Astrological Match Predictions
Astrological match predictions will be made soon with the announcements of the venue, schedule and the auctions for the IPL on December 16 & 17th in Goa.
The match predictions for each and every match of IPL 2019, astrological points table and the winner of the most valued players, cap winners and many more to be announced soon.
Next year is going to be an eventful year for the Indians both politically with the parliament elections 2019 in May.
Conclusion
Cricket is one of the most loved game all around the world. In India, people are just crazy for cricket. And therefore this report regarding IPL 2019 match predictions has been prepared so that we can make you have some idea about this upcoming incredible sport event. In the last, we should enjoy the game, whatever the results occur though.